The moment a foul liner struck Sean Ratliff in his right eye while he stood in the on-deck circle on a back field in Jupiter, Fla., late in spring training -- nearly fully detaching his retina and breaking six facial bones -- the Mets' outfield prospect thought about the incident a few weeks earlier, when Braves minor league manager Luis Salazar was struck by a foul ball in the dugout and ultimately lost his left eye.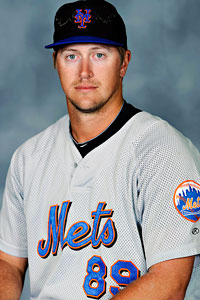 Courtesy of New York Mets
Sean Ratliff suffered a nearly fully detached retina and six facial fractures when struck by a foul ball late in spring training.
"I'm very blessed that it didn't happen that way," says Ratliff, a fourth-round pick in 2008 out of Stanford. "That was the first thing that went through my mind. I wasn't knocked out or anything. I was on the ground. I was like, 'You've got to be kidding me, this is going to happen to me too?'
"You don't wish something like what happened to Luis Salazar happening to anybody. I was scared for a little while there that I wasn't going to be able to see, or I wasn't going to play again. I'm still not completely out of the woods yet with returning, or being able to play. But God has blessed me with hopefully a second chance here."
Ratliff has undergone two surgeries so far. The first laser procedure did not hold because the retina was nearly fully torn. The second, more invasive procedure was performed last Tuesday at the University of Miami's renowned Bascom Palmer Eye Institute, where the 24-year-old Ratliff now travels once a week. For now, his right eye isn't functional for everyday activities, in part because the lens has been removed in order to try to secure the retina back in place.
"My right eye is pretty cloudy," Ratliff said. "I couldn't do anything with it right now. I can't drive. I can't really do anything. It's basically because there's no lens on my eye. They put me completely under. I think they took the lens off my eye and went in and took all the vitreous fluid out of my eye and put in like silicon oil and some other stuff. They lasered it down again to make sure the retina held flat with my eye. It's a far more invasive form of the same procedure, just to get my retina to stay flat.
"They're saying it'll come back along further through the rehab. Just given time, it will get back to as good as it can. In six months I go back in and have another surgery."
That means this baseball season is over before it started.
"That's more or less what it sounds like -- this year is kind of toast," Ratliff said. "They sounded pretty hopeful when I talked to them [Monday] that everything would be back to normal, or good-enough eyesight, to where I can hopefully keep playing. My vision in my right eye was at 20/60 [Monday], which was better than when they saw me after the surgery. So just hopefully it keeps progressing."
Before the incident, Ratliff had 20/15 vision in the eye while using a contact lens. He hopes once the prosthetic lens is inserted later this year, and with the help of a contact lens, he can get there again, although there is no guarantee.
"From what [the doctor] has told me, it's one of those things where it was a pretty severe injury," said Ratliff, who hit .317 with 16 homers and 50 RBIs in 281 at-bats with Double-A Binghamton after a mid-year promotion from Class A St. Lucie last year. "It's rare to have in guys my age because it's usually trauma-related. It's usually a heavy impact type of injury. … If everything goes the way it's supposed to, it'll go back to as close to normal as they can get it."
As for the facial fractures, doctors originally contemplated inserting plates. They opted against it, which turned out to be a good thing, according to Ratliff. It would have complicated the second surgery. The belief is that the bones will eventually heal on their own because of the high blood flow in that area of the body.
The ball that struck Ratliff came off the bat of Buffalo third baseman Zach Lutz.
"I've kept in touch with Zach quite a bit," Ratliff said. "He was pretty shaken up by the whole thing. I just kept telling him, 'There's nothing you can do about it. In baseball, it's one of those accidents, you don't ever want to see it, but at some point it's bound to happen. There's nothing you can do about it.' He just needs to keep playing and keep swinging the bat and do what he has to do and I'll get back on my horse when I get back on it."
Organization leaders
Average: Sam Honeck, Savannah, .457; Kirk Nieuwenhuis, Buffalo, .349; Zach Lutz, Buffalo, .333; Jefry Marte, St. Lucie, .318; Justin Turner, Buffalo, .300; Matt den Dekker, St. Lucie, .294; Cory Vaughn, Savannah, .286; Kai Gronauer, Binghamton, .280; Josh Satin, Binghamton, .270; Albert Cordero, Savannah, .258.
Homers: Brahiam Maldonado, Binghamton, 3; Jason Pridie, Buffalo, 3; Jason Bay, St. Lucie, 2; Javier Rodriguez, Savannah, 2; Josh Satin, Binghamton, 2.
RBI: Sam Honeck, Savannah, 11; Josh Satin, Binghamton, 8; Cory Vaughn, Savannah, 7; Stefan Welch, St. Lucie, 7.
Steals: Robbie Shields, Savannah, 5; Lorenzo Scott, Binghamton, 4; Jordany Valdespin, Binghamton, 4.
ERA: Matt Harvey, St. Lucie, 0.00; Brad Holt, Binghamton, 0.00; Jeurys Familia, St. Lucie, 0.48; Mark Cohoon, Binghamton, 0.75; Robert Carson, Binghamton, 0.90; Jenrry Mejia, Buffalo, 0.98; Taylor Whitenton, Savannah, 1.74; Ryan Fraser, Savannah, 2.08; Yohan Almonte, Savannah, 2.25; Scott Moviel, St. Lucie, 2.70.
Wins: Matt Harvey, St. Lucie, 3l; Nick Carr, St. Lucie, 2; Jose De La Torre, Buffalo, 2; Scott Moviel, St. Lucie, 2.
Saves: Jeffrey Kaplan, St. Lucie, 5; John Lujan, Binghamton, 3, Nick Carr, St. Lucie, 2; Josh Edgin, Savannah, 2.
Strikeouts: Matt Harvey, St. Lucie, 20; Jeurys Familia, St. Lucie, 17; Jenrry Mejia, Buffalo, 17; Greg Peavey, Savannah, 14; Chris Schwinden, Buffalo, 14.
Short hops
• Several Mets pitching prospects have continued their hot starts. That includes 2010 first-round pick Matt Harvey, who allowed an unearned run and no other damage while limiting Fort Myers to two hits in five innings Sunday. That performance ran Harvey's streak without allowing an earned run to open his career to 16 innings, during which he has struck out 20. Harvey was named Florida State League Pitcher of the Week. Teammate Jeurys Familia also is putting up numbers, with two runs (one earned) and six hits allowed in 18 2/3 innings spanning three starts.
• Outfielder Kirk Nieuwenhuis and Lutz are off to quick starts at Triple-A Buffalo. A third-round pick in 2008 out of Azusa Pacific, Nieuwenhuis extended his hitting streak to nine games by going 3-for-6 in Tuesday's doubleheader against Rochester. He is hitting .349, with a .451 on-base percentage. Lutz, a fifth-round pick in '07 who played for his father at Alvernia (Pa.) College, actually lost a seven-game hitting streak in Game 2 of the doubleheader when he was retired as a pinch-hitter. He is hitting .333 in 36 at-bats.
• Buffalo catcher Dusty Ryan, who got a late start to the season because of a concussion suffered when he was hit by a pitch late in spring training, needs surgery to repair meniscus cartilage. Ryan has twice before undergone the knee procedure since 2009. He sustained the re-injury blocking a baseball and is expected to miss two months. For the very short term, Salomon Manriquez will back up Raul Chavez with Buffalo in place of Ryan. Ronny Paulino (anemia) is expected to soon take his rehab assignment from Class A St. Lucie to the Bisons before being activated from the disabled list Tuesday, when the Mets open a series at Washington. Once Paulino is activated with the Mets, Mike Nickeas should head to Buffalo and handle the primary catching responsibilities.
• Outfielder Fernando Martinez should return from a right hamstring strain soon. Martinez, who hit .313 in four games for Buffalo before being shut down with the injury, has resumed hitting and is ready to start running.
• Right-hander Chris Schwinden, a 22nd-round pick in 2008 from Fresno Pacific University, had a positive Triple-A debut. After logging three innings over two relief appearances with Double-A Binghamton, Schwinden was promoted to the Bisons, who were short arms with Pat Misch promoted and Boof Bonser requiring Tommy John surgery. Schwinden proceeded to limit Pawtucket to one run on two hits and three walks while striking out nine in five innings. He received a no-decision in a 2-1, 10-inning loss. Farm director Adam Wogan said Schwinden had been stretched out during spring training, with the expectation he would step into Binghamton's rotation once Josh Stinson had a few starts in the Double-A rotation and was promoted to Buffalo. Stinson, it turned out, made his first 2011 start for Buffalo a day later to fill the other rotation void. He was charged with six runs in four innings and the loss at Pawtucket.
• Bonser underwent the ligament-replacement surgery in his right elbow Tuesday in New York.
• Misch, who was designated for assignment after pitching two innings in relief of D.J. Carrasco in Game 1 of Saturday's doubleheader in Atlanta, may find out if he has cleared waivers for a second time in three weeks on Wednesday. Misch has the right to declare free agency. But he already agreed once to report to Buffalo -- after failing to make the team out of spring training.
• Michael Fisher took off at the plate during first baseman Allan Dykstra's one-week stint on the disabled list for a sprained left ankle. A former sixth-round pick of the Atlanta Braves out of Georgia Tech who signed as a minor league free agent before the 2010 season, the 26-year-old Fisher stepped in at Double-A Binghamton and hit .389 with one homer and three RBIs in five games. Dykstra, acquired from the San Diego Padres at the end of spring training for right-handed reliever Eddie Kunz, returned from the DL on Monday. Fisher should still get at-bats, since he is capable of playing second base and even manned shortstop in college and early in his professional career.
• John Lujan has converted consecutive saves for Binghamton after the bullpen blew four straight opportunities.
• Blocked by a logjam of outfielders in Triple-A, even with Martinez temporarily on the disabled list, 31-year-old Jesus Feliciano is making the best of everyday playing time with Binghamton. Feliciano, who hit .339 with Buffalo last season and appeared in 54 games for the Mets in 2010, has consecutive multi-hit games out of the leadoff spot for Wally Backman's B-Mets.
• No offense to Paulino, but the development staff likely will not shed a tear when the catcher moves to Buffalo on his rehab tour, then the majors. Then, Francisco Pena and Juan Centeno will be able to get regular playing time again behind the plate with St. Lucie. Despite Paulino's presence, the 21-year-old Centeno nonetheless recorded consecutive walk-off RBIs, on Friday and Saturday. A solid catch-and-throw guy who is listed at 5-foot-9, 172 pounds, Wogan describes Centeno as an "intelligent catcher who works great with pitchers." Drafted in the 32nd round in 2007 out of Puerto Rico, Centeno finally took off offensively last year at Brooklyn, hitting .371 with one homer and 10 RBIs in 32 games. Pena, the son of former major league All-Star Tony Pena, should get the larger share of the starts at catcher for St. Lucie.
• St. Lucie's nine-game winning streak, which was snapped Monday, matched the longest in that Florida State League club's history.
• Tulane product Sam Honeck, who had a gruesome ankle injury last year in a plate collision while playing with Savannah, continues to tear up the South Atlantic League in his return to the Sand Gnats. The first baseman had a .500 average through 42 at-bats until finally being cooled off Tuesday, when Lexington held him hitless in four at-bats and snapped Honeck's eight-game hitting streak. Honeck's .457 average is tops in the SAL, leading runner-up Chris Wallace of Lexington (.409) and Bryce Massanari of Asheville (.405).
• Wogan suggested the numbers from sixth-round pick Greg Peavey's Monday outing with Savannah were a little misleading because of infield hits, bunts and flairs. Peavey did not have pinpoint command and was charged with two runs on seven hits in four innings for Savannah against Greenville. Peavey is 1-1 with a 3.86 ERA in three professional starts.
• 2010 New York-Penn League batting champ Darrell Ceciliani should be reactivated from the disabled list within days. He suffered a right hamstring strain with Savannah while approaching first base last Tuesday. In the interim, Cory Vaughn shifted from left field to center field, where he manned 14 games last season with Brooklyn. That has afforded Alonzo Harris -- who is learning left field this season to take advantage of his speed after primarily being a second baseman -- to regularly play for the past week in the outfield. Joe Bonfe, who served as Brooklyn's third baseman last season while hitting .326 in the New York-Penn League, got his first professional start in right field on Monday for the Sand Gnats.
Adam Rubin's farm report appears Wednesdays during the season