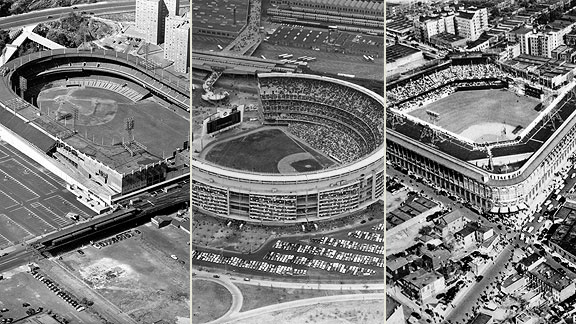 AP Photos, Getty Images
The Polo Grounds (left) and Ebbets Field (right) preceded Shea Stadium (middle) as second homes for many New York baseball fans.
Each Thursday, Mark Simon will commemorate the Mets' 50th season with stories and notes related to the history of the team.
On a recent episode of ESPN.com's "Baseball Today" podcast, co-host Eric Karabell and I got into a rather involved discussion about the idea of rooting for two teams. I spoke of my affinity for the Tampa Bay Rays dating back to mid-2008, when the Mets were floundering and the Rays appeared to be a team of destiny. But I acknowledged I could never see myself abandoning my primary rooting interest.
With both the Giants and Dodgers in town this week, it struck me that it would be interesting to learn about the process by which fans of those two teams in the 1950s became Mets fans.
My father was 11 when the Giants left for San Francisco after the 1957 season and he tried to stay loyal, but he gradually felt the pull of the Mets. The trade of Willie Mays in 1972 solidified it in his mind: "It was something that happened to me without even really thinking about it, it just kind of happened over a period of time and one day I was a Mets fan," he said the other day.
That triggered a desire to learn the stories of others. So with the help of a few friends, I found some people willing to share:
Gerry Stern, retired, former head of the judicial review committee of New York State
Westchester, N.Y.
I had lost all interest in baseball when the Dodgers left Brooklyn. From 1958 through 1967, I did not watch a single baseball game and could not care less who won, who was in the World Series, or how the Mets were doing. I was anti-Dodgers, but never saw (even on TV) Sandy Koufax or Don Drysdale pitch in an LA uniform. I did not watch a World Series game during that period.
In 1968, my son was six years old and he wanted to go to baseball games. By 1969 both he and I were really into it, and I was a rabid Mets fan from 1969 on. I caught the fever. And we rooted vigorously all season for the 1969 Mets. It was not a matter of the Mets winning in 1969 and becoming Mets fans after they won. By 1972 I was taking my son and daughter (then age seven) to Mets games. And the rest is history (he's a long-time season-ticket holder)
Today, I "fake it" when someone speaks of some great event, great plays, great players, or interesting games during the period that I had quit. (I make believe that I remember, but I don't.)
I was the Rip Van Winkle of baseball.
George Sommerfeld, retired attorney
Greenwich, Conn.
Living on the Upper West Side I was a Giants fan since 1945 (although by all rights I really should have been a Yankees fan but that is another story). I started law school in 1956 and had little time for baseball for the next three years.
So when the Giants departed after the '57 season I was sad but had other things on my mind. By 1962 most of the players I knew were history. The Mets were easy to cheer for and it was fun to try to guess how they were going to lose each day.
There is a difference between a person moving and a team moving. I believe that usually when a person moves he continues his old allegiance. It ties him to his youth, memories and old friends. When the team leaves a city it is like a divorce with your ex-spouse moving. Perhaps you still love her and wish her all the best but she's the one who left you.
I felt great last year and got really excited during the playoff games against the Phillies. I felt connected with the crowd at the San Francisco parade after the World Series. But if one day it comes down to the final game of the season between the Mets and Giants, "Let's Go Mets."
I enjoy going to ballgames at all levels no matter the teams. Hopefully one day we will see the Mets and Giants in the seventh game of an NLCS. For me it is a WIN/win.
Wally Ramsey, retired teacher
Monterey, Calif.
I had been a Dodger fan since 1939 when we moved to Connecticut and one spring day I heard the dulcet tones of Red Barber on the radio, and I was hooked. Coincidentally, years later, his daughter, Sarah Lanier Barber, was a classmate of mine at Rollins College (in Florida).
It was unthinkable to root for the hated Yankees (a little-known fact is that Yankee attendance actually decreased during the five years of no Giants and no Dodgers). By the time 1962 rolled around, I was teaching English at The Greenwich Country Day School, and one of my best friends was Frederick K. "Fritz" Trask III, whose father Fred was in the investment business in NYC with a woman named Joan Whitney Payson (Payson and Track), and he was on the board of directors of the fledgling Metropolitans.
We went to hundreds of games, usually had dinner with our wives in the director's lounge, went to the '69 playoffs against the Braves, and went to the third game of the '69 World Series … whew! Then, miracles of miracles, Tom Seaver moved into our neighborhood, and we played basketball together in the GCDS gym weekends and during school vacations before he went to spring training … later we became business partners.
'Conversion' was a joy, I've never regretted it, and one of the joys of living in California is that they usually come on at four in the afternoon and are done by dinner time.
As the 80-year-old said, "I've been a Mets fan all my life …
Eleanor Siegel, clinical pyschologist
East Windsor, N.J.
It was fairly easy. I am almost 65 years old and had gone to the last game the Giants played at the Polo Grounds before they left for San Francisco. At the time I was about 11 years old. I did listen to Les Keiter do his recreations (of games on the radio) for a while but when the Mets came to be, I was hooked right away. So I did not find it difficult because at that age I didn't want to be listening to my transistor radio in bed all night.
It was quite easy to get tickets to the Mets at the Polo Grounds. I still loved Willie Mays
I didn't have any friends that were Giants fans, just my father and uncle. I don't think they converted. I developed some friends that were Mets fans, but being a very independent person, it wouldn't have mattered if none of my friends rooted for the Mets
I don't regret the conversion at all. I do admit that I did root for the Giants in the World Series and all the way through the playoffs partially because being a Mets fan I did not want the Phillies to win and also because of sentimental reasons.
Ken Bernstein, psychotherapist
Amherst, Mass.
I was 11 when the Giants left New York. It was like the floor was pulled out from under me. It runs deep.
When the Mets came in 1962, they were palpable. Of course, they lost 120 games. You go from a team that abandons you to a team that has the most losses ever. I don't know if that's a step up.
I grew up in a tenement in the Bronx during Willie, Mickey, and the Duke. We always knew who the better player was. I bought a Mets jersey last year, number 24 and had Mays sewn on the back of it.
I was at the game on Tuesday night. By the end, there were more Giants fans there than Mets fans. That's an odd source of pleasure and pain.
One thing that has been odd (about converting) is (the Mets embracing Dodgers heritage). It's like being a child in a divorce. There's no allusion to having another side of genetic makeup. In embracing the Dodgers, there's no acknowledgement of that Giants lineage.