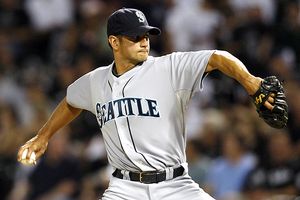 Jerry Lai/US Presswire
Brian Sweeney pitched for the Mariners last season.
The Mets, depleted in upper-level starting pitching depth with Jenrry Mejia and Boof Bonser needing Tommy John surgeries, have signed right-hander Brian Sweeney from the independent Atlantic League for Triple-A Buffalo. Here's a press release from the Somerset Patriots:
The five-time Atlantic League Champion Somerset Patriots have announced that right-handed pitcher Brian Sweeney has been signed by the New York Mets and will report to Triple-A Buffalo. Sweeney started Opening Day on April 29 for the Patriots, picking up the win while striking out eight in seven innings.
Sweeney has 73 games of major league experience with the Seattle Mariners and the San Diego Padres. He has a major league career record of 4-2 with a 3.38 ERA in 117 innings pitched.
He pitched for the Mariners last season, where he appeared in 24 games at the major league level and finished with a 3.16 ERA.
Sweeney has seven seasons of Triple-A experience and a minor league career record of 69-49 with a 4.40 ERA and 855 strikeouts in 1,075 innings pitched in 283 games.
He also has three seasons of experience in Japan, playing for Nippon from 2007-2009. Sweeney joined the Patriots in spring training in 2010, but was signed by the Mariners when camp began.