Justin Turner's major league debut came at Fenway Park, with a strikeout against Clay Buchholz.
Three days later, Turner resurfaced off the Baltimore Orioles bench to produce his first major league hit. It came during an emotional Sept. 11, 2009 game at new Yankee Stadium.
Six innings after Derek Jeter recorded his 2,722nd career hit, passing Lou Gehrig for the Yankees' franchise record, and during a game in which both teams wore red caps with stars and stripes within their logos to remember victims of the terrorist attacks eight years earlier, Turner notched his first major league hit, with a line-drive single to center off Michael Dunn.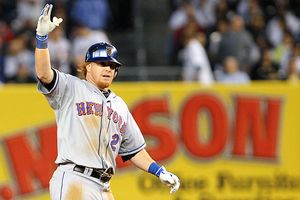 Anthony Gruppuso/US Presswire
Justin Turner went 3-for-4 Friday to lift his average to 364.
"There was a lot of meaning in that night, more than just getting my first hit," said Turner, whose first major league start came two days later against CC Sabathia, during that same series, when a sore right elbow forced third baseman Melvin Mora to be scratched.
Friday night, Turner was back in the Bronx for the first time since that series, property of the New York Mets, who claimed him off waivers last May 25. Turner continued his storybook production since a promotion a month ago from Triple-A Buffalo.
The 26-year-old infielder matched Ron Swoboda's franchise rookie record with an RBI in his sixth straight game. Turner's fourth-inning single pulled the Mets even en route to a 2-1 win over the Yankees, which allowed the Mets to move to .500 for the first time since they were 4-4 on April 9.
While Turner had never heard of Swoboda, who had RBIs in six straight games in August 1965, Mets fans now most certainly have heard of Turner. Optioned to Buffalo at the start of the season so Rule 5 pick Brad Emaus could get a shot at second base, Turner eventually was promoted April 19, when the Mets bailed on Emaus. Turner made his third start at third base Friday night, shifting from second once David Wright landed on the disabled list with a stress fracture in his lower back.
Turner's Twitter follower total -- his handle is @redturn2 -- jumped from 1,830 to 2,598 in the three hours after he produced Friday's RBI.
"If you would have asked me five years ago if I thought I'd be having this kind of success in the major leagues, I would have probably said, 'Yeah. OK. Whatever.' Take it with a grain of salt," Turner said. "But I feel like I put in a lot of work and a lot of time. Right now, the game is just rewarding me. I don't know. I've been on the other end of it too. I don't want to take it for granted."
Actually, the Yankees had been aware of Turner for some time.
The Yankees selected Turner in the 29th round of the draft in 2005, during Turner's junior year at Cal State Fullerton. Turner had won a College World Series with the school the previous season, and was rooming with Ricky Romero, now a starting pitcher for the Toronto Blue Jays.
Turner was playing in a Super Regional against Arizona State for the right to return to the College World Series when he was drafted.
"When I got the phone call from them, they said, 'All right, we know you're still playing. We can't talk now. Finish up your season. Whenever it's over we'll make contact with you,'" Turner recalled. "I said, 'All right.' So we ended up losing to Arizona State. I'm hanging out at home, a week goes by, and I still haven't heard from them. So I called up my coach and said, 'I guess I need to register for classes and you need to find a place for me to play summer ball, because I haven't heard from the Yankees.'"
Turner proceeded to register. He headed to the Cape Cod League to play amateur ball for the summer.
"The Yankees showed up," Turner said, referring to Cape Cod. "They tried to talk and get me to sign. By that time, I was already registered. One of my best friends, my roommate, Danny Dorn, was drafted by the Rays. He ended up turning down money to go back to school. He let me know. So that had a lot to do with my decision."
Financially, Turner said, the Yankees actually came within $10,000 of his requested asking price.
"I think they got up to $90,000. I had told them $100,000," he said. "They got close. But I got drafted in the 30-something round. So I was just throwing out $100,000 because I was 90 percent sure I was going back to school. And even if they would have got to $100,000, I'm not sure if I would have signed."
Who knows what would have happened had he signed with the Yankees then?
Not that the path Turner eventually took to this weekend's Subway Series was smooth.
Drafted the following year in the seventh round by then-Cincinnati Reds GM Wayne Krivsky, Turner subsequently was traded to Baltimore (where Krivsky had relocated). Then, with Krivsky an Omar Minaya special assistant last season, Krivsky was instrumental in the Mets claiming Turner off waivers.
Turner was snubbed for a September call-up to the Mets last year, even though he had a fine season with Buffalo, including going 6-for-6 and hitting for the cycle on the final day of the Triple-A club's regular season.
His Twitter account actually still lists Buffalo as his location.
"Yeah, I do need to change that," Turner said.