Jeurys Familia's fastball has been electric for a while. The development of his curveball and changeup has been the most striking difference in the past two to three years, since Binghamton's Kai Gronauer also caught Familia in the Gulf Coast League and with Savannah.
"He's become more of a pitcher," Gronauer said Monday, before a rained-out B-Mets game in New Britain, Conn. "At Savannah he was just a hard thrower. I caught him in the GCL as well my first year. He was just a hard-throwing kid. Now he's become a pitcher. He knows what he's doing. He throws the pitches that he wants to throw. He's not just throwing anything. He's gotten more comfortable."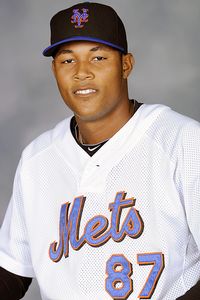 Courtesy of New York Mets
Jeurys Familia
After posting a 1.49 ERA ERA in six starts with Class A St. Lucie this season, during which he held opponents to 21 hits, eight walks and one homer in 36 1/3 innings, Familia was promoted to Double-A Binghamton. With the B-Mets, the 6-foot-3 right-hander limited opponents to one unearned run in 14 innings over his first two starts while maintaining mid-90s velocity deep into the outings. He was not quite as effective in his third outing, allowing three runs (two earned) in five innings on Sunday against Harrisburg. Familia was tagged with his first Eastern League loss.
"What's standing out here, he's almost got the total package going for him," B-Mets pitching coach Marc Valdes. "He's throwing that well. Whatever [St. Lucie pitching coach] Phil Regan and [pitching coordinator] Rick Tomlin told him in the Florida State League, he's done that. His last game wasn't his best stuff. He didn't have much. But he still went five innings and only gave up two runs."
It still starts with the fastball.
"No question, he's got an electric fastball -- 95, to 97 mph at times," Valdes said. "And his changeup and curveball have come a long way the last couple of years as far as development."
Said Gronauer: "A lot of guys throw 96 mph. I think what makes him hard to hit is his deception when he throws the ball. It's hard to find a rhythm off of him. You see it very late. It has some kind of run where it's very heavy. It's hard to time it out of his hand. Catching it is easier. Thankfully I've never hit against him."
Familia, with catcher Salomon Manriquez interpreting, said he was particularly fond of Josh Beckett's pitching style. "He makes it look easy to pitch -- the way he commands his pitches," Familia said.
Familia signed with the Mets in 2007 after trying out at the organization's complex in the Dominican Republic.
"The first day I got to the complex, I threw like two innings in a game," Familia recalled. "I threw like 88-90 mph. They said they want to keep watching me. And then they kept me in the complex for like three weeks. And then they signed me."
As for the rise in velocity to its current level, Familia added: "I made some adjustments on my mechanics and I've been working hard."
Organization leaders
Average: Cory Vaughn, Savannah, .331; Pedro Zapata, St. Lucie, .328; Matt den Dekker, St. Lucie, .304; Josh Satin, Binghamton, .303; Kirk Nieuwenhuis, Buffalo, .302; Jefry Marte, St. Lucie, .296; Mike Fisher, Buffalo, .295; Juan Lagares, St. Lucie, .294; Robbie Shields, Savannah, .289; Allan Dykstra, Binghamton, .272.
Homers: Brahiam Maldonado, Binghamton, 9; Aderlin Rodriguez, Savannah, 9; Kirk Nieuwenhuis, Buffalo, 6.
RBI: Wilmer Flores, St. Lucie, 34; Aderlin Rodriguez, Savannah, 31; Matt den Dekker, St. Lucie, 25; Brahiam Maldonado, Binghamton, 25.
Steals: Pedro Zapata, St. Lucie, 11; Jordany Valdespin, Binghamton, 10; Matt den Dekker, St. Lucie, 7; Cesar Puello, St. Lucie, 7; Robbie Shields, Savannah, 7.
ERA: Jeurys Familia, Binghamton, 1.46; Chris Schwinden, Buffalo, 2.22; Chase Huchingson, Savannah, 2.48; Erik Goeddel, Savannah, 2.72; Matt Harvey, St. Lucie, 2.87; Ryan Fraser, Savannah, 3.21; Scott Moviel, St. Lucie, 3.38; Greg Peavey, Savannah, 3.64; Gonzalez Germen, Savannah, 3.68; Mark Cohoon, Binghamton, 3.69.
Wins: Matt Harvey, St. Lucie, 5; Scott Moviel, St. Lucie, 4.
Saves: Jeffrey Kaplan, St. Lucie, 8; Josh Edgin, Savannah, 6; John Lujan, Buffalo, 4; Ronny Morla, St. Lucie, 4; Dale Thayer, Buffalo, 4.
Strikeouts: Matt Harvey, St. Lucie, 52; Jeurys Familia, Binghamton, 50; Darin Gorski, St. Lucie, 50.
Short hops
• Reese Havens, a 2008 first-round pick whose career has been slowed by oblique issues that limited him to 32 games last season, is making what may be his final start for St. Lucie on Wednesday before traveling to Double-A Binghamton. A gifted hitter and potentially the second baseman of the future if he can stay healthy, Havens has played two games this week with St. Lucie, going 3-for-7 with two doubles, two RBIs and two walks. Havens had undergone surgery in December to remove an inch of a rib, but was shut down in spring training with continued soreness in the area. The procedure shaved an inch off a rib that was rubbing against another rib on his left side and also irritating the oblique. It was performed at Dr. James Andrews' clinic in Birmingham, Ala., by colleague Dr. William Clancy. Havens labeled the issue "rib tip syndrome."
• Chin-lung Hu may have a case of the throwing yips. After two games at shortstop with Triple-A Buffalo following a demotion, Hu has been stationed at second base the past two games, and continues to have issues throwing wide -- although he has yet to be charged with an error. Farm director Adam Wogan minimized the erratic throws, suggesting infielders who shuttle between the middle-infield positions sometimes get into bad habits while varying their arm slots for the different throws.
• 2010 first-round pick Matt Harvey is expected to move to Double-A Binghamton within a week, although he will have at least one more start with St. Lucie, on Friday. Harvey is coming off an outing against the Tampa Yankees in which he allowed three runs, including a pair of homers, in 5 2/3 innings. He received a no-decision and is 5-2 with a 2.87 ERA in 47 innings spanning nine starts with St. Lucie.
• Savannah's Robbie Shields lost a 12-game hitting streak Monday. Shields lifted his average to .297 as a result of the stretch. Shields moved from shortstop to second base the past two games with the Sand Gnats. That exposure had been planned for some time, but the Mets were restrained in allowing Shields to see time at the other middle-infield position too early because they did not want to put different stress on his surgically repaired elbow. A third-round pick in 2009 out of Florida Southern, Shields has been considered the baseball equivalent of a gym rat. He played with an elbow injury his first pro season and eventually underwent Tommy John surgery after completing that year with the Brooklyn Cyclones. Wilfredo Tovar, also with the Gnats, is playing both middle-infield positions. The plan is now to expose Shields to second base a couple of times a week, with shortstop remaining the primary position.
• Perhaps in anticipation of Havens' arrival with the B-Mets as well as to increase his versatility with a number of second basemen in the upper levels of the system, Josh Satin's two most-recent games have been at third base with Binghamton. Satin is hitting .303 with four homers and 22 RBIs and is working on his fielding, particularly throwing.
• Ryan Coultas, a sixth-round pick in 2004 out of UC-Davis, who was drafted as a shortstop and converted to pitching three years later because of offensive struggles, has retired. Coultas, 29, missed all of last season due to injury.
• Lucas Duda remains sidelined with Buffalo because of continuing effects of a back injury. He has not appeared since May 8.
• Bobby Parnell is technically still a rehabbing major leaguer at Buffalo, but it is widely expected his lack of success with the Bisons will result in him eventually being officially optioned to Triple-A. The last seven runners inherited by Parnell have scored. Parnell can stay on the rehab assignment for up to 30 days from his first appearance, which was May 9 with St. Lucie.
• Savannah outfielder Cory Vaughn is the only South Atlantic League player to have appeared in every one of his team's games (44). The son of former major leaguer Greg Vaughn is hitting .331 with three homers and 24 RBIs, and has a .469 on-base percentage with the Gnats.
• After opening the season with seven starts, former UCLA reliever Erik Goeddel has made consecutive relief appearances with Savannah -- three innings apiece piggybacking Chase Huchingson starts. The lightened workload is safeguarding against Goeddel logging too many innings this season as he transitions from reliever as an amateur to starting as a professional. Wogan said Goeddel was having so much success as a starting pitcher, and going seven innings deep into games, that if the Mets did not slow him down, he would reach 120 or 125 innings for the season -- which would have been too much, too soon.
• Buffalo catcher Mike Nickeas, who suffered a bruised left wrist getting struck with a pitch, returned to the starting lineup Tuesday after a four-day absence and went 2-for-4 to lift his average to .225. Third-catcher Dock Doyle had been added to Buffalo's roster in the interim, with infielder Jonathan Malo moving to Binghamton.
• Binghamton catcher Kai Gronauer, who landed on the DL with a left hamstring strain, is due to return soon.
• Outfielder Jason Botts, who debuted Saturday with Buffalo after being signed out of the independent Atlantic League, is 3-for-13 with three walks through four games. Three of Botts' appearances have come at DH. Botts, 30, appeared in 93 games for the Texas Rangers between 2005 and '08.
• Binghamton left-handed reliever Eric Niesen has gotten into a groove, although it mostly has come in non-pressure situations. The southpaw has tossed 7 1/3 straight scoreless relief innings, spanning five appearances.
• J.B. Brown, a 14th-round pick out of the University of the Pacific last June, is hitting .313 in four games at second base with St. Lucie after joining the Florida State League club 10 days ago following an Injury to Matt Bouchard. Brown likely will return to a lower level once some injuries mend with St. Lucie.
• At 22-22, Savannah nonetheless occupies first place in the South Atlantic League's Southern Division with 25 games remaining in the first half. The Gnats have the league's best ERA at 3.46, but rank last in hitting with a .238 average and 170 runs scored.
Adam Rubin's farm report appears Wednesdays during the season