The Mets appear to have tipped their hand as to the alternative if R.A. Dickey is unable to make Tuesday's start against the Pittsburgh Pirates because of a partial tear of the plantar fascia in his right foot. The alternative: Chris Schwinden.
Schwinden was due to start Friday for Triple-A Buffalo, in a game that eventually was rained out. He presumably would have been pulled with a low pitch count had that outing proceeded because he would be going on three days' rest Tuesday.
Now, with Friday's rainout, Schwinden is not listed as a starter for Buffalo's Saturday doubleheader. Those starts are going to D.J. Carrasco and Josh Stinson, strongly suggesting Schwinden is being held out as a hedge in case he needs to pitch Tuesday in Flushing.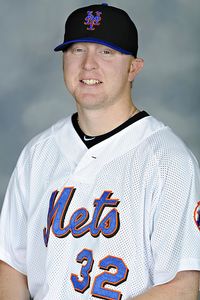 Courtesy of New York Mets
Chris Schwinden
Dickey will test his right heel with a bullpen session Sunday and still hopes to make Tuesday's start.
Who is Schwinden?
Well, he's come out of nowhere.
Even the right-handed Schwinden is somewhat surprised he has settled into Buffalo's rotation. In fact, he left most of his belongings, including his wardrobe, behind at Double-A Binghamton when he was called up for an April 16 start in Triple-A at Pawtucket.
After opening the season in Binghamton's bullpen, the plan was for Schwinden to slide in the Double-A B-Mets' rotation once Stinson eventually was promoted from that Eastern League club to Buffalo.
Instead, Schwinden -- a 22nd-round pick in 2008 from Fresno Pacific -- and Stinson both were summoned to plug depleted Buffalo's rotation last month. And because of Schwinden's immediate success, he stayed and Dylan Owen instead was returned from Buffalo to Binghamton when a pitcher needed to be dropped from the Bisons' rotation.
"I was told it was just a spot start [at Buffalo]. I packed for two days," Schwinden told ESPNNewYork.com earlier this month. "I stuck around. And then Josh came up. Then I thought I was going to be sent back down. But it was a real shocker. I had to wear the same clothes for a few days. I've sent for the rest of my stuff."
Schwinden, 24, is 3-2 with a 2.36 ERA in eight starts for Buffalo. The Visalia, Calif., native has limited opponents to 31 hits while walking 14 (two intentionally) and striking out 41 in 45 2/3 innings.
"He's been doing a great job," Buffalo manager Tim Teufel said in early May. "I had him last year for a little while. His first outing was outstanding in Double-A (one run in six innings at New Britain on May 22, 2010). He really showed me a good fastball and a good cutter. He dominated his first outing when I had him last year. From there on out, he pitched just OK. He didn't pitch great, dominating baseball.
"This year he seems like he's coming in with more weapons. He has a curveball now he's working with, and a changeup. Plus, he's got that regular fastball and a cut fastball. He almost uses that as a slider. He still needs to mix in his changeup a little bit more, and he showed me a decent curveball. If he can mix all of those pitches up, he's been very effective up here so far doing that and keeping the hitters off-balance."
Said Schwinden: "I didn't think I was going to do as good as I am now. It's kind of shocking. It's turned out for the best so far."