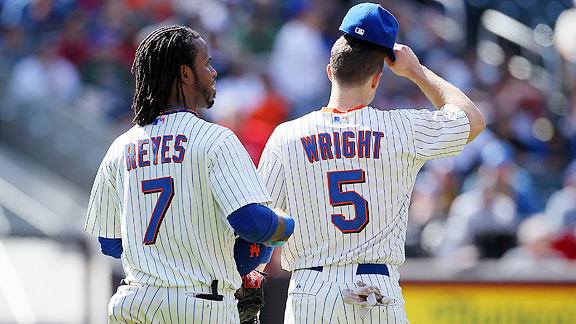 Jim McIsaac/Getty Images
Jose Reyes and David Wright don't appear to both fit financially in the Mets' 2012 budget.
Signing Jose Reyes to an extension essentially would force the trading of David Wright, according to a source familiar with the Mets' thinking.
That's because after adding whatever Reyes commands -- say $17 million a season for five years if he stays -- to the 2012 salaries of Johan Santana ($24 million) and Jason Bay ($16 million), the source predicted the Mets will not have the means to retain Wright at $15 million as well.
Under the $17 million salary assumption for Reyes, that would tie up $72 million along with Santana, Bay and Wright.
Even if principal owner Fred Wilpon's Sports Illustrated comment about a $100 million payroll was too extreme and the payroll instead is, say, $120 million, the Mets still will be unable to allot 60 percent of their payroll to four players. Otherwise, that would mean the average salary of $2.3 million for each of the other 21 players, which is virtually impossible.
And what happens if the Mets are unable to trade closer Francisco Rodriguez at the deadline and his contract vests at $17.5 million for 2012 with 55 games finished? That would be financially catastrophic for the organization. Yet manager Terry Collins has continued to use K-Rod even in non-save situations, including in a four-run win Monday against the Pittsburgh Pirates. Rodriguez already has 20 games finished, on pace for 61 -- six over the threshold for his contract to kick in for next season.