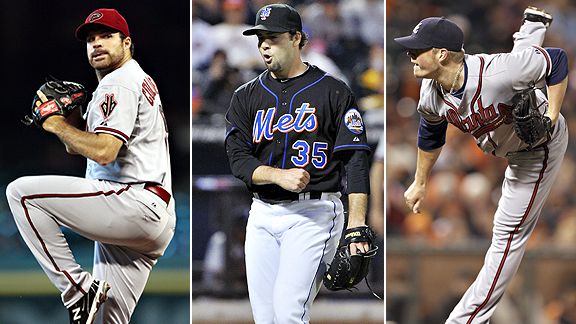 Getty Images
Josh Collmenter, Dillon Gee and Craig Kimbrel are among the early frontrunners for NL Rookie of the Year.
First in a weekly segment, as long as the Mets' rookies hang in there ...
There will be no shortage of National League Rookie of the Year candidates.
Braves closer Craig Kimbrel, for instance, already has set the league's rookie record for saves before the All-Star break with 17. He may threaten Jonathan Papelbon's first-half major league rookie record of 26 in 2006 before all is said and done.
Teammate Freddie Freeman, Arizona's Josh Collmenter, Chicago's Darwin Barney, Washington's Wilson Ramos and Danny Espinosa, and St. Louis' Daniel Descalso may factor in the race, too.
The Mets -- out of nowhere -- have two legitimate candidates.
Infielder Justin Turner is the reigning NL Rookie of the Month. He had RBI streaks of seven straight games and six straight games in May, and became the first rookie in the majors since 1930 to produce an RBI in 13 games in a 15-game stretch. Turner became the first Mets player to win NL Rookie of the Month since the award was created in 2001.
Meanwhile, Dillon Gee -- who entered the rotation when Chris Young had arm problems that led to season-ending surgery to repair a torn anterior capsule -- is off to a 6-0 start. That's not too shabby for a former 21st-round pick out of Texas-Arlington who was unsure enough about his draft prospects that his final year of college he was taking steps to follow his father's footsteps as a Fort Worth firefighter. The 6-0 start matches the best to start a season by a Mets rookie in franchise history. The other pitcher to open 6-0: Jon Matlack. He was the 1972 NL Rookie of the Year.
The Mets' other Rookie of the Year winners were Darryl Strawberry and Dwight Gooden consecutively in 1983 and '84, and Tom Seaver in 1967.
From ESPN Stats & Information:
• Espinosa (WSH) entered Sunday as the NL rookie leader in homers (10) and the MLB rookie leader in RBI (33). He is also tied for second among NL rookies (with Jason Pridie) in stolen bases (4).
• Barney (CHC) entered Sunday leading all NL rookies in hits (62).
• Freeman (ATL) is the NL rookie leader in doubles (14), with Descalso (STL) in 2nd (11).
• Kimbrel (ATL) entered Sunday second among NL rookies in strikeouts (43), trailing only teammate Brandon Beachy (46). (Beachy is 1-1 with a 3.45 ERA.) Kimbrel also entered Sunday as the major league rookie leader in saves with 17. No other NL rookie has more than five saves. Kimbrel's 17 saves also place him in a tie for second among all NL pitchers in that category (with J.J. Putz of Arizona), trailing only Florida's Leo Nunez (19).
• Collmenter (ARI) is second among NL rookie starters in wins (4), trailing only Gee with 6. Collmenter also had the best WHIP among NL Rookie pitchers (starter or reliever) entering Sunday at 0.67.
Contender stats:
Dillon Gee, RHP, Mets: 6-0, 3.33 ERA
Justin Turner, IF, Mets: .313, 2 HR, 23 RBI
Craig Kimbrel, RHP, Braves: 1-2, 2.79, 17 saves
Josh Collmenter, RHP, Diamondbacks: 4-1, 1.25 ERA
Freddie Freeman, 1B, Braves: .273, 5 HR, 21 RBI
Darwin Barney, 2B, Cubs: .298, 1 HR, 25 RBI
Wilson Ramos, C, Nationals: .241, 3 HR, 14 RBI
Daniel Descalso, IF, Cardinals: .242, 1 HR, 17 RBI
Danny Espinosa, IF, Nationals: .218, 10 HR, 33 RBI