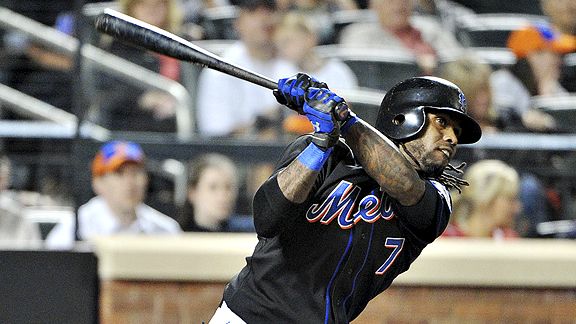 AP Photo/Paul J. Bereswill
Jose Reyes recorded his major-league leading 28th multi-hit game on Sunday night during the Mets' 6-4 victory over the Atlanta Braves at Citi Field. The soon-to-be 28-year-old shortstop now has a 10-game hitting streak and has scored in his last nine games.
The chants continued.
So did Jose Reyes' hitting and runs scored streaks.
#7 SS
New York Mets
2011 STATS
GM

56

HR1

RBI21

R41

OBP.386

AVG

.337
With the crowd at Citi Field doing its usual "Don't trade Rey-es!" and "Keep Jose!" chants, Reyes reached base three times, scored two runs and had a run batted in during the Mets' 6-4 victory over the Atlanta Braves on Sunday night.
"That means they like me. They like me here," Reyes said of the support. "I'm just gonna continue to do my job and play hard for this team."
The soon-to-be 28-year-old shortstop's hitting streak now stands at 10 games. During that span, he's hitting .465 (20-for-43) with 13 runs scored, four doubles, four triples and six RBIs.
Reyes has also scored in a career-high tying nine consecutive contests. Previously, he scored in nine straight games from June 17-25, 2006. His nine-game run is the second-longest streak in the majors this season (Ben Zobrist, 10 games from May 1-12).
"I don't remember," Reyes replied when asked to recall the last time he felt this comfortable at the plate. "I feel good. I'm just looking for my pitch. And if I get it, I'm just trying to put a good swing on the ball."
Reyes singled and scored in the first, walked and scored in the second and drove home Ruben Tejada with an RBI double in the fifth.
After his two-hit performance, Reyes now has a major league-leading 28 multi-hit games.
"I've never doubted my talent," Reyes said. "It's just a matter of staying healthy and staying on the field."