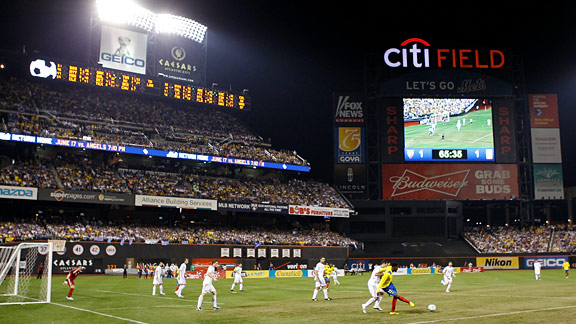 Mike Stobe/Getty Images
Greece tied Ecuador at Citi Field on Monday.
Jose Reyes' triple in the seventh inning, his MLB-leading 11th and first away from Citi Field, scored both runs as the Mets handed Milwaukee a rare home defeat, 2-1 at Miller Park on Tuesday night. (Watch Reyes discussing his night here, and a write-up of his performance here.)
Wednesday's news reports:
• While the Mets were away, Citi Field played host to its first soccer match -- a 1-1 draw between Greece and Ecuador. It attracted 39,656 spectators, outdrawing all but the Mets' home-opener crowd of 41,075. (See a photo of Citi Field as a soccer venue here.)
Writes Jorge Castillo in the Times:
The match was the first in Queens since Colombia and Slovakia played a scoreless tie at Shea Stadium in August 2003, and it shifted the soccer scene in the metropolitan area from northern New Jersey to New York City for at least one night. All signs point to that continuing in the future. Before Ecuador and Greece played to a 1-1 tie in front of 39,656, the Mets executive vice president Dave Howard said Citi Field would also host a friendly between "two very well-known professional club teams, one from Europe and one from Central America," this summer. He expects an announcement to be made within the next week.
While Fred Wilpon and family's financial issues are a major obstacle, Dave Howard told Castillo the Mets ownership family had spoken "recently" about bringing an MLS franchise to Flushing. MLS spokesman Dan Courtemanche told the Times via email: "We remain focused on securing a 20th team for Major League Soccer in New York. We do not have a set time frame on when we will add a 20th team. Our goal is to have a second team in N.Y. at the earliest opportunity. The N.Y. market is a priority, but it may take a couple of years before we have the team and stadium finalized."
• Carlos Beltran was able to return to the lineup after fouling a ball off his right shin in the second inning on Sunday and leaving that game. Read more in Newsday, the Star-Ledger and Times.
• The bullpen, shaky of late, closed Tuesday's game with three perfect innings -- by Pedro Beato, Jason Isringhausen and Francisco Rodriguez. K-Rod said he lost 15 pounds as the result of his inability to eat following having two teeth pulled last week. However, he did not realize he was lighter until Tuesday. Asked by the Post's Mike Puma about any possible weight loss, Rodriguez said he weighed the same. Then he weighed himself and learned the dramatic result. K-Rod tells Puma he will eat five meals a day for the time being to regain the lost weight.
• Ex-Brewer Chris Capuano was a winner in his return to Milwaukee. "I kept saying it wasn't weird to be back," he said. "It's weird to be back." Jason Bay is now 0-for-his-last-20. Read game stories from Tuesday's 2-1 win in the Post, Record, Star-Ledger, Times, Daily News and Newsday.
• Daniel Murphy was finally held in check in the cleanup spot, going 0-for-3. Tuesday marked Murphy's third straight game batting fourth, with Bay dropping to sixth or sitting during that span. Murphy lost an eight-game hitting streak, during which he had multiple hits in each of the seven starts and hit .567 in 30 at-bats. Writes David Lennon in Newsday:
As a handful of Mets took some early swings Tuesday afternoon at Miller Park, hitting coach Dave Hudgens leaned on one side of the cage and examined each player intently. Across from Hudgens, and studying his teammates just as closely, stood Daniel Murphy , dressed in gym shorts and wearing shower shoes on his feet. Murphy didn't take any turns in the cage. ... "I don't have many skills in this world," Murphy said. "I enjoy watching hitting, seeing how those guys are swinging it. The balls were jumping out there. It was fun to watch."
• Despite Wyoming being one of three states that does not technically sponsor high school baseball, Newsday's Jim Baumbach said first-round pick Brandon Nimmo's childhood baseball experience is not that dissimilar from a New Yorker. Writes Baumbach:
Wyoming is one of three states that does not have high school baseball (along with Montana and South Dakota ), so Nimmo did what everyone else has always done there. He played for his local American Legion team, which in Nimmo's case was a team called Post 6, based in Cheyenne. And a closer look at Nimmo's team proves it's really no different from any high school squad on Long Island. There are no players older than 19. And the coach, Tagg Lain, is an English teacher by day in the Cheyenne school district. "I've heard it a lot now, that we don't have high school baseball," Lain said Tuesday, "but here in Cheyenne, Wyoming, where the kids grow up, their experience is not much different."
The Mets took Nimmo 13th overall, and Tagg Lain tells Baumbach other teams were prepared to take him in the first round. "I'm sure the people in New York were going, 'So what did we do again?' but I can assure you that had he not gone 13th, he was going to be gone very, very soon thereafter," Lain told the newspaper. "I had other scouts and people texting me saying, 'My heart's broken.' I think there were a number of teams ready to go with him."
Read more on Nimmo in the Times and Journal.
• The Mets made their second through 30th round selections on Tuesday. See the list here, and tidbits about those players here. The draft is completed Wednesday afternoon with rounds 31 through 50.
• Ex-Met Mike Cameron tells the Post that Reyes would fit great in a Red Sox uniform. "It's a different animal here," Cameron told the Post's Mark Hale, referring to Boston. "In Boston, there's one team there and the primary focus is nothing else but [a freaking] title. [But] I think they would love him because of the way he plays. Just the energy, man."
BIRTHDAYS: Former catcher John Gibbons turns 49. His 1986 claim to fame was being on the receiving and assisting end of an 8-2-5 double play that won a game against the Padres on Aug. 27. Gibbons appeared in eight games for the Mets' last championship team, and the Mets won every one. ... Dave Mlicki, who shut out the Yankees in the first Mets-Yankees regular-season meeting, turns 43. -Mark Simon