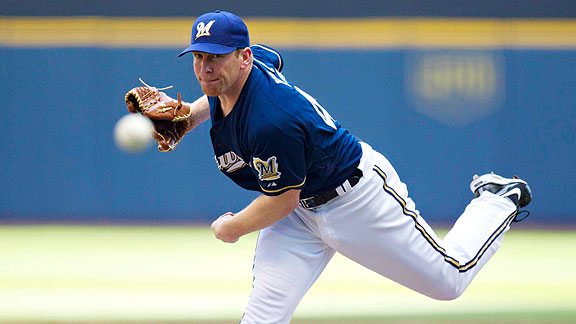 Jeff Hanisch/U.S. Presswire
Randy Wolf has stared down the Mets repeatedly throughout his career.Phillies ace Roy Halladay has the longest current win streak by an active pitcher against the Mets. He's won his last seven decisions against them.
Take 10 guesses to who ranks second. You probably won't get it.
Wednesday night's Brewers starter Randy Wolf is the answer. He's won six straight decisions against the Mets and his career mark against them stands at 12-5, with a very nice 3.27 ERA. A win today and he'd be tied for the most wins against the Mets among active pitchers. Tim Hudson and Livan Hernandez lead the way with 13.
Randy Wolf
Career
The Wolf victory tradition dates back to his start against the Mets on Sept. 17, 1999. That season, Wolf's first one in the big leagues, was very topsy-turvy. He started 5-0, then lost eight straight decisions entering that start.
The Mets provided just the boost to his spirits that he would need, and thus a nice career boost as well. That day at Shea Stadium, Wolf struck out 11, allowed two runs and three hits in six innings, and beat a team that would eventually reach the NLCS. He only has topped 11 strikeouts in a game once since that day.
"That was like 200 pounds off every guy's shoulders," Wolf told the Philadelphia Daily News afterward. "You kind of lose that feeling of what it's like to win. Have music on. Talk out loud. Have fun. If you have any competitive spirit, of course, losing eight in a row is going to tear you up inside. But you can't lose it mentally. No matter how bad things are, they could always be worse."
I was in the media gathering that talked to Wolf after another of these 12 victories against the Mets a few years ago and he spoke of Shea Stadium in glowing terms. Why not? He was 6-1 in 14 starts there with a 2.85 ERA.
Wolf would have been an ideal fit as a free agent during the 2007-08 offseason (and perhaps he would have found the acquaintance he made on one ride on the New York City subways as a visitor, whom he described as his "soulmate"). The front office had other priorities at the time.
Instead, he's remained a nemesis, beating the Mets three more times over the last three seasons. The last time the Mets beat Wolf: May 4, 2005 -- 3-2, in a game in which the Mets barely survived a pair of ninth-inning homers.
In fairness, the Mets have won the last two times that Wolf pitched against them. He pitched reasonably, allowing four runs over 12 innings in those contests. It was good enough to earn no-decisions, keeping his personal hex on the Mets alive.
Even when Wolf is not on the mound against the Mets, he's done his share to hurt their cause. While he's dominated the Mets, the Braves have dominated him. His career record against the rival Braves is the opposite of that against the Mets, 5-12.
Chipper Jones might want to name his next kid Randy, to go along with his son, Shea. Jones has a .377 career batting average with four home runs against Wolf.
Meanwhile, one of the Mets' best hitters for average was among those whose struggles were key to Wolf's success in his early days against the Mets. Edgardo Alfonzo, who seemed to own a lot of pitchers from 1999 to 2002, was 2-for-his-first-30 against Wolf, before singling twice to no avail in a 1-0 Wolf win over the Mets on Aug. 31, 2002.
The good news within the matchup Wednesday is that the Mets have a few hitters who have fared reasonably well with Wolf. Carlos Beltran's average against him is .324. Jose Reyes has a .364 on-base percentage.
Jason Bay is 5-for-10 against Wolf and homered against him in 2007 (cue the "Bay-o-Wolf" puns for those with a literary inclination). Perhaps it's the day Bay breaks out of his 0-for-20 slump. If not, expect a few Mets fans to be howling, as a wolf (or Wolf) might.