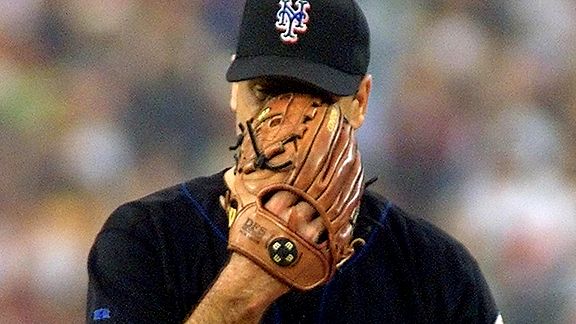 Steve Schaefer/AFP/Getty Images
Many fans hold their hands over their face when thinking of this man, now a member of the Texas Rangers Hall of FameMark Simon reminisces about Mets history each week in his "Remember When We Met" blog posts
The other day, I saw a note via Twitter that ex-Met Kenny Rogers had been named to the Texas Rangers Hall of Fame.
If you're a Mets fan, your reaction to that news may come in the form of anger, but maybe not as much as it did a few years ago, when the memory of the walk-off walk that Rogers issued to Andruw Jones that ended the 1999 NLCS was a little fresher.
This goes along with a radio interview I heard with ex-Met Tom Glavine, now a broadcaster for the Braves, last week. His first words to the New York-based talk show host were "I hope that time will heal the wounds."
That one's a little fresher for Mets fans. It was less than four years ago that Glavine got chopped up by the Marlins in the first inning of the final game of the season, a game that ended in defeat and completed an epic collapse in which the Mets blew a seven-game lead with 17 to play.
This got me to thinking about the role of grudges in Mets history, and it's a role that is significant. After all, the Mets became popular as the result of the grudges that Giants and Dodgers fans had after the team bolted New York for California at the end of the 1957 season. The team's owner, Joan Payson, was a former Giants owner, whose grudge against the team became so strong that she was very motivated to put a new National League team in New York.
This is a topic that is popular with Mets bloggers, and one I'm sure has been addressed previously by others. One I recall is that a few years ago, Mets fan Jason Fry created a "Nine Circles of Hell" to commemorate those who did not represent well in their time as Mets.
I'm 36 and the list of noteworthy grudgeables from my lifetime following the team include both Rogers and Glavine, as well as Bobby "Try to Wipe the Smile off My Face" Bonilla and Hall of Famer Roberto Alomar. Both are well-remembered for their accomplishments elsewhere.
Pirates fans probably have no grasp on why the Mets fans' hatred of Bonilla runs so deep. Likewise, Indians, Orioles and Blue Jays fans consider Alomar one to be beloved. Mets fans consider him as one who should be loathed.
Rogers is an interesting one for me. A few years ago, I was in the postgame interview pool after he beat the Red Sox, while he was with the Twins. My experience (though this doesn't necessarily hold true for others) was that he was engaging, thoughtful, and very smart when it came to talking pitching. (His main subject was explaining how to pitch on a windy day.)
But, at the time, I couldn't help but think of how his walk had resulted in my father having bloody elbows from his arms scraping the floor in disgust.
Carlos Beltran is also an interesting one to consider because of the career he's had. My "Baseball Tonight" research colleague, Justin Havens, and I had a good discussion about this recently. He pointed to the sabermetrics and the value that Beltran has contributed through the life of his seven-year contract. I noted that it's hard to quantify the value of striking out to end the 2006 NLCS.
I also brought this up with Eric Karabell on Friday's edition of the "Baseball Today" podcast and asked fans to share their thoughts on the subject of grudges.
Some said that time is the key. Most noted that it's a lot easier to let go once your team wins its next championship. Red Sox fans of a certain age have forgiven Bill Buckner for his error, which played a great role in the Mets' last World Series triumph, in 1986. That they haven't won since is probably why many my age still have a baseball resentment for Bonilla, Alomar and others.
My favorite response came from New York Magazine contributor Will Leitch, who tweeted that "the statute of limitations on fan forgiveness is never. Obviously."
This brings us to the current state of the Mets and their general manager Sandy Alderson, who holds their future fate in his hands.
Thirty-four years ago this week, the Mets traded Tom Seaver to the Reds and those who remember it have still not forgiven then-team president M. Donald Grant.
Twenty-eight years ago this week, the Mets traded for first baseman Keith Hernandez. Then-GM Frank Cashen is still held in the highest regard for pulling off such a maneuver.
Much of Alderson's potential legacy as a GM could be shaped in the next few months when he decides the future fate of shortstop Jose Reyes, who is currently performing at a level that few in baseball can match.
A lot of fans will be watching closely. And there are a lot of potential grudges in the making should Alderson's ultimate decision not pay dividends for this franchise.