Unsure if he had a future as a professional baseball player, Dillon Gee began taking steps to follow in his father's footsteps as a firefighter in Fort Worth, Texas, taking written and physical agility tests.
"Then I got drafted, so I left," said Gee, a 21st-round pick of the New York Mets out of Texas-Arlington in 2007.
Gee will not need the fallback occupation anytime soon.
After tossing a career-high eight innings in the Mets' 8-1 win at Pittsburgh on Friday night, Gee improved to 7-0. He became the first rookie in franchise history to open a season by winning his first seven decisions. And he became the first rookie in the majors to open a season with that many consecutive winning decisions since Jered Weaver started 9-0 in 2006.
Manager Terry Collins, who once managed former Met Rick Reed at Triple-A Buffalo, sees distinct similarities between the two. After pitching under Collins, Reed went on to have six straight years of double-digit wins between the Mets and the Twins. Reed too was a middle-round pick -- 26th round in 1986.
"Rick had a little bit more sink to the fastball than Dillon does, but the curveballs are the same and the changeups are very, very similar," Collins said.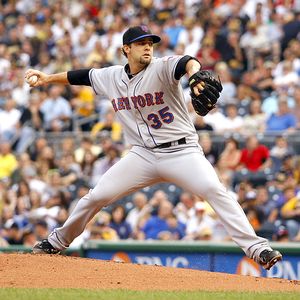 AP Photo/Keith Srakocic
Dillon Gee limited the Pirates to one run in a career-high eight innings on Friday.
On Friday, Gee allowed three straight singles to open his outing. The third, by Andrew McCutchen to center field, resulted in Pittsburgh's lone run. The damage could have been worse that inning, but Gee got lucky. On cleanup hitter Neil Walker's hard comebacker, Gee spun counterclockwise -- leaving his back essentially to the plate -- stretched out his glove and somehow blindly caught the baseball. Too startled to think to initiate a double play at second base, Gee recovered to get a forceout at third base.
"I was just throwing up a Hail Mary," Gee said. "It kind of caught me by surprise that I caught it. That's probably why I didn't go to second with it."
Make no mistake, Gee has been fortunate at other points during his 7-0 start to the season.
On May 13 in Houston, Gee was down 4-0 after Ryota Igarashi allowed a pair of inherited runners to score in the sixth. Yet the Mets scored four in the eighth, on two-run homers by Fernando Martinez and David Wright, and rallied for a 6-4 win against the Astros to absolve Gee of a loss. Then, in Chicago on May 25, Gee allowed four first-inning runs, yet the Mets answered with five runs in the second at Wrigley Field and the rookie ultimately improved to 4-0.
As a 21st-round pick, the odds were not in Gee's favor. Scan a list of players taken by the Mets in that round since 1965 and only three others appeared in the majors -- John Tudor (1975), Mardie Cornejo (1973) and Lutes Barnes (1969). And Tudor actually did not even sign with the Mets. He instead was redrafted in the third round of a now-defunct January phase a year later by the Boston Red Sox.
"I always just said as long as I went in the draft somewhere, even if I signed as a free agent, all I wanted was a shot and I felt like I could do something with it," Gee said.
It has not been entirely smooth sailing as a professional for the 25-year-old Gee. The year after the draft, he logged a combined 154 1/3 innings between Class A St. Lucie and Double-A Binghamton while producing a 10-6 record and a 2.92 ERA. The Mets set up for Gee to continue pitching in the Puerto Rico winter league.
Pitching for Ponce, which was managed by Eduardo Perez, Gee ended up being the league's pitcher of the year. But he had pitched that winter-league season with a partially torn labrum -- an injury he suffered working out with a personal trainer between the regular season and winter-league assignment.
"I actually did it working out to go to Puerto Rico," Gee said. "That's when I felt it pop. And I went to Puerto Rico and pitched 50 more innings. My [personal] trainer, he just thought it was tendinitis or something. I went with it, just thought it was sore. It was an accident that did it, because I remember the day it happened. And everybody thought it was overwork. But I can throw a lot. I feel like that's part of my strength is being able to throw a lot. It didn't help that I went and pitched with already hurting it."
Gee figured he would need shoulder surgery, but Mets doctors said the percentage tear was small enough that he could avoid it. He was limited to nine games in 2009, and continues to pitch with the tear.
"I kind of wanted it and they told me not to because I was young," Gee said about surgery. "I didn't really know anything about it. I was just thinking, 'If something is broke, you've got to fix it.' But they were like, 'No, that's not the way we should treat this.' At first there was a lot of work to stay on top of keeping the inflammation down. Now I feel like I'm kind of in a routine where I feel like I do pretty much like everyone else."
When Chris Young returned from his first stint on the disabled list and the Mets used Gee for a couple of appearances out of the bullpen, Gee said he was unconcerned about the shoulder holding up with the irregular usage.
"I just kind of worried about how long it would take me to warm up," Gee said. "Because of that [tear] I feel like I need longer. But it actually responded pretty well in the bullpen. I had like two days in a row out [of] the 'pen, and then started two or three days after that. It actually responded a lot better than I thought it would."
Gee's 7-0 start is the best by a Mets rookie to start a season ever, exceeding Jon Matlack's 6-0 start in 1972. That year, Matlack won the NL Rookie of the Year award. Gee said achieving something comparable is the furthest thing from his mind.
"I couldn't care less," he said. "I'm just hoping that I keep pitching well enough to stay here at this point. That's not even a blip on my radar."
As for being unbeaten, Gee added: "It's definitely more than I could have imagined at this point. But I'm not really worried about my record. As long as I keep the team in the game every fifth day, I feel like I've done my job."
Gee, who grew up in Cleburne, Texas, would go to five or six Texas Rangers games a year with his firefighter father Kevin while growing up. His favorite player was Nolan Ryan, now the Rangers' president, whom he has never met.
"I wish," Gee said.
Gee actually is lined up to pitch the series finale in Texas on June 26, during interleague play. He is sure to have a big family presence, including his father, whose footsteps he no longer will follow into firefighting. Still, Gee makes regular visits to his father's Fort Worth firehouse.
"Now when I go back in the offseason I actually live in Fort Worth," Gee said. "So it's like right there. I drop by a lot."
As for that profession's allure, Gee said: "We thrive on the adrenaline rush of not really knowing what you're going to do every day. My dad says it's probably the only job he could have done this long and still liked it. I think I'm in that same mindset. That's what I wanted to do."