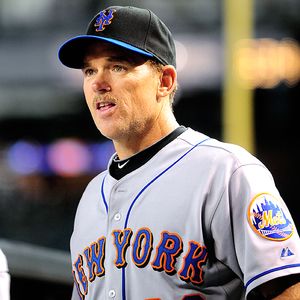 Mark J. Rebilas/US Presswire
Former hitting coach Howard Johnson said the Mets treated Jason Bay's slump improperly.
Terry Collins said he did not appreciate comments from Howard Johnson to the New York Post in which the former hitting coach labeled it "ridiculous" to sit Jason Bay, even in the midst of an 0-for-23 slump.
After a two-day absence, Bay was back in the lineup on Saturday.
"As soon as I showed up at the ballpark today, I was slapped in the face with Howard Johnson telling us we should play him and not bench him," Collins said. "I don't really call it a benching. I would call it more of a time off kind of thing. The other thing, and I think the world of Howard Johnson, but he hasn't got all the facts. So he should be careful what he actually says when he doesn't have all the facts."
HoJo had told the newspaper about Bay sitting: "It's ridiculous it's come to that. If he's supposed to be part of the solution, I don't see the point of taking him out of the equation. It's sending him mixed messages. I don't care if he's 0-for-50, you're not going to get him relaxed by taking him out of the lineup."
As a side note, it was during the Mets' visit to Pittsburgh last August that Johnson told players there was too much card-playing and not enough attention to the craft of baseball.