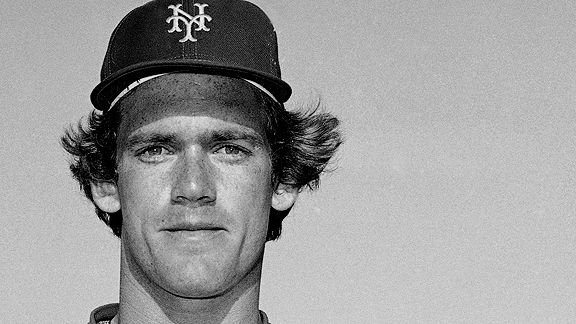 AP Photo
Neil Allen made a Mets impact that went beyond netting Keith Hernandez.Mark Simon reminisces about Mets history each week in his "Remember When We Met" posts.
A couple of weeks before being traded to the St. Louis Cardinals in a swap that marked a turning point in the Mets' pursuit of a championship, right-handed reliever Neil Allen appeared at a local baseball card show.
For 30 seconds, he brightened the day of an 8-year-old fan, who sported a T-shirt featuring Allen's rookie card on it. Allen was slumping at the time, but his face brightened at the image and he spoke positively to the youngster.
Twenty-eight years later, on the cusp of the anniversary of that deal, the two crossed paths again. And while Allen is often remembered as the pitcher who (along with Rick Ownbey) netted the Mets star first baseman Keith Hernandez in a trade with the Cardinals on June 15, 1983 -- as well as the pitcher who surrendered Gary Carter's Opening Day walk-off homer two years later -- this writer prefers to think of him as his all-time favorite Met.
It's often forgotten because Hernandez was a great Met, but Allen was a pretty good one during his five-season stint.
"I'll always have a special place in my heart for the Mets," said the 53-year-old Allen, now the pitching coach for the Rays' Triple-A affiliate, the Durham Bulls. "They gave me the chance to continue my life as a professional baseball player. I always seem to look to the Mets scores on the scoreboard no matter what I'm doing."
Allen became the accidental closer for the Mets during his rookie season in 1979. He was on the verge of being sent to the minor leagues, but an injury the day of his likely demotion sent him to the disabled list instead. When Allen got healthy, Mets management (which included then-skipper Joe Torre) decided his best role would be as a reliever.
"I got thrown into the fire right away," Allen said, "and I loved it."
Allen ranked fourth in the National League in saves in 1980, third in '81, and sixth in '82, and was impressive in an era dominated by the likes of Hall of Famers Bruce Sutter and Rollie Fingers. He had a few hot streaks that netted him a pair of National League Player of the Week honors and a guest stint on the then-hit show "Eight is Enough."
Allen was distinct because of a high leg kick, in which he raised his knee up to his neck, a feature that has disappeared from the major leagues. He also had a big looping curveball that threw hitters off and netted him success when it was at its best.
"When I pitched in Little League, I always had a high leg kick," said Allen, a native of Kansas City, Kan. "It got me more power and more energy. Even with the leg kick I was [quick] to the plate with runners on base. So the Mets never tried to mess with that."
Allen enjoyed the New York limelight a bit during his five years with the Mets; he also spent parts of three seasons, post-Hernandez trade, with the Yankees. He admitted that at times he was young and foolish, but said he learned great lessons from the experience. He turned those into positives, in that he can impart his wisdom upon future major leaguers.
Allen has mentored just about every member of a very successful Rays pitching staff since he joined the organization in 2005, including David Price, James Shields and Jeremy Hellickson. Allen has been in pro coaching since 1995.
"I try to teach the young guys that tomorrow is another day," Allen said. "You can't live on today. They all want to be in the big leagues, but it's a marathon, and this is all part of a process. I try to keep it simple and fun for them. And I talk to them about handling failure, both on and off the field."
Allen's Mets stint ended with the Hernandez trade. The change turned out to be OK for Allen, who realized it was probably best for him to experience the major leagues in other places. His 11-season playing career, which included stops with the Cardinals, Yankees, White Sox and Indians, ended in 1989 with 75 saves and a 3.88 ERA.
From talking to him for 20 minutes, it sounded like his favorite memories were of his time with the Mets.
"The New York fans made me," Allen said. "From the day I arrived, they were nothing but great. I feel now that I helped the Mets get a championship by getting them one heck of a first baseman. I always tell myself that I must have been doing something right for the Mets to get someone like that."