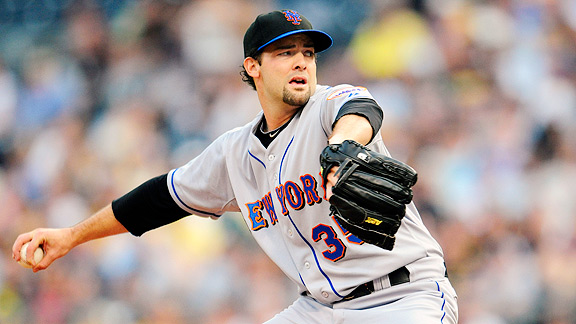 Jeanine Leech/Icon SMI
Dillon Gee's early mound mastery has been one of the surprising stories of 2011.Dillon Gee's popularity is rising with each successive victory that he's able to add to his ledger, which stands at 7-0 this season heading into his Wednesday night start in Atlanta.
Gee's mark is the best among major league pitchers who are currently undefeated. One more win and he'd match Dwight Gooden as the only pitchers to start 8-0 for the Mets, with all eight wins coming as a starting pitcher. (Gooden did it in 1988.)
Gee is an interesting one to root for because he doesn't do anything that's particularly amazing. His fastball is 89-90 mph. His changeup is effective, but not dominant. He's a pitcher who seems built like a Rick Reed or Bobby Jones. Good, but not great. Consistent, but not dominant.
But just how much of a pitching whiz is Gee compared to his peers?
Dillon Gee
2011 in Summary
Let's answer that question in a statistical manner.
Run Prevention
Gee's ERA is 2.90, impressive for any year within the 2000s, but not quite as much in 2011, considering where Gee is pitching (pitcher-friendly Citi Field) and the caliber of other pitchers this season.
ERA+, a stat tracked on Baseball-Reference.com, measures how good a pitcher's ERA is, adjusting for the performance of his peers and the ballpark in which he pitches. A score of 100 means he's an average pitcher. The higher above 100, the better the pitcher is with regards to those factors (peer/park).
Gee rates a 121. That's really good. But is it elite?
No.
The top 13 pitchers with at least 50 innings pitched all score 150 or better. Currently injured Marlin Josh Johnson leads the majors with a 239.
Gee rates 32nd in the majors, tied with the likes of Roy Oswalt and Randy Wolf, which certainly isn't bad company. Being 32nd is good, but not great, which fits the Gee profile. It puts him among the top 25 percent of all pitchers.
Controllable Factors
Gee isn't a strikeout pitcher and that's reflected in both his strikeout rate (6.4 per 9 innings) and walk rate (2.9 per 9). Let's use that in conjunction with some other information.
Most Consecutive Wins To Start Season
Mets History
According to the stats published on Fangraphs.com, Gee has yielded 64 fly balls this season and four of them have gone for home runs. That 16:1 fly ball/home run rate is far, far better than the typical major league pitcher, whose rate is typically around 10:1.
That is likely a product both of Gee's pitching style and the ballpark in which he pitches approximately half the time.
We can look at Gee's Expected Fielding Independent Pitching (xFIP), which looks at what a pitcher's ERA should be based on his strikeouts and walks, and a major league average fly ball:home run rate.
Gee's xFIP is 3.91 -- a jump of a full point from his current ERA. That's tied for 76th best in the major leagues. It's second-best on the Mets behind Jon Niese's 3.52.
Sabermetricians will tell you that a pitcher whose gap between his ERA and xFIP is that great will likely see his ERA rise in the near future.
The other stat often cited in this regard is his batting average on balls in play (BABIP, meaning at-bats that end other than with a strikeout or home run). Gee's BABIP is .244, which ranks 18th in the majors and seventh in the National League.
Most major league pitchers will have a BABIP between .290 and .310, because their teams are able to convert batted balls into outs at around a 70 percent rate.
Digging a little deeper
BABIP and xFIP aren't definitive. They can provide a clue to performance, but require digging a little deeper. In doing so, we can find what Gee has done best this season.
Our data shows that Gee has allowed 29 line drives this season, a rate of one for every six batted balls. That's a good rate, within striking distance of that of Roy Halladay and Cole Hamels.
But with that, the line drives Gee's allowing are not your typical ones. We use a company that major league teams use, Inside Edge, which charts every pitch and every batted ball in every game.
They use "video scouts" to make judgments on whether balls are hard hit. It's a subjective rating, but the criteria are such that you and I would ideally make the same call if we saw every batted ball.
Of those 29 line drives, only 12 have been classified as "well-hit" by these video scouts. An average major league pitcher would have yielded 19 out of 29, seven more than Gee, whose well-hit rate ranks seventh-best in the bigs in 2011.
And the good thing about avoiding "well-hit" line drives is that softly hit liners tend to be outs more frequently. Gee's only allowed a hit on 15 of his 29 liners, pretty good considering that line drives go for hits about three-quarters of the time.
I don't know what Gee is doing to induce soft line-drive contact, but it's worth watching him more closely to see if both this and his winning ways can continue.