Hisanori Takahashi spent nearly his entire career with the Yomiuri Giants in Japan as a starting pitcher. So the left-hander was unsure how he would adapt to a relief role in the major leagues.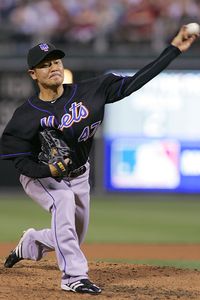 Hisanori Takahashi
"It's easier than I thought," Takahashi said through an interpreter, while noting that he has borrowed from the routines of new teammates Pedro Feliciano and Francisco Rodriguez. "I've been a starting pitcher for 10 years. I thought it would be kind of difficult to be a reliever -- three days in a row pitching. But it's a lot easier than I thought."
The Mets now plan to return Takahashi (3-1, 2.74 ERA) to his customary starting role anyway, a team source said. Takahashi is expected to replace Oliver Perez in the rotation when the Mets face the Washington Nationals on Wednesday in D.C.
Takahashi, 35, went 79-66 with a 3.70 ERA in 245 games (202 starts) from 2000-09 with the Yomiuri Giants. He felt the urge to go to the United States in large part because of the successful experiences of two of his former Giants teammates -- Los Angeles Angels outfielder Hideki Matsui and Baltimore Orioles right-hander Koji Uehara.
"Of course, I was watching what they were doing when I was in Japan," Takahashi said. "And, also, Koji Uehara is one of my friends. When I watched his game, he looked so happy to be playing (major league) baseball. That was one of my reasons to be here. And, also, Hideki got MVP last year. That was a surprising thing."
Takahashi wanted the opportunity to face Matsui in the United States, so he's sorry the outfielder has relocated from the Yankees to the American League West. The two had the chance to face each other a handful of times in Japan -- in intrasquad games with the Giants, as well as when Matsui returned to the country with the Major League Baseball All-Stars.
Not that Takahashi has experienced much success against Matsui.
"Honestly, the result against Hideki Matsui is like 5-for-8 and four home runs right now," Takahashi said. "I pitched against the Yankees and he hit a home run off me."
Matsui did give Takahashi some playful advice before coming to the majors: stayed clothed during postgame celebrations. Apparently, Takahashi liked to disrobe after important games with the Giants and dance around the locker room au natural.
Takahashi laughed recalling those days and suggested he's matured since then.
"I'm a grown man now," he said. "I don't do that anymore."
Takahashi clearly wanted to be a major leaguer. He agreed to a minor league deal with the Mets on Feb. 11, and said he was prepared to go to Triple-A Buffalo had he not made the team. Takahashi was awarded a bullpen spot after producing a 2.77 ERA in 13 innings in the Grapefruit League.
"I did well in spring training, fortunately," Takahashi said. "But if the manager and the pitching coaches told me to go down to Buffalo, I had to go."
His wife Yayoi helped push him over the edge in coming to the United States, too.
"I'm not sure she wanted me to go to the major leagues," Takahashi said. "She pushed me at the last step to go to the major leagues. She told me, 'This is your last opportunity to be a big leaguer.'"
One of Takahashi's biggest games in Japan came in Game 5 of the 2000 Japan Series -- that country's equivalent of the World Series. As his rookie season came to a closes, Takahashi tossed a shutout in Game 5 against the Daiei Hawks. The matchup was particularly huge because the teams were managed by the two most famous former Japanese players -- Sadaharu Oh for the Hawks and Shigeo Nagashima for the Giants.
"It was one of my best games so far," Takahashi said. "The Japan Series is the biggest game in Japan. And also the managers were very famous. People in Japan, everybody was watching on TV."