Rhiner Cruz has not quite reached 100 mph on a radar gun.
"Just 99," Cruz said.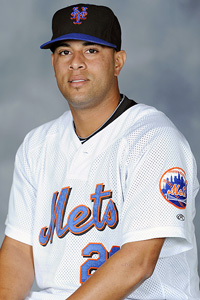 Courtesy of New York Mets
Rhiner Cruz
Still, the right-handed reliever has been plenty good enough for the Binghamton Mets of late. In his past four relief appearances, the 24-year-old Cruz has limited opponents to one hit and four walks while striking out nine in 10 2/3 scoreless innings. Since an early May promotion from Class A St. Lucie, Cruz is 1-1 with a 2.84 in 14 appearances spanning 25 1/3 innings in Double-A.
"He's a guy who can command when he stays within himself," B-Mets pitching coach Marc Valdes said. "When he gets out of whack, he's trying to throw the ball 100 mph. And, believe me, he's come close. But his 94 to 96 mph with movement down is just as effective as 99 and ball one, ball two."
As for Cruz's breaking pitch, Valdes adds: "When it's good, it's more of a nice, sharp little slurve. The other day he threw one to a tough left-handed hitter. The guy was just set up on 99, 98 mph. And he threw a sharp slider. Swing and miss. He had no chance."
Cruz, a native of the Dominican Republic, originally signed as a 16-year-old with the Detroit Tigers. He pitched for two seasons in the Gulf Coast League with that organization, compiling a 4.65 ERA in 30 relief appearances, and was let go. After not pitching in 2006 with any organization while allowing an elbow issue to heal -- no surgery was performed -- then-Latin American scouting chief Ramon Pena signed Cruz for the Mets. Pena also had brought Cruz to the Tigers organization when he worked for Detroit.
"I was young," Cruz said, reflecting on his brief Tigers days. "And when I signed, I didn't know too much. I just knew to throw hard. And then I started to learn how to pitch."
He added, referring to the elbow: "I pitched sore."
Cruz actually represented Spain in the 2009 World Cup in Europe, the same tournament for which Ike Davis represented the United States. Cruz's mother Lucia is Dominican, but she was working at the time as a caretaker for the elderly in Spain and was able to secure a passport for Cruz. She now is in Italy performing similar work.
Cruz had 22 saves with Savannah in 2009 under Valdes, then six with St. Lucie last season, and he could end up back in closing role at some point. Or, he even could be a starting pitcher, as his lengthier relief outings suggest.
"I'll do whatever they want," Cruz said.
Organization leaders
Average: Gregory Pron, Kingsport, .600; Julio Concepcion, Kingsport, .500; Jeyckol De Leon, GCL Mets, .500; Cam Maron, Kingsport, .500; Danny Muno, Brooklyn, .462; Juan Carlos Gamboa, GCL Mets, .400; Travis Taijeron, Brooklyn, .375; Juan Lagares, St. Lucie, .338.
Homers: Brahiam Maldonado, Binghamton, 13; Lucas Duda, Buffalo, 10; Aderlin Rodriguez, Savannah, 9; Stefan Welch, St. Lucie, 9.
RBI: Valentino Pascucci, Buffalo, 45; Wilmer Flores, St. Lucie, 44; Aderlin Rodriguez, Savannah, 39; Josh Satin, Binghamton, 39; Brahiam Maldonado, Binghamton, 37.
Steals: Jordany Valdespin, Binghamton, 19; Pedro Zapata, St. Lucie, 17; Matt den Dekker, St. Lucie, 12; Darrell Ceciliani, Savannah, 11; Cesar Puello, St. Lucie, 11.
ERA: Peter Birdwell, Kingsport, 0.00; T.J. Chism, Brooklyn, 0.00; Isaac Monrroy, GCL Mets, 0.00; Hansel Robles, Kingsport, 0.00; Tyson Seng, Brooklyn, 0.00; Jared West, GCL Mets, 0.00; Ernesto Yanez, Kingsport, 0.00; Darin Gorski, St. Lucie, 1.57; Matt Harvey, St. Lucie, 2.37; Jeurys Familia, Binghamton, 2.52.
Wins: Matt Harvey, St. Lucie, 8; Greg Peavey, Savannah, 6.
Saves: Josh Edgin, St. Lucie, 16; Jeffrey Kaplan, St. Lucie, 10; Nick Carr, St. Lucie, 7; John Lujan, Buffalo, 5; Erik Turgeon, Binghamton, 5.
Strikeouts: Matt Harvey, St. Lucie, 92; Jeurys Familia, Binghamton, 87; Darin Gorski, St. Lucie, 82; Taylor Whitenton, Savannah, 70; Greg Peavey, Savannah, 69.
Short hops
• With St. Lucie on Monday joining Savannah as a first-half division champion, promotions continued. 2010 first-round pick Matt Harvey, a right-hander from the University of North Carolina, and fifth-round pick Matt den Dekker, a center fielder from the University of Florida, have been promoted from St. Lucie to Binghamton (although den Dekker missed a connecting flight Wednesday in Philadelphia because of a mechanical-related delay on his first flight). Harvey's first Double-A start is scheduled for Sunday at 2:05 p.m., on an extra day of rest, as the B-Mets play at Bowie, Md. Harvey's promotion will push Brad Holt to the bullpen with the B-Mets. Since opening the season by limiting opponents to two runs (one earned) in 18 innings over his first three Binghamton starts, the 24-year-old Holt is 2-6 with a 6.96 ERA in 10 starts and has walked 37 and hit two batters in 42 2/3 innings.
• Binghamton also should get a jolt with Josh Stinson's return from Triple-A Buffalo. Stinson went 3-7 with a 7.44 ERA in 13 starts in Triple-A. He had opened the season with two starts for the B-Mets. Stinson is expected to work in relief during this tour of duty in the Eastern League. Jack Egbert, who made five starts in the Florida State League after returning from Tommy John surgery, will take Stinson's rotation spot with the Bisons.
• The promotions of Harvey and den Dekker will lead to outfielder Cory Vaughn (fourth-round pick in 2010/San Diego State) and right-hander Greg Peavey (sixth round/Oregon State) joining St. Lucie from low-A Savannah on Thursday. Vaughn was hitting .286 with four homers and 30 RBIs in 245 at-bats with the Sand Gnats. Peavey was 6-2 with a 3.12 ERA in 14 starts in the South Atlantic League. The Gnats already had sent closer Josh Edgin and infielder Robbie Shields to St. Lucie last week, after clinching their first-half title. Edgin had converted 12 straight saves and was tied for the South Atlantic League lead with 16 saves at the time of the promotion. He did not allow a run in his final 16 appearances with the Gnats.
• Vaughn started in center field and had a two-run homer in the South's 6-3 win in Tuesday's South Atlantic League All-Star Game. Taylor Whitenton started and allowed two runs (one earned) in one inning. Chase Huchingson tossed a scoreless relief inning with two strikeouts, while Peavey also had a scoreless frame, allowing one hit. Savannah skipper Ryan Ellis, who won a first-half title with the Gnats in his first full season managing, was on the South All-Star staff. Ellis, a former infielder for two seasons in the New York-Penn League for the Montreal Expos as a player, previously had been Savannah's hitting coach. Ellis' first managerial gig was in last fall's instructional league.
• Chin-lung Hu, who left Triple-A Buffalo for the Mets' Port St. Lucie, Fla., complex suffering from the throwing yips, is picking up switch-hitting during the stay there. Farm director Adam Wogan said the primary intent of Hu going to the complex was to become a switch-hitter, not because of the throwing issues. Hu is working with minor league hitting coordinator Lamar Johnson. Hu has switch-hit in batting practice for several years, but has not taken it into games. As an exclusively right-handed hitter, Hu has had little success against any pitchers in the majors. He is hitting .157 against left-handers and .183 against right-handers.
• Nick Evans is on a tear since clearing waivers and accepting an assignment to Buffalo rather than declaring free agency. In six games, Evans has hit .522 (12-for-23) with eight RBIs. He has alternated between left field and right field. Evans has an 11-game International League hitting streak dating to his last stint with the Bisons.
• Fernando Martinez, who was forced from last Thursday's game at Norfolk with a flare-up in his arthritic right knee, is back in Buffalo's lineup at designated hitter Wednesday. Fellow Bisons outfielder Kirk Nieuwenhuis (left shoulder) is still regaining strength and is further from returning.
• Short-season Kingsport opened its season Tuesday. The Appalachian League club's strength may be its starting pitching. The Opening Day starter was left-hander Juan Urbina, the son of former major league Ugueth Urbina. Right-hander Domingo Tapia, who had a 3.45 ERA in 10 starts in the Gulf Coast League last season, gets Wednesday's staring nod, followed by highly regarded right-hander Akeel Morris from the U.S. Virgin Islands on Thursday. Jeff Glenn and Long Island native Cam Maron handle the staff behind the plate. Alexander Sanchez, who saw more duty at first base in the Gulf Coast League in 2010, will shift back to more of a third-base role this season while seeing action at both positions.
• St. Lucie middle infielder Matt Bouchard, an 11th-round pick in 2007 from Georgetown, will undergo hip surgery.
• Outfielder Travis Taijeron is off to a fast start with Brooklyn. The 18th-round pick from Cal Poly Pomona is 6-for-16 (.375) with three RBIs and four walks through five games. Described as a blue-collar player and mature hitter with a lot of strength and ability to drive the ball, Taijeron has looked adequate in center field. He also can man the corners in the outfield.
• With D.J. Carrasco promoted to the Mets, Dylan Owen (2-4, 4.71) has rejoined Buffalo's rotation.
• Binghamton middle infielder Jordany Valdespin recently got in Wally Backman's doghouse and did not appear in games for a few days.
• Buffalo infielder Michael Fisher has a 15-game hitting streak, longest active in the International League.
Adam Rubin's farm report appears Wednesdays during the season