Left-hander Darin Gorski's 1.55 ERA not only is the best in the Florida State League, it leads by a wide margin. Former St. Lucie teammate Matt Harvey, already promoted to Double-A Binghamton, still qualifies innings-wise to rank No. 2 in the league, at 2.37. Palm Beach's Joe Kelly ranks third at 2.59.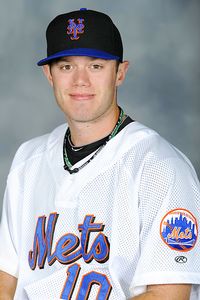 Courtesy of New York Mets
Darin Gorski
Gorski also is unbeaten at 6-0, while his 87 strikeouts rank third in the league, trailing only Clearwater's Trevor May (108) and Harvey's 92. The St. Lucie southpaw started the Florida State League's All-Star game in Clearwater.
"It was a great honor," Gorski said.
Not bad, especially considering the 23-year-old Gorski went 6-8 with a 4.58 ERA in 25 games (18 starts) at low-A Savannah in 2010.
"It's great when you pitch with a little bit of confidence," said Gorski, a seventh-round pick in 2009 out of Division II Kutztown University in Pennsylvania. "You get some good results and a little bit of confidence, it feels great. I'm very happy."
As for the uptick in performance from last season in the South Atlantic League, Gorski said: "Consistency is the biggest thing. I've been working with the pitching coach here, Phil Regan, a lot. He helped me with some mechanical changes and just getting me more consistent with my off-speed pitches. It's just translated into a lot of success from there."
Gorski calls his slider "a work in progress." As for the rest of his repertoire, he also likes to throw a changeup.
"The combination of those two have been progressing pretty well together," said Gorski, whose fastball averages about 89 mph. "As far as the fastball goes, for me it was never really a big velocity thing. I'm not like one of those mid-90s guys. It's more location when I'm throwing it. I'm not too worried about what the radar gun is reading, because it's nowhere close to 95 mph. I just try to hit my spots and keep the ball down and pitch to contact basically."
And yet, despite pitching to contact, Gorski does have the 87 strikeouts in 75 2/3 innings.
"Last year I had quite a few walks (43 in 114 innings), so one of the biggest things coming into this season for me was trying to not walk a lot of guys -- trying to induce contact and get ahead in the count," said Gorski, who has walked 15 in 75 2/3 innings this season. "It's a lot easier to pitch when you're ahead in the count."
Farm director Adam Wogan said Gorski has added some fastball velocity since he joined the organization. And although averaging 89 mph is not eye-popping, it is now at a level to work well in contrast to his other pitches.
Organization leaders
Average: Gregory Pron, Kingsport, .423; Juan Carlos Gamboa, GCL Mets, .407; Julio Concepcion, Kingsport, .382; Juan Lagares, St. Lucie, .344; Carlos Leyva, GCL Mets, .333; Nestor Moreno, Kingsport, .320; Cam Maron, Kingsport, .316; Josh Satin, Binghamton, .314; Pedro Zapata, St. Lucie, .309; Kirk Nieuwenhuis, Buffalo, .298.
Homers: Brahiam Maldonado, Binghamton, 14; Lucas Duda, Buffalo, 10; Valentino Pascucci, Buffalo, 10.
RBI: Valentino Pascucci, Buffalo, 49; Josh Satin, Binghamton, 48; Wilmer Flores, St. Lucie, 47; Aderlin Rodriguez, Savannah, 42; Brahiam Maldonado, Binghamton, 40.
Steals: Jordany Valdespin, Binghamton, 22; Pedro Zapata, St. Lucie, 21; Matt den Dekker, Binghamton, 14; Darrell Ceciliani, Savannah, 12; Cesar Puello, St. Lucie, 12.
ERA: Miller Diaz, GCL Mets, 0.00; Ernesto Yanez, GCL Mets, 0.00; Hunter Carnevale, Brooklyn, 0.93; Jose De La Torre, GCL Mets, 1.42; Darin Gorski, St. Lucie, 1.55; Alberto Baldonado, GCL Mets, 1.80; Marcos Camarena, Brooklyn, 1.80; Edioglis Villasmil, GCL Mets, 1.80; Carlos Vazquez, Brooklyn, 1.88; Eduardo Aldama, Brooklyn, 2.45.
Wins: Matt Harvey, Binghamton, 8; Greg Peavey, St. Lucie, 7; Darin Gorski, St. Lucie, 6.
Saves: Josh Edgin, St. Lucie, 17; Jeffrey Kaplan, St. Lucie, 10; Nick Carr, St. Lucie, 8; Hamilton Bennett, Savannah, 6.
Strikeouts: Matt Harvey, Binghamton, 96; Jeurys Familia, Binghamton, 87; Darin Gorski, St. Lucie, 87; Taylor Whitenton, Savannah, 73.
Short hops
• Nick Evans extended his hitting streak with Buffalo to 18 games Tuesday night. That is the longest active streak in the minors, matching Tony Abreu's streak with Reno in the Pacific Coast League. Evans caught Abreu because Reno's game was postponed Tuesday. In 13 games since returning to Triple-A after being designated for assignment, Evans has nine multi-hit games and is hitting .490 (24-for-49) with eight doubles, 12 RBIs and eight walks. In Bisons modern history, Evans' 18-game hitting streak matches Brandon Phillips (2004), Jeromy Burnitz (1995) and Les Norman (1997) for eighth longest. The record is 28 straight games by Alex Ramirez in 1998.
• Right-hander Matt Harvey and third baseman Jefry Marte will represent the Mets at the Futures Game on July 10 at 6 p.m. ET at Chase Field in Arizona, two days before the All-Star Game. The event will be televised on ESPN2. Harvey, the organization's 2010 first-round pick, struggled with his fastball command and was charged with four runs on nine hits and two walks while striking out four in 4 2/3 innings in his Double-A debut Sunday at Bowie. The 22-year-old UNC product went 8-2 with a 2.37 ERA in 14 Florida State League starts before the promotion. Marte, who turned 20 on June 21, is hitting .286 with five homers and 37 RBIs in 73 games with St. Lucie.
• Infielder Josh Satin became the first player in the Binghamton Mets' 20-year history to hit for the cycle when he did so Friday at Bowie. Satin ranks seventh in the Eastern League with a .314 average and third in on-base percentage at .412.
• Buffalo outfielder Kirk Nieuwenhuis (.298, 6 HR) has been sidelined since June 9 because of an injury to his left, non-throwing shoulder. He was due to attempt dry swinging and may progress to light cage work.
• Zach Lutz's rough Triple-A season injury-wise continued when the corner infielder landed on the disabled list Tuesday with a concussion, four days after being struck in the head with a curveball. Lutz had returned to the Bisons on June 10 after missing seven weeks with a hamstring injury and then a broken left index finger. The fractured occurred when Lutz was struck with a foul ball in the dugout while already on the disabled list. Lutz's concussion triggered the promotion of Jon Malo to the Bisons from Binghamton, and Travis Ozga from St. Lucie to Binghamton.
• Ryota Igarashi has put together a stellar stretch of relief appearances for the Bisons. Since surrendering a walk-off homer at Gwinett on June 6, Igarashi has limited opponents to four hits and three walks while tossing 13 1/3 straight scoreless innings. He has struck out 11 during that span. The key for Igarashi has been fastball command. Igarashi has a tendency to get in trouble when the pitch drifts up in the zone.
• Buffalo middle infielder Luis Hernandez, whose average was sitting at .196 on June 5, is hitting .310 (22-for-71) with 15 RBIs in his past 19 games.
• Rhiner Cruz has more or less settled into the closer's role with Binghamton, succeeding Erik Turgeon. The B-Mets' bullpen had struggled, particularly at the back end, since John Lujan had been promoted to Buffalo in early May. It has now somewhat stabilized with Cruz closing, and with Josh Stinson assigned to the pen from the Triple-A rotation and Brad Holt from the Double-A rotation. The B-Mets, in fact, have won three straight series for the first time this season. Roy Merritt, the lone lefty in the pen, had a spot start with Jeurys Familia missing a turn. Merritt allowed one run in five innings. Familia threw a side session and is scheduled to be reinserted into the rotation by early next week.
• B-Mets second baseman Reese Havens, who has been tormented by oblique problems, has been out since last Thursday with an unrelated injury that the organization has not disclosed, but which has been described as short term.
• Center fielder Matt den Dekker is hitting .212, with 14 strikeouts in 33 at-bats, in eight games since a promotion from St. Lucie to Binghamton. The defensively solid den Dekker's promotion has allowed Raul Reyes to move to right field from center. That has diminished Eric Campbell's playing time, with Brahiam Maldonado getting the majority of the starts in left field.
• Joe Bonfe, a 21st-round pick in 2009, who has an advocate in Savannah hitting coach Benny Distefano, went 4-for-4 with three RBIs and three runs scored Monday as the Gnats put up a season-high 13 runs. Bonfe had only 77 at-bats in the first half, but is now seeing regular playing time in right field with teammates' promotions to St. Lucie. A natural third baseman, he is boxed out there by the presence of Aderlin Rodriguez. Bonfe hit .326 with four homers and 28 RBIs in 270 at-bats with Brooklyn last season, also with Distefano as his hitting coach. The 6-foot-4, 220-pound Bonfe can "run a little bit for is size," according to Wogan.
• Darrell Ceciliani returned from a three-day absence for an illness Tuesday in style with a ninth-inning two-run double in Savannah's 5-3 win at Rome.
• Rafael Fernandez, pushed off the St. Lucie roster because of outfield crowding, is seeing regular playing time with the Gnats and has hit safely in 12 of his last 13 games. Fernandez is hitting .337 in June.
• Brooklyn left-hander T.J. Chism, a 32nd-round pick in 2009 out of La Salle, is 1-0 and 3-for-3 in save conversions in 6 2/3 scoreless innings for the Cyclones. Born in Phillies country, Chism has been particularly tough on lefty hitters, despite an average fastball. He combined to allow three runs (two earned) in 25 2/3 innings last season between Kingsport and Brooklyn.
• Right-hander Jose De La Torre pitched an inning in the Gulf Coast League on Tuesday as he works back from shoulder discomfort that dates to winter-ball activity in Puerto Rico. He went 3-2 with a 2.98 ERA in 36 relief appearances for Buffalo last season.
• N.C. State right-hander Cory Mazzoni, the Mets' second-round pick earlier this month, should appear in a game with Brooklyn within a week, although his innings counts will be severely restricted.
• UCLA product Erik Goeddel, a right-hander, is on a throwing program in Port St. Lucie. He was shut down after a May 23 appearance with Savannah with a shoulder strain.
Adam Rubin's farm report appears Wednesdays during the season