Right-hander Matt Harvey's return to his home state of Connecticut this weekend will get cut short.
Double-A Binghamton opens a series Friday at New Britain, but the 2010 first-round pick from Fitch High School in Mystic -- about a 40-minute drive from the Eastern League stadium -- is departing after the opener. Harvey will represent the Mets in Sunday's ESPN2-televised Futures Game at Chase Field in Phoenix, along with St. Lucie third baseman Jefry Marte.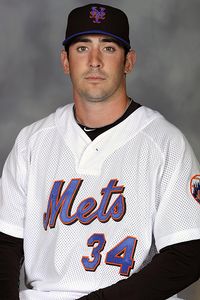 Courtesy of New York Mets
Matt Harvey
Harvey, 22, makes his third Double-A start on Wednesday night, against Portland.
After allowing four runs on nine hits and two walks in his B-Mets debut on June 26 at Bowie, Harvey rebounded against the same opponent back in Binghamton last Friday while mostly ranging from 93-95 mph with his fastball -- "which is slightly below average for me," Harvey said. He tossed five innings, allowing two runs, and was pulled before a callus that ripped off could become a blister.
"For some reason I went to a lot of offspeed the first game," Harvey said about his Double-A debut. "When that happens, if you get behind using your offspeed, obviously they're going to know the fastball is coming. (In the rematch) I just tried to keep it down and get ahead of the guys. My two-seamer was working good, and I was able to get some groundballs and just let the infielders do their jobs."
Harvey bypassed attending the Florida State League All-Star Game so that he could pitch what turned out to be St. Lucie's first-half division clincher two days later.
"It was a lot of fun," said Harvey, who was charged with two runs (one earned) in six innings and received a no-decision in the 11th-inning walk-off win. "The celebration we had after the game was really cool. Being able throw and keep the team in a good place to win was something I was happy about."
Harvey then was promoted to Double-A. He went 8-2 with a 2.37 ERA in 14 Class A starts to launch his career, striking out 92 while holding opponents to a .238 average in 76 innings.
Farm director Adam Wogan said the timing of Harvey's promotion primarily was tied to his development -- that Harvey was moved to Double-A when he demonstrated improved proficiency with his changeup as well as a better rate of first-pitch strikes. He also throws a slider and a curveball. The Mets also left Harvey at that level to pitch the clinching game to experience the playoff-type atmosphere.
Harvey is highly unlikely to get a September call-up. In fact, his success may cut short his season.
He already has logged 85 2/3 innings this season. While the Mets can be slightly more liberal in how much Harvey will pitch because he was used heavily during his junior year in 2010 at the University of North Carolina, Harvey likely will be capped at about 130 innings to avoid ramping up too many innings this season.
The Mets will count the one-inning Futures Game appearance as a start -- with reasonably standard rest on both sides of the showcase appearance -- to space out Harvey's outings. They also may pull him early from games soon and even cut short his season.
"We're definitely on top of the inning total," Wogan said.
Said Harvey: "I know it's weird. A lot of people might not say it. But I feel a lot better throwing every fifth day than I did once a week (at UNC). My arm feels better. My body feels better. I'm right around 100 innings, and it feels great right now."
Organization leaders
Average: Cam Maron, Kingsport, .375; Greg Pron, Kingsport, .372; Juan Carlos Gamboa, GCL Mets, .371; Juan Lagares, St. Lucie, .348; Nick Evans, Buffalo, .323; Julio Concepcion, Kingsport, .322; Pedro Zapata, St. Lucie, .320; Josh Satin, Binghamton, .319; Chad Zurcher, Kingsport, .316; Ismael Tijerina, Brooklyn, .306.
Homers: Brahiam Maldonado, Binghamton, 15.
RBI: Josh Satin, Binghamton, 52; Wilmer Flores, St. Lucie, 50; Valentino Pascucci, Buffalo, 50; Aderlin Rodriguez, Savannah, 46; Brahiam Maldonado, Binghamton, 43.
Steals: Jordany Valdespin, Binghamton, 27; Pedro Zapata, St. Lucie, 24; Matt den Dekker, Binghamton, 15; Darrell Ceciliani, Savannah, 13; Cesar Puello, St. Lucie, 12.
ERA: Jose De La Torre, GCL Mets, 1.23; Darin Gorski, St. Lucie, 1.56; Eduardo Aldama, Brooklyn, 2.33; Jeurys Familia, Binghamton, 2.38; Carlos Vazquez, Brooklyn, 2.41; Matt Harvey, Binghamton, 2.73; Chris Schwinden, Buffalo, 2.78; Taylor Whitenton, Savannah, 2.79; Jeff Walters, Brooklyn, 2.89; Greg Peavey, St. Lucie, 2.97.
Wins: Matt Harvey, Binghamton, 8; Greg Peavey, St. Lucie, 8; Darin Gorski, St. Lucie, 7.
Saves: Josh Edgin, St. Lucie, 18; Jeffrey Kaplan, St. Lucie, 10; Nick Carr, St. Lucie, 8; Hamilton Bennett, Savannah, 8; Ronny Morla, Savannah, 7.
Strikeouts: Matt Harvey, Binghamton, 101; Jeurys Familia, Binghamton, 93; Darin Gorski, St. Lucie, 92; Chris Schwinden, Buffalo, 80; Taylor Whitenton, Savannah, 76.
Short hops
• Left-hander Steve Matz, the organization's top pick (second round) two years ago, is home on Long Island. Matz, who had Tommy John surgery in May 2010, has halted throwing for the time being. He is expected to return to the Mets' Port St. Lucie, Fla., complex in a week to 10 days. After being examined by Mets doctor David Altchek following elbow discomfort, Matz sought a second opinion from Dr. James Andrews. Wogan suggested neither doctor has any concern. Instead, the farm director said, the throwing interruption is a reminder that despite some pitchers returning as quickly as 11 months after Tommy John surgery, the length of recovery can be as long as 18 months, and that Matz fits into the category of a longer recovery time.
• Nick Evans' hitting streak with Triple-A Buffalo ended at 19 games with an 0-for-4 performance last Thursday. The streak matched the fifth-longest in Bisons modern history, tied with Ben Francisco (2007), Franklin Gutierrez (2007) and Karim Garcia (2002). The Buffalo record was set by Alex Ramirez in 1998 at 28 games. The other longer streaks: Ben Francisco, 25 games in 2006; Jolbert Cabrera 21 in 1998; and Tommy Shields 20 in 1990. In 220 Triple-A at-bats this season, Evans has a .323 average, which ranks sixth in the International League. Either Evans gets a call-up later this season, perhaps when rosters expand in September, and is returned to the 40-man roster, or he will be a minor league free agent at season's end.
• Right-hander Miguel Batista, who was released by the St. Louis Cardinals, was charged with four runs while recording only one out in his Bisons debut Tuesday. He faced six batters and allowed four hits and a walk. Batista is expected to be used as a starting pitcher after the Triple-A All-Star break, when his innings count has built further. He worked in relief for the Cardinals. John Lujan, who opened the season as Double-A Binghamton's closer, returned to the B-Mets with Batista joining Buffalo. Lujan was 1-2 with a save and 2.96 ERA in 19 appearances (one start) with Buffalo.
• Right-hander Chris Schwinden will be the Bisons' lone representative in next Wednesday's Triple-A All-Star Game in Salt Lake City. Since a mid-April promotion from Binghamton, Schwinden is 5-3 with a 2.87 ERA in 15 starts. He has allowed 67 hits and 30 walks (two intentional) in 87 2/3 innings and has not lost a decision since May 31. Buffalo hosts the Triple-A game in 2012.
• Right-hander Jeurys Familia and infielders Josh Satin and Jordany Valdespin will represent Binghamton in the Double-A All-Star Game the same day at Manchester, N.H. Familia returned from a 15-day absence (as the Mets acted conservatively with soreness) to notch his first Double-A win Monday, against Portland. Familia tossed five scoreless innings to shave his Eastern League ERA to 3.02 in nine starts spanning 50 2/3 innings. Satin (.319) and Valdespin (.300, 27 steals) both notched their 10th homers Tuesday.
• Zach Lutz (.313, 4 HR, 13 RBI, 96 at-bats) returned to Buffalo's lineup Monday after missing nine days with a concussion, suffered when he was hit with a curveball. It's been an unfortunate season injury-wise for the third baseman. On the DL earlier this season with a hamstring injury, Lutz was hit in the dugout by a foul ball while inactive and broke the ring finger on his non-throwing hand. Those injuries cost him a combined seven weeks.
• Buffalo center fielder Kirk Nieuwenhuis (.298, 6 HR, 14 RBI), already out a month with a strain of his left, non-throwing shoulder, is not making progress and may be forced to decide soon between rehab and surgery. Nieuwenhuis struggles to lift his shoulder during everyday activities and is unable to swing a bat.
• The organization is limiting the innings counts of certain June draft picks by having the college-groomed pitchers work every fifth day in relief, generally for an inning, and no more than two with Brooklyn. The plan applies to right-hander Cory Mazzoni (second round, N.C. State), left-hander Jack Leathersich (fifth round, UMass Lowell) and right-hander Randy Fontanez (27th round, South Florida). Leathersich is due to make his pro debut with the Cyclones on Thursday. Mazzoni's outings will definitely be limited to one inning since he had a heavy workload this season with the Wolfpack, while the reins on Leathersich and Fontanez will be a little looser.
• Fernando Martinez took advantage of a 72-hour window to report to Triple-A after a demotion and is expected to join Buffalo for Wednesday's series opener at Scranton/Wilkes-Barre. Wogan said Martinez had a personal issue.
• Ryota Igarashi's 14 1/3 inning scoreless streak -- during which he allowed six hits in 10 appearances -- was snapped Friday. Igarashi allowed a run charged to himself, as well as a runner inherited from Mike O'Connor to score, in the ninth inning in a 2-0 loss to Lehigh Valley. Igarashi then allowed three runs in his next appearance before tossing two scoreless innings at Syracuse on Tuesday.
• Catcher Dusty Ryan, who underwent knee surgery for a meniscus tear earlier this year, was activated from Buffalo's disabled list and assigned to Binghamton. The B-Mets have an extra game before their All-Star break compared with Buffalo, which partly fueled the temporary Double-A assignment. The B-Mets have been without catch Kai Gronaeur since he left a May 12 game with a hamstring injury.
• 2008 first-round pick Reese Havens landed on the DL with Binghamton with a lower-back strain.
• With Binghamton short available relievers last week, infielders Travis Ozga and Jose Coronado appeared in consecutive games on the mound. Neither surrendered a run. Coronado sports a Fernando Valenzuela-style delivery, turning his back completely to the plate before spinning and firing.
• Binghamton reliever Rhiner Cruz (2.70 ERA) registered 102 mph on the Bowie, Md., stadium gun. He recently has been throwing 96-97 mph with a solid slider.
• Right-handed relievers Michael Powers and Jeff Kaplan returned to St. Lucie from Binghamton. Powers had limited opponents to one run in 7 2/3 innings in four relief appearances during his latest Double-A stint. Kaplan, who has 10 saves in 15 chances with St. Lucie this season, allowed two runs in four Eastern League innings.
• Outfielder Raul Reyes has the RBIs in both of Binghamton's walk-off wins this season.
• Brooklyn left fielder Javier Rodriguez, a second-round pick in 2008 from Puerto Rico, tied a Cyclones record with six RBIs last Thursday at Hudson Valley. Brian Harrison last year and Caleb Stewart in 2005 also drove in six.
• Third baseman Richard Lucas reached base in 13 straight games to open the season with Brooklyn before having the streak snapped Sunday.
• Brooklyn left-hander T.J. Chism has not allowed an earned run since Sept. 1, 2010. The former 32nd-round pick out of La Salle University in Philadelphia is 1-0 with three saves and has tossed 8 2/3 scoreless innings for the Cyclones this season.
• St. Lucie infielder Robbie Shields has been out since June 30 with back stiffness.
• Savannah has won 11 straight games, its longest streak since becoming a Mets affiliate in 2007. First baseman Sam Honeck is doing his part. After a torrid opening two weeks of the season, Honeck hit .161 in May and .194 last month. In five July games, he's hitting .389.
• Cam Maron, a product of Hicksville High School on Long Island, who was drafted in the 34th round in 2009, is off to a quick start with Kingsport. Through 12 games, the 20-year-old catcher is hitting .375 and has a .519 on-base percentage. Athletic, Maron also received some outfield exposure before signing, but the Mets are keeping him exclusively as a catcher. He sports an advanced approach at the plate for that level of Class A ball, although he is not known for power.