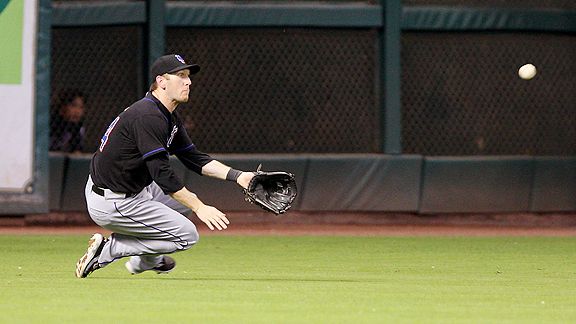 Troy Taormina/US Presswire
Jason Bay's defensive effort has been rewarded statistically in 2011.
As the Mets head to the Bay Area, so do we, after a colleague recently posed the question to us: Is Jason Bay a better player than his basic stats would indicate?
Consider this: The Mets enter Friday 81-73 when Bay has started a game within the last two seasons. They are 43-53 when he doesn't start.
That seems contradictory given how Bay has performed relative to the expectations set for him when he signed his four-year contract prior to last season.
Bay hasn't lived up to the role of right-handed, run-producing power hitter. That's obvious. Bay has 12 home runs, 24 doubles, and 75 RBI in about a full season's worth of games as a Met (157 games). That's nowhere near what the expectations were for him after his stint with the Red Sox.
But Bay made up for a lack of extra-base production at the plate in multiple other areas. Let's take a closer look at those.
Those of you who think you've noticed that Bay has been stellar defensively this season- you're on to something.
Jason Bay's Defensive Runs Saved
Since 2006 (Among LF)
In his 62 games this season, Bay has 10 Defensive Runs Saved (a number which measures the ability to turn batted balls into outs and the deterrent ability of ones throwing arm), which ranks third-best among leftfielders in the majors, trailing only Brett Gardner of the Yankees (17) and Gerardo Parra of the Diamondbacks (15).
Bay has shown the ability to move laterally to get balls, as he did with a diving catch against Robinson Cano last Friday, and to chase down deep fly balls, such as the one he got in his encounter with the Dodger Stadium fence to thwart Aaron Miles on Monday. Bay has also shown improvement at getting to balls hit to the shallowest parts of left field.
As a result, his plus-minus (the component of Runs Saved that measures turning batted balls into outs) has gone from a negative to a positive.
Solidifying that is the tagging system of Baseball Info Solutions, a company in Allentown, Pa. that charts every play in every game. Bay has had 10 catches tagged as "Good Fielding Plays" this season (think "Web Gem Nominees"). That ranks tied for sixth-best among leftfielders, not bad considering Bay hasn't played in 26 games this season.
By these metrics, Bay has saved 16 bases above what an average left fielder would have with his defense this season. That's a significant improvement for Bay, who hasn't had a positive measurement in that statistic since saving 12 bases for the 2006 Pirates.
Bay also had a reputation of being a smart baserunner prior to coming to New York and that has carried over in his two-season stint with the Mets. Sabermetrician Bill James devised a metric "Net Baserunning Gain," which rewards players for base-stealing, avoiding double plays, and having success at taking extra bases on wild pitches/passed balls, ground outs and fly outs, without being thrown out.
In the last two seasons, Bay is 18-for-19 in steal attempts, has taken 21 "extra" bases and made only two outs on the bases. His overall rating in this span is +27 bases, which wouldn't rate in the upper-echelon among major leaguers (the leaders tend to be the fastest players, like Jose Reyes), but puts him solidly in the second-tier.
Remember in last Sunday's ninth inning when Bay went first to third on Lucas Duda's single off Mariano Rivera.? That didn't necessarily impact what eventually happened. But it could have, and for that, the baserunning metrics reward Bay. Think of it this way: If four bases is worth one run, Bay's baserunning has been worth an estimated seven runs since 2010.
Baseball is a game of multiple components besides what one produces at the plate. Thus far, Bay has done his best to bring value in other areas in an attempt to make up for his lack of offensive punch. Now, his offense is starting to return to form.
Bay is hitting .325 with four home runs and 17 RBI in his last 20 games (which translates to 30+ HR and 120+ RBI if maintained for a season). That sort of production will push his value closer to expectations.
We'll close this out with one more stat to show just how important Bay can be: Bay hasn't gotten a lot of extra-base hits during his Mets stint, but the team is 28-10 when he gets at least one, 8-1 in 2011.