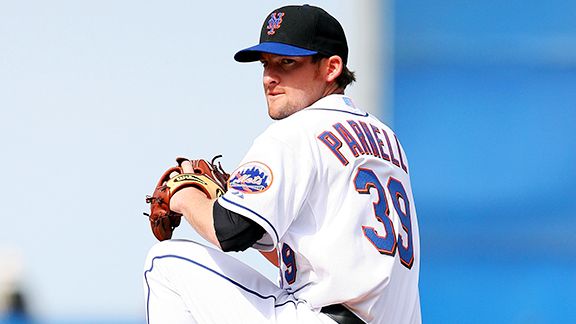 Doug Benc/Getty Images
Bobby Parnell should get more opportunities to finish games with the departure of Francisco Rodriguez.
Remember a week ago when we said that the Mets likely wished that Bobby Parnell could evolve into their version of David Robertson?
Now, Parnell just may get that chance. With Francisco Rodriguez gone, Parnell figures to be pitching in more high-pressure situations, as it makes sense for the Mets to figure out what they have with the 26-year-old North Carolinan.
At this moment, Parnell is the Mets key player to watch in the second half. What should we be watching for?
How about his two primary pitches. Let's take a closer look at them.
The fastball
Parnell has cranked his fastball to an average speed of just under 97-miles-per-hour this season. Among pitchers who have thrown at least 100 fastballs this season, Parnell's average fastball velocity ranks eighth-best in the majors.
Parnell was able to ratchet one pitch to 102.5 miles-per-hour at Comerica Park. The only pitcher to throw a fastball harder than that this season is Reds reliever Aroldis Chapman, who has peaked at 103.4.
Parnell has hit 100 miles-per-hour 10 times this season, 28 times since the start of the 2010 season, three more times than Tigers starter Justin Verlander, but many fewer than Chapman, who leads the majors with 145 pitches clocked at 100+ in that span.
Twice this month, Parnell struck a hitter out with a 100+ pitch—He did it against Nick Swisher on July 1 against the Yankees, than whiffed the Dodgers Rafael Furcal with a 101 mile-per-hour doozy to end the eighth inning with the Mets up by a run in an eventual win on July 4.
The improved slider
Perhaps the most encouraging sign for Parnell has been the recent development of his slider as an effective secondary pitch. With that, has come an increased reliance on the pitch.
Parnell's opponents on-base percentage in turns that end in a slider has dropped from .314 in 2010 to .161 through the first half of 2011.
How big a difference is that?
If Parnell's slider had matched its 2010 effectiveness, he should have yielded 10 baserunners with it this season. He's actually only allowed five. A five-baserunner fewer difference, just with one pitch, is a huge swing for a relief pitcher.
Bobby Parnell
Last 2 Seasons (vs LHB)
The biggest thing that the improved slider has impacted is Parnell's performance against left-handed hitters. While righties are actually hitting better against Parnell than they did last season, lefties are suddenly struggling against him.
The chart on the right shows Parnell's performance against left-handed hitters this season. That's largely attributable to Parnell's slider success, particularly when he tries to finish a lefty off in a two-strike count.
Parnell has increased the use of his slider in two-strike counts against lefties from about once every four pitches last season to one in every three in 2011. His 24 two-strike sliders to lefties have yielded nine strikeouts and two baserunners via hit or walk. Last season, his 15 two-strike sliders to lefties resulted in as many baserunners (2) as strikeouts (2).
The two-strike slider success has also made his two-strike fastball more effective. His strikeouts-to-baserunners ratio with it is 9-to-4. Last season, it was 8-to-6. That's a little improvement, but it has gone a long way in boosting Parnell's value.
Three other things to watch
Three quick hitters to keep an eye on, with the help of Baseball-Reference.com
Who's catching: Parnell has worked 8 1/3 innings with Ronny Paulino and held opponents to a .207 on-base percentage. In 14 2/3 innings with Josh Thole, his opponents OBP is .353
Short rest: Parnell has made three appearances this season without a day off and pitched 2 1/3 scoreless innings. He can figure on more of such work with Rodriguez gone.
Home improvement: Parnell has a 5.59 ERA with 11 strikeouts and six walks in 11 Citi Field appearances in 2011. His opponents batting average on balls in play is .429. On the road, his numbers are awesome: a 1.20 ERA and 19-to-3 strikeout-to-walk rate. His opponents BABIP is a much more reasonable .278.