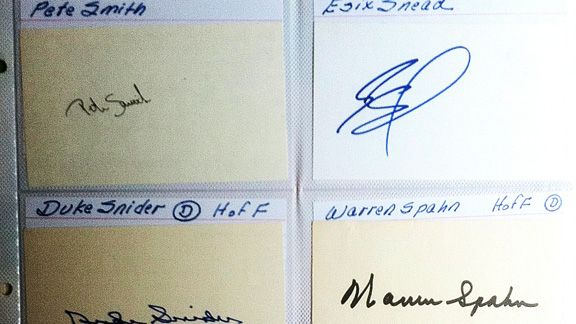 Wally Ramsey's memorable collection includes the most famous of Mets, like Duke Snider and Warren Spahn, and the one-minute Mets, like Esix Snead.Each week, Mark Simon reminisces about Mets history. This week, he shares the space with Wally Ramsey, the father of a colleague, who has compiled and is now putting up for sale a collection that features the autograph of everyone who played for the Mets.
Here is Wally's story, as told to Mark:
In 1940, when I was 8, my father took me to my first major league game, to see the Dodgers at Ebbets Field in Brooklyn. I was hooked. To complete the day, my father took my "History of the Brooklyn Dodgers" book to the dugout, where a few of the players graciously signed it.
When I was a kid, I was blessed with unusually nice handwriting and I studied graphology. I became fascinated by the Declaration of Independence signers and their autographs.
Then I started to look at the autographs of Hall of Famers like Babe Ruth and Charlie Gehringer. They had beautiful signatures. They took a lot of time to make sure their signatures would be appreciated by fans.
As an adult, I married my college sweetheart and had the good fortune of being offered a position at the Greenwich (Conn.) Country Day School, where I began a 46-year teaching career and became friends with the head of the mathematics department whose father was Fred Trask, part-owner of the fledgling Mets of the early 1960s.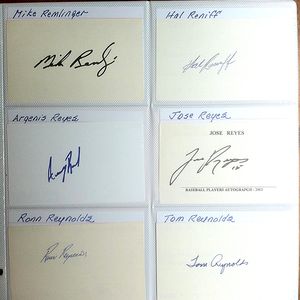 Argenis Reyes and Jose Reyes get equal billing in this amazin' autograph collection.I became a big fan of the team. We used to go to spring training and I probably went to over 1,000 games with him. I was there in 1969 when they won the NL pennant and World Series.
I can't remember exactly when I decided to collect the autograph of everyone who had played for the New York Mets and to collect them on 3x5 index cards, but the year was probably 1966, the team's fifth year in existence.
I realized that the only way to have an attainable goal in autograph collecting was to have a limited focus with the distinct possibility of completion. I decided that every Met was within my grasp and the challenge was worth the goal.
Forty-five years later, I have a collection that features an autograph from everyone to play for the Mets. They include stories both happy and sad, every player from the Asian Rim, and all the Hall of Famers, most of whom -- like Duke Snider and Warren Spahn -- were merely passing through the Polo Grounds or Shea Stadium on their way to Cooperstown.
And I have guys from the 1962 team like Harry Chiti, who ended up being traded for a player to be named later. That player to be named later was ... Harry Chiti!
I got about half of the autographs in-person and half through purchases. We used to go to spring training every year and it was easy to get players to sign for you there. When I talk to players, I try not to talk about baseball with them. I think they hear enough about that from everybody else.
I store the autographs in sheets, in alphabetical order by last name. That's how Snider and Spahn are on the same page as a brief recent Met, Esix Snead, as you can see in the photo at the top of this blog.
My favorite autograph in the collection is the Mets' former manager, Gil Hodges. His penmanship was gorgeous and his autograph is a work of art. Another favorite is Hall of Famer Tom Seaver, who was my next-door neighbor and business associate.
The Ulti-Met Collection
Highlights
In around 1970 or 1971, he moved to Greenwich and was looking for somewhere to work out in the offseason. I suggested the Greenwich Country Day School gym. I was athletic director, so I had the key to the gym.
Dave Kingman was another player who lived in Greenwich for a little while. I've heard some people say bad things, but he was always very accommodating to me. That's also a favorite.
The last player in my search was Dick Stuart, who played first base for the Mets in 1966. What's amazing is that I knew him. He lived in Greenwich, used to come to the local pool and play catch with my son.
Dick hit the longest home run I ever saw, in our Sunday softball league. It landed on I-95. The next day, we instituted a rule in our softball league-- no former major leaguers could play.
I just got his autograph. The dealer charged me extra for it because there was another player's autograph on the same index card -- Willie Mays. I didn't mind.
As for the toughest one to read: Snead's signature is scribbled, but I have worse than that. Remember the pitcher, Bartolome Fortunato? His autograph is chicken-scratch. The players with the long last names -- like Jason Isringhausen, you can read the "I" and that's it.
The players today do these card shows and they barely move the pen. They move the item under the pen because they have so many items to sign.
If the Mets get a new player to replace one of the ones they're trading, like Francisco Rodriguez, I can add them easily. I have my sources.
Speaking of which, I would be remiss not to mention those without whom my quest would never have succeeded: Jack Smalling of Iowa, the granddaddy of 3x5 collectors and the publisher of a baseball players address book which is the Bible of collectors; highly respected autograph dealer Bill Corcoran of Florida; and Lanny Freeman of California, who has been a great source of finding the obscure and remote players who many collectors have forsaken as unfindable. Lanny had the foresight to buy a card catalog cabinet to store his autographs.
I think what's impressive about my collection is its totality. I don't know if there is another one like it. To me, at least, this one is one of a kind.