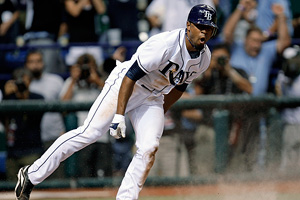 AP Photo/Chris O'Meara
The Mets signed Fernando Perez and assigned him to Triple-A Buffalo.
The Mets have signed outfielder Fernando Perez to a minor league contract and assigned him to Triple-A Buffalo. Perez could replace Fernando Martinez on the Bisons' roster. Martinez has a hip injury and has not played since Friday.
Perez, 28, appeared in 41 games with the Tampa Bay Rays in 2008 and '09, hitting .234 with three homers in 94 at-bats. He is a product of Columbia University and The Peddie School in Hightstown, N.J.
He hit .238 in 76 games with Triple-A Iowa in the Chicago Cubs organization this season.
Perez is a published poet. He told Paul Sullivan of The Chicago Tribune earlier this year: "I was trained as a poet and I write a lot of poetry still, but since playing baseball I've started to write personal essays more. I've also experimented with fiction. So there's lot of stuff I write that makes it out occasionally."
Perez scored the winning run in Tampa Bay's Game 2 win in the ALCS against Boston in 2008 on a shallow sacrifice fly.