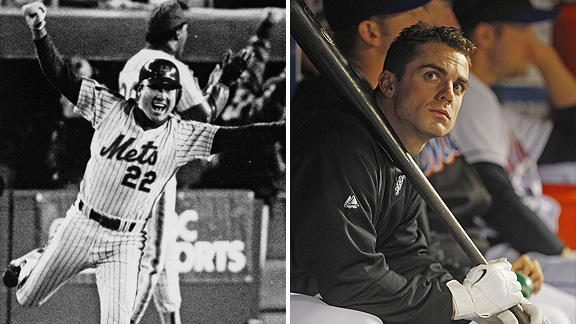 AP Photo/Richard Drew (left), Paul Bereswill (right)
In 1986, Ray Knight (left) had the kind of season, one culminating with a championship, that David Wright hopes to have someday.The Mets hope to get some significant punch back in the lineup today with the return of David Wright from the back injury that sidelined him for two months.
Twenty five years ago today, the Mets got some significant punch from their third baseman, albeit of a different nature.
Friday marks the 25th anniversary of one of the wackiest games in Mets history, a 6-3 14-inning win over the Reds in Cincinnati. The game is well-remembered for a few reasons.
The Mets tied that game with two outs in the ninth inning, when right fielder Dave Parker dropped Keith Hernandez's fly ball, allowing two runs to score.
An inning later, with the score still tied, the two teams got into a bench-clearing brawl when Reds center fielder Eric Davis slid hard into third base on a steal attempt.
Mets third baseman Ray Knight got into a shoving match with Davis, which evolved into Knight, a former boxer who was a fiery competitor, throwing a punch at Davis. Fights broke out all over the field and when the dust settled, the Mets found themselves short players due to ejection.
Manager Davey Johnson had a clever solution. He alternated two pitchers -- lefty Jesse Orosco and righty Roger McDowell -- with one on the mound and one in the outfield. Orosco ended up catching a fly ball from future Hall of Famer Tony Perez. The Mets finally won in the 14th on a Howard Johnson three-run homer.
But back to Knight and his role, not just in that game, but in the Mets' last championship season. You could make the argument that on a team that featured Keith Hernandez, Gary Carter, and Darryl Strawberry, that Knight was the true MVP.
Ray Knight
1986 Highlights
That would be not just the Most Valuable Puncher, but Most Valuable Player.
Let me use one of these new sabermetric stats to support my case.
Win Probability Added looks at every plate appearance a player has in a given season and rewards or penalizes based on how much that plate appearance impacted his team's chance to win. It's a scoring system that values both production and timeliness of production. A home run in a tie game means more than one in a 10-0 blowout.
Knight had plenty of timely production in 1986.
His most notable regular-season hit was a walk-off home run against the Astros on July 3. The Mets won in a fashion that foreshadowed the way they won Game 6 of the 1986 World Series, rallying from two runs down in the bottom of the 10th inning (the final score was even the same as Game 6, 6-5). Knight went from being a goat (he'd struck out in his first four at-bats) to a hero, homering off Frank Dipino.
Hits like that are worth a lot of Win Probability points. So is a .357 batting average with runners in scoring position that ranked second-best in the National League.
Knight finished the season sixth-best in the NL in Win Probability Added, a smidge behind Hernandez for the team lead.
Knight didn't have a great NLCS against the Astros, but came through in two significant spots, with a two-strike game-tying sacrifice fly in the ninth inning of Game 6, and the go-ahead hit in the 16th inning of the same contest.
In the World Series, Knight hit .391 and would keep Game 6 alive, fighting off an 0-2 pitch with two outs in the 10th inning to get an RBI hit. He'd score the winning run when Mookie Wilson's grounder went through Bill Buckner's legs.
Then in Game 7, Knight hit the home run that gave the Mets the lead for good, off Calvin Schiraldi to snap a 3-3 seventh-inning tie. It capped what was one of the most clutch seasons in Mets history.
It's that which Mets fans feel they've been missing from Wright, who was one of the Mets' most clutch hitters from 2005 to 2007, with three straight seasons of an on-base percentage over .400 with runners in scoring position. In his next three seasons, Wright's strikeout totals in such situations greatly increased, and in only one of those years was his OBP above .380
Wright had the fifth-best Win Probability Added in baseball from 2006 to 2010. He dropped to 44th in 2010.
So if you ask What2Watch4, as we sometimes do in this space, from Wright, we'd tell you to keep an eye on his productive punch, the kind Knight showed throughout 1986.