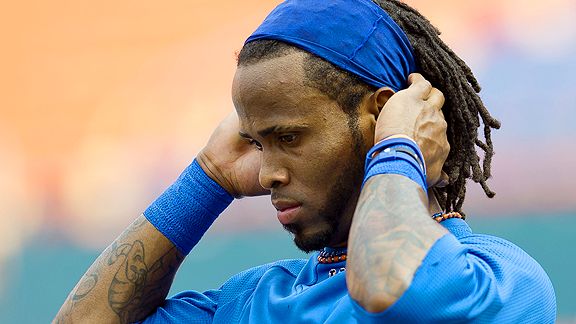 Steve Mitchell-US PRESSWIRE
Jose Reyes has been busy off the field as well as on it this year, including shooting a music video.While stealing bases, legging out triples and trying to keep the Mets in contention this season, Jose Reyes also somehow managed to find some time to complete a music video for a song he's featured in.
"No Hay Amigo" (There Is No Friend) was just a rough demo by Big Mato and Vakero which got leaked in the Dominican Republic. Producer SPKilla got Reyes, or "La Melaza" as he's called by those who know him well, involved. He immediately got hooked on the track and decided to do a remix of it, inviting along established reggaeton artist Voltio and Poeta Callejero.
The lyrics of the song are based on the struggles Reyes encountered as a youngster in Palmar Arriba, his hometown on the Caribbean island. He makes reference to those people who are only there for you when you're at the top, but are nowhere to be seen when you're down and out.
"What inspired me there was everything I went through as child," Reyes told ESPNdeportes.com before the Mets' game at Citi Field on Thursday afternoon. "In the song I say, 'I remember when as a kid I didn't have anything, only the desire to progress.'"
Reyes said he came up with that verse as a way to positively inspire young people: "I believe that everything I went through since (I was) a kid up until where I am at now, you understand that all the effort you put forward is all worth it when you're a kid, work hard every day without caring what other people say."
Reyes also said that in the song he raps about some people only being there for what he's got, while at times when he's been hurt they've all scattered, without a text message or a phone call.
"Not everybody is like that but I've had friends like that that have been only with me just for what I got," said Reyes, who has his own record label, El7music. "I'm a ballplayer that's been through a lot. At times I've been injured and at times injured for a few months and I've had people around me that didn't even give me a call to see how you're doing.
"That's something that bothers you but when you're doing good, everybody wants to be good with you. It's in those bad moments when you notice who are your real friends."
In the video Reyes displays the form of a seasoned musical artist alongside Voltio and Omega, a merengue artist from the Dominican Republic. Part of the video was shot in his hometown.
"I've had that flow that I've always had since I was a kid," Reyes said. "I've always liked reggaeton and hip hop. That's me. The flow that's there is Jose Reyes. It was a great experience for me. I've followed Voltio since (I was) a kid and I was able to spend time and get to know Omega."
The shortstop, who is set to become a free agent at the end of this season, wants to make one other thing clear -- this is only a hobby, since his time is really limited.
He'll share his ideas -- like he did with his lyrics for "No Hay Amigo" and another song that was just released, "Bate Roto" (Broke Bat), a party anthem -- to L Jay, an artist/songwriter who along with Edgar Taveras runs the daily operation of El7music.
L Jay is quick to point out that there's hardly any time during the season for Reyes to sit down in a studio and rhyme. They share many of the same life experiences -- that makes composing the songs easier.
They met in 2005 through L Jay's cousin, who used to cut Reyes' hair. The creation of the label by Reyes was a way to push L Jay and others in life.
"He knows all the themes he wants to talk about," L Jay said. "I write, but he also gives me ideas. The verses that he sings, he feels like he's the one that's writing them because he's always giving me ideas. He has his artistic side but he's not the person that can just sit down to write a song. With time he's learning more and more."
There are about six songs already done, and a mini-compilation album will be released in about four months. While that project is being finalized, expect a big-name artist to work with Reyes during the upcoming offseason.
Lil Wayne saw the "No Hay Amigo" video and was impressed. The two have exchanged messages and talked. According to L Jay, Lil Wayne has expressed interest in joining forces with Reyes once his "I Am Still Music" tour comes to an end and the baseball season is over.