David Wright delivered a two-run homer off Anibal Sanchez as part of a three-hit game in Sunday's 5-4 loss to the Marlins.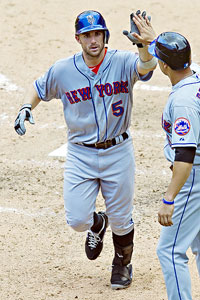 Steve Mitchell/US Presswire
David Wright belted a two-run homer Sunday that briefly gave the Mets a one-run lead.
Wright finished the weekend 6-for-14 (.429) with three doubles, a homer and six RBIs. He scored four times in three games.
"I wouldn't be playing if I didn't think I was ready," said Wright, who missed 59 games with a stress fracture in his lower back. "Obviously, health-wise, I didn't want to do anything to inhibit later on in this year, possibly next year. And I didn't want to come to this team to be a guy that wasn't ready and hurt those guys moving forward. I wouldn't have put myself in a position that I didn't think I was ready.
"With that being said, obviously it was good the first night to get off to a good start and get that 'W.'"
Still, Wright added: "It's tough to sit here and pat yourself on the back when you just lost two out of three and just lost today in the finale."
Wright, despite his success, still has room to advance. He made a couple of errors on wide throws in the series.
"It's still taking a little bit getting up to speed as far as getting my legs under me," Wright said. "There was a ball I probably should have went to second on -- one of the base hits -- that it just felt like maybe my legs weren't there quite yet. And that's just playing every day and getting back into that baseball shape. Hopefully that happens soon."