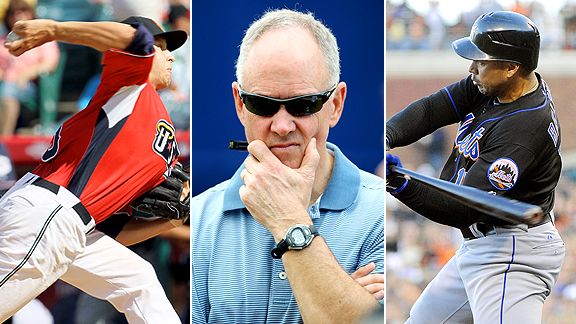 Getty Images/US Presswire
Sandy Alderson explains the trade of Carlos Beltran for Zack Wheeler.
Here are points from Thursday's conference call with Sandy Alderson discussing the Carlos Beltran trade:
• Alderson said the Mets are likely done with trading-deadline business "unless something extraordinary comes up."
The GM explained: "Let me first of all acknowledge that by trading Carlos, we've made it a little tougher on our remaining players and the Mets club. I certainly acknowledge that. On the other hand we have a pretty tough group and lots of motivated players. … I'd be very reluctant to make it any tougher on them."
• Zack Wheeler will be assigned to Class A St. Lucie, the Mets equivalent of where he was pitching in the San Francisco system. Alderson said he had "a perfect pitcher's build. … Some people would say there are some command issues, but it's not unusual for a power pitcher early in his career."
Alderson noted players have their own timetables for reaching the majors. But the GM called 2012 "probably unlikely" and 2013 "more likely."
Alderson also said: "What made Zack stand out to us was his overall potential, certainly reflected in his draft status in '09 (sixth overall). But more important, since that time, during the course of the last 10 days or so, we have had our professional scouting staff all over the United States watching players in individual organizations. I would say we were able to see virtually every player who was contemplated in a deal from any of more than half-dozen teams. As a result of that process, for example, the person who saw Wheeler most extensively also saw pitchers from other organizations. … You don't get access to these players very often."
• Alderson indicated he preferred one top-notch prospect from the Giants over offers from other organizations of lesser three-prospect packages. "We were looking for big upside," the GM said. "We could have gotten a package of three players from a number of clubs."
• Alderson said Scott Boras and Beltran gave him "some latitude" with sending him to the American League. Alderson said all the AL teams he engaged were willing to play Beltran in right field. "We didn't have total latitude, but we had some latitude beyond the National League," Alderson said.
The GM said AL team consideration was contingent upon Beltran playing right field and what NL options were available.
"I always felt there was a possibility he would go to an American League club," Alderson said. "But I always thought as well there needed to be a strong case for us."
• The GM said had a prospect the caliber of Wheeler not been available, the Mets may have looked for salary relief instead. The Mets are paying $4 million of the remaining $6.4 million. "We strategically might have gone the other direction," he said.
• Talks with teams regarding Beltran began about July 1 and ramped up at the beginning of the week. "Monday and Tuesday things heated up pretty significantly with a couple of teams," Alderson said. "It was really Tuesday that the Giants got back involved. Once that occurred, we were able to work something out pretty quickly. Obviously the deadline is not until Sunday, but we were working with a somewhat different schedule." Alderson was referring to Beltran's ability to block the deal, which required at least 24 hours of advance notice to approve.
• Alderson said the Francisco Rodriguez and Beltran deals combined to save about $5 million, which he hopes to reinvest rather than have ownership pocket. Asked if that increases the likelihood of re-signing Jose Reyes, Alderson quipped: "$5 million is not going to get him signed." More seriously, Alderson said, the trades did give more flexibility. "Beyond that we'll see what happens," the GM added.
• Why trade Beltran? "While we've played reasonably well, we haven't made a lot of inroads in the deficits we faced," Alderson said, referring to both the wild card and division races.