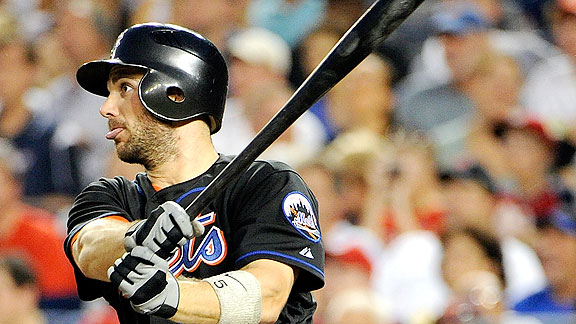 Greg Fiume/Getty Images
David Wright has moved closer to the plate, and is on a tear since returning from the disabled list.David Wright has seven straight multi-hit games, one shy of matching Steve Henderson's franchise record, set in July 1979. And Wright clearly was standing closer to the plate Saturday night, during a 3-0 loss to the Nationals, than at any point during the first half, before he landed on the DL with a stress fracture in his lower back.
In fact, it looked as if this was the closest Wright had been to the plate since San Francisco's Matt Cain beaned him on Aug, 15, 2009. A scout at Saturday's game agreed with that assessment.
"It could be the case, but it's not a conscious effort or anything," Wright said about being closer to the plate than earlier this season.
Wright went on to minimize his positioning in the batter's box -- even though it seemed like he would be susceptible to swinging futilely at sliders away when he used to be further off the plate.
"It just depends on how I feel that day. It depends on how guys are going to pitch me," said Wright, who went 2-for-3 with a walk Saturday, to lift his average to .475 in nine games since returning from the disabled list. "If guys are going to bust me in, then we'll move off the plate a little bit. If guys are going to try to throw it away, then I'm going to try to get on the plate a little bit.
"Too much gets made of where you stand in the box. If you swing at good pitches, you're going to have a better chance to get hits. I think it has very little to do with where you're standing in the box."