Without directly stating it's no big deal that first-round pick Brandon Nimmo remains unsigned, GM Sandy Alderson intimated as much.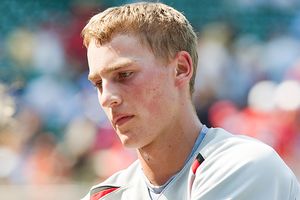 Damen Jackson/Icon SMI
Brandon Nimmo
"We've got seven out of 33 in the first round signed," Alderson said, referring to the first picks for each MLB team, plus three additional picks technically part of the first round. "Most of them are going to sign on the last day."
The deadline is Aug. 15. Nimmo, drafted 13th overall, is a high school outfielder from Wyoming.
• Daniel Murphy exclusively will play first base in Ike Davis' absence for the remainder of the season, Terry Collins said. The pronouncement came in response to an inquiry about whether it would be beneficial for Murphy to see action at other positions given Davis should be occupying first base from Opening Day 2012.
Murphy said team brass had yet to approach him about playing winter ball to get more experience at second base or elsewhere -- although it's very early to be thinking about winter plans anyway. Murphy played second base with Aguilas last winter, and they retain his rights in the Dominican Republic.
Of course, last year, Murphy missed much of the regular season with knee injuries, so the winter league action wasn't overly taxing. Asked if playing winter ball this year after leading the Mets in games played would be too much, Murphy noted it's possible to play part of a winter season -- not the whole schedule, which might be overwhelming.
• When R.A. Dickey faces San Diego on Wednesday, it will complete the cycle for him. The Padres are the lone MLB team Dickey has yet to face.