How's this for a stat?
According to the Elias Sports Bureau, the Mets had lost their past 195 games when they trailed by two or more runs in the ninth inning or later, most in the majors. And the San Diego Padres had won their past 187 games when leading by two or more runs in the ninth inning or later, also longest in the majors.
Now, both streaks are over.
Facing All-Star closer Heath Bell, David Wright delivered an RBI single and Lucas Duda had a walk-off two-run single as the Mets rallied for a 9-8 win on Monday night at Citi Field.
So much for the losses of Jose Reyes and Daniel Murphy decimating the team's resolve.
"I just went in there during the scouting meeting just to tell them that, 'Hey, look, we've got to continue to do what we've been doing all summer. And that's take the blows and move on,'" Terry Collins said about his pregame message to players.
Said Wright, who had a two-run homer and three RBIs: "It's a nice vibe around here. We might not have the most talent or the ideal lineup out there ... but we've got a lot of young guys that go play the game hard, have fun out there and it's fun to be a part of it."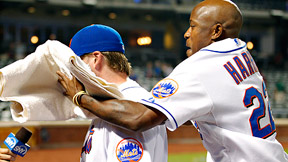 AP Photo/Paul J. Bereswill
Willie Harris celebrates the win by giving whipped cream to the face of Lucas Duda.
The Mets felt particularly good for Duda.
Asked if he thought Duda -- whose confidence can dip -- now must feel like he belongs in the majors, Wright quipped: "Well, if you can get him to talk, let me know. He's a great guy -- the few words that I've gotten out of him. You root for those kinds of guys that come in, are maybe not to that extent quiet, but they're seen and not heard and do the right thing."
Said Collins: "You can tell the confidence is building in him when you're around him. This guy doesn't have very much to say, as you guys know. He doesn't say much. He's starting to talk now. He's starting to laugh a little bit. He's starting to have a little personality."
As for the two-run single, Duda said about the confrontation with Bell: "He's got some good stuff. He was throwing hard. I was looking for a fastball. I got one and it had some eyes and found a hole, so it was good."
HOMECOMING: Mike Baxter delivered an RBI double in the eighth as a pinch-hitter. Baxter, a waiver claim from the Padres, is originally from Whitestone in Queens. He estimated he had between 50 and 80 friends and relatives in the stands, although he left only 10 tickets himself.
"It was exciting. Just to be able to hit in the big leagues again is exciting, and never mind to do it with the Mets," said Baxter, who was a September call-up last year with San Diego. "That makes it even better. It was great. It was a great moment."
CONTACT PLAY: Wright collided with plate ump Marty Foster while scoring the decisive run.
"Hopefully he's OK," Wright said. "I'm fine, but I dove in late and kind of went into his knee. I hope he's out here tomorrow. … He said he was OK walking off the field."
EH? Jason Bay was not quite sure why he was presented with a ball after homering Monday night.
Said Bay: "As soon as I got the ball, I said, 'Why?' They said, 'It's your 200th home run.' I was like, 'I really had no idea.' That's the honest truth. Kind of cool, nonetheless."
Bay is the third Canadian to reach 200 homers, joining Larry Walker (383 homers) and Matt Stairs (265).
CAROLINA ON HIS MIND: Ike Davis will fly to Charlotte on Tuesday for a second opinion on his ailing ankle. Davis is early in a four-week shutdown period. "The best case would be, 'I agree -- no surgery,'" Davis said.
PELF: Mike Pelfrey received a no-decision and lamented giving back a three-run lead with a three-run sixth. "I didn't feel sharp," he said. "I'm disappointed there that I had a 4-1 lead and I gave it away. That's frustrating."