Mets VP Paul DePodesta, who oversees the farm system and amateur scouting, takes time with ESPNNewYork.com to break down the organization's minor leagues.
You have almost completed a full minor league season, had a draft. What's the state of the farm system in a general sense?
"I certainly think we're making progress. It's been probably well-documented from the draft, and even to what we did at the trading deadline. One of the things we really sought out is potential impact talent. To the extent that it works out, we won't know for a while. But it's certainly been a target. And we've been able to bring some of these guys into the system. Some other guys that already have been in the system, we've been able to move them along fairly rapidly. I think in that sense I'm very pleased. I think the overall depth of the system is pretty solid. Our goal is to certainly make it better.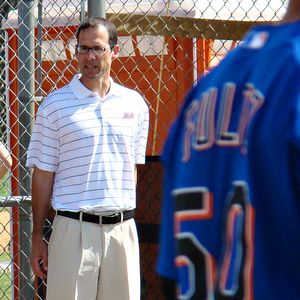 Adam Rubin
Paul DePodesta at camp Tuesday.
"On the impact end, I think we're making some progress. Again, I think there was probably a little bit more here when we first arrived than was sort of generally accepted. There were a couple of guys last year that didn't have great years who I think have high-end talent. So when we came in, they weren't heralded as maybe they should be. A guy like (right-hander) Jeurys Familia, he has a chance to be a big-time guy, and probably hasn't gotten at least that type of attention. Having him now with (2010 first-round pick Matt) Harvey and having (fellow right-hander Zack) Wheeler (from the Carlos Beltran trade) behind those guys, it'll start to show what kind of talent he is. Overall, I'm pleased. There's certainly still room for us to get better, both on the scouting side and on the development side. But I like where we are as of right now."
In terms of the upper levels of the system, is it bad luck with injuries to players such as Kirk Nieuwenhuis (shoulder surgery), Zach Lutz (pair of concussions, broken ring finger)? Or have there been a lack of available players to where you had to, say, call up a third catcher?
"I think there are a couple of things. One is, a lot of the talent at the upper levels we have seen here (in the majors). I'd say Dillon Gee, Ruben Tejada, Lucas Duda, I mean those guys were all projected to be at Buffalo this year and have been pretty significant contributors at this level so far. Beyond that, the saving grace for me in (corner infielder Zach) Lutz and (outfielder Kirk) Nieuwenhuis and (Fernando) Martinez and all the guys who have had some injuries is when they've played, they've all played extraordinarily well. Nieuwenhuis is a guy who is a really interesting case. Admittedly, from my standpoint, he's not a guy I knew a lot about. I didn't see him as an amateur at Azusa (Pacific University) when he was coming out. But he's one of those guys from sort of a smaller school, and as he's been in the minor leagues and moved up levels, he continues to get better at every level. His production continues to increase at every level, which is rare. So I'm excited about him. It's really too bad he had the shoulder injury and is going to miss the rest of the year. I think he certainly has a bright future.
"I think at the Double-A level, a lot of the guys we had there weren't necessarily ready to come here. But (infielder) Josh Satin had a terrific year and is now in Triple-A and hasn't missed a beat. (Middle infielder) Jordany Valdespin had a great year, and has actually played shortstop extremely well and has gotten better month after month and is now, I think, absolutely a viable major league shortstop. (Second baseman) Reese Havens is sort of like Lutz and Nieuwenhuis. When he's played, he's been awfully good. And then on the pitching side, we did fill in an awful lot at Triple-A with some veterans. Gee was sort of the one young guy we felt like was poised and ready. One guy that had a real breakout year was (right-hander) Chris Schwinden. He's put himself now in a position to help us.
"And then in Double-A we had some nice talent, but guys who were not quite ready to be here and we were probably pushing them even a little at Double-A -- guys like (left-hander Robert) Carson and now, through the course of the year, with Familia and Harvey there. Some other guys have had nice years. (Right-handers Brandon) Moore and (Collin) McHugh have pitched well. Both (right-handers Brad) Holt and (Josh) Stinson I think have pitched well now that they have been moved to the pen, which we all think is their ultimate roles. They seem to have adjusted well to that transition.
"But admittedly once (Jenrry) Mejia went down (with Tommy John surgery) and Gee came up, we didn't have the stable of young, major league ready pitching. We were a little thin. But I think that layer that's right behind them has a chance to be pretty darn good."
You still project Mejia and Familia as rotation as opposed to bullpen guys?
"Yeah, I do. We'll see as it happens. I think any player development system's hope is you get to a point where players sort of force themselves on the major league roster -- they sort of force the front office to make a move for them because their performance is so dominant and they're so clearly ready to be here, as opposed to bringing guys up just because you need them, you don't have anybody else and something has happened. If we can get to that point on a pitching staff where our starting five is so good that some of these other guys are ready and knocking at the door, who knows what role they may end up in at that point? History will tell you a lot of quality minor league starters end up being quality bullpen guys. But as we sit here today, we certainly still project those guys as starting pitchers?"
If you conceivably are going to devote a lot of dollars to Jose Reyes in the offseason and you have to be more creative at other positions, are there any minor league players who have yet to make their debuts who can be introduced early next season and have an impact? Maybe Josh Satin?
"You mentioned Satin. I think he's a guy who can contribute here. I think (Monday call-up) Mike Baxter is a guy who can contribute here. He has a different story because we just recently acquired him. I think Lutz is a guy. I think Nieuwenhuis is certainly a guy that can help. And I sort of hesitate to say this, because you never know what's going to happen when guys do move to the pen -- but sometimes those guys can really come quick, because if they have the stuff, and they have the command, it almost doesn't matter if it's in A-ball or Double-A or in the big leagues. It plays and will continue to play at each level.
"In that respect, we'll see what Stinson is able to do and we'll see what Holt is able to do as they continue to adjust to that role. One other guy, and I hesitate to say it, because it's a long way away, is Josh Edgin. He's a left-handed reliever currently in St. Lucie. He started the year in Savannah. But he's got major league stuff and he's left-handed. Again, you just never know how quickly those guys can come. He's in Port St. Lucie right now, which is why I'm squeamish about talking about 2012."
If Baseball America re-ranked the farm system after the trade deadline and placed Zack Wheeler No. 1, does that mean you made a great trade? Or is it a commentary on the system a little?
"I don't know. Harvey is awfully good. It's starting to show at Double-A too. His last few starts have each gotten better, and his last one was just absolutely dominant. Technically, he's a little closer. Some of their midseason lists, I don't know if it was Baseball America or somebody else's, I think Harvey was maybe a couple of slots ahead of Wheeler. I think it's debatable. We moved Familia to Double-A before Harvey. Certainly part of that was for development reasons. He was just ready earlier. But I don't know why his ceiling is different than those guys. He throws just as hard. He's got a good slider. He's generally in the zone. He's awfully good too. Look, Wheeler was the No. 6 pick in the country (in 2009). Harvey was the seventh (in 2010). Maybe that gives Wheeler an edge."
Does something have to give with Fernando Martinez? Or he does have an option for next year, so he could go back to Triple-A in 2012 if need be?
"He has another option after this year."
St. Lucie's Wilmer Flores has been ranked atop many rankings in the past. What is his future? Will you move him from shortstop?
"We'll see. I think with any of these guys, when we've considered position changes, it will be well-discussed. We have talked about it with (Wilmer Flores) at different times. We've talked about the benefits of him staying at shortstop and it will help him regardless of where he moves. We do think that the next move, if there is a move, and I think it's probably likely at some point, it will be in the infield. The play at shortstop has been solid. It actually has been quite solid. The question is whether or not we think it's going to hold up, and ultimately from his standpoint where he's most comfortable.
"He's played some third in winter ball. There's been some talk about second base. We'll discuss this as we sort of wind down the season and head into the offseason. I think we feel like regardless his time at short has been well-spent, and will continue to be well-spent if he continues to stay there. To his credit, he's really played it well.
"He just turned 20 years old. And one thing I feel strongly about, and one thing I think we feel strongly about organizationally, is that one of the things that improves dramatically with repetitions is infield defense probably as much as anything in the game. Guys might get a little bit better in the outfield. They get better with routes and jumps. But there are limitations in terms of how much better they can get. Hitting is tough. There are limitations with how much better a guy is going to get. But infield defense, there are just a lot of stories of guys who made 30, 40, even 50 errors in the minor leagues and went on to become very solid defensive infielders in the major leagues."
I had just heard the range, the foot speed and first step weren't where it would need to be for shortstop.
"And that could be. I think that's probably a question. I don't think the question right now is with the hands or with the arm. It's an untraditional arm stroke, but he gets it over there and it's accurate for the most part. I think you're right. I think that's a fair point about whether or not he stays there. I think that will be probably the defining question in terms of whether or not he stays there."
People have visions of a rotation in two or three years of Matt Harvey, Zack Wheeler, Jenrry Mejia and Jeurys Familia. As a development person, I'm sure you want to go 4-for-4. But if you hit on two of those four in the rotation, would you be thrilled? What's good return on that type of inventory?
"I think that's probably fair. If we hit one out of every two, I think we'd be thrilled. We feel it's a very good group. We're going to try to add to the group. Maybe this time next year we'll be talking about (second-round pick) Cory Mazzoni in that group or (44th overall pick Michael) Fulmer right behind those guys. Who knows?
"We've actually got a lot of good arms in short season that were here before I got here that are young, young kids, but with power arms and have a chance to come quickly. Guys like (U.S. Virgin Islands native) Akeel Morris, Miller Diaz, Domingo Tapia, there are a handful of them. These are guys who are consistently throwing in the mid-90s, some of them touching high-90s. Tapia is throwing 100 mph this year. Every outing has been in the upper 90s.
"One thing you can be sure of is we're going to continue to try to stockpile them, sort of knowing that we're not going to be 100 percent on these guys. I use this in a much broader context than just those four that you mentioned that are at the upper levels, or close to the upper levels, but shoot, I think we'd be killing it if we hit at 50 percent."
Was there anyone signed internationally this year, even if it was a low signing bonus, that you were particularly pleased you got?
"There are a handful actually. There's one who is already over here in the States and has moved past the GCL and is into Kingsport. Rafael Montero is a right-handed pitcher. He's a little older. He's 20 already and I think was just about 20 or already 20 when we signed him. But he has a good arm, a good feel and it's a legitimate three-pitch mix. It's low- to mid-90s. Good body. Good command. He's an interesting package.
"I was just down in the Dominican last week and saw some of the kids we had signed. Pedro Perez, who we signed, is technically a shortstop. He's playing third base. A switch-hitter. He's a good-looking young hitter. And there's an outfielder named Vicente Lupo -- the kid who got really sick last fall. Really, really sick. He's an outfielder from Venezuela. He was the one who had malignant hypothermia. He's back and playing. He's swinging the bat well. There's another pitcher named Luis Mateo, who is also a little older. He's 21. He has really good power stuff. He's actually still in the Dominican. All those guys were signed this year.
"I believe there's an outfielder name Mikais de la Cruz, who is in the Dominican, that I believe was signed in this cycle but before I got here. The international market, the fiscal year is July 2 to July 2. So I'm not counting anybody we have signed in the last month. It's everybody we signed pre-July 2. There are a handful of them, but Montero has certainly been the quickest mover.
"There's also a Cuban second baseman we signed named Jorge Rivero, who we've already brought over. He's playing in the GCL and is swinging the bat pretty well. He's also older. He's 21, I think. He's a good-looking hitter."
"In-depth" appears Tuesdays during the regular season