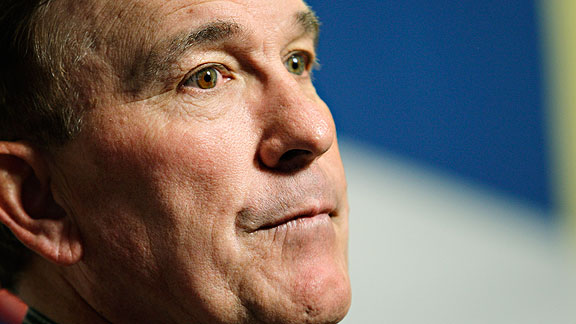 AP Photo/Frank Franklin II
Gary Carter's white-blood-cell count is low, delaying a stronger round of chemotherapy.
Nearly two weeks after an MRI revealed Gary Carter's malignant brain tumors had shrunk by 80 percent as the result of an initial round of chemotherapy, Carter had a mild step backward. His daughter, Kimmy Bloemers, indicated a doctor's visit Monday revealed Carter's white blood cell could is low, "which means his body will not be ready for the stronger chemo that was supposed to start tomorrow."
Writes Bloemers: "Since hearing the good news about dad's tumors, it actually has been a hard week on dad and the family. Dad has been more tired than any other week. Because of his lack of energy, the doctors have decided to raise the steroids (dekatron) again to 2mg in the morning and 2mg in the evening."
Carter requires a pair of two-hour naps each day.
"This is not at all a typical day for dad," Bloemers wrote. "Before his diagnosis in May, dad never sat still. He was traveling, coaching, golfing and doing anything else that could keep him from slowing down. He has always been very active and very goal-driven. I can't imagine how hard it has been for dad to drastically change his daily life and take these strong medicines that essentially control his body. "
Carter has another doctor appointment next Monday.
"We ask that you pray for dad's white blood cell count to be higher so he can begin taking his new chemo medication," his daughter wrote. "You see, chemo is what brings the blood count down, but it is chemo that dad needs to continue to fight these tumors. This week will be the second week without chemo, but dad is so strong that he can go another week without it. He will continue to have his Avastin treatment every two weeks and of course, the radiation is still working in his body."