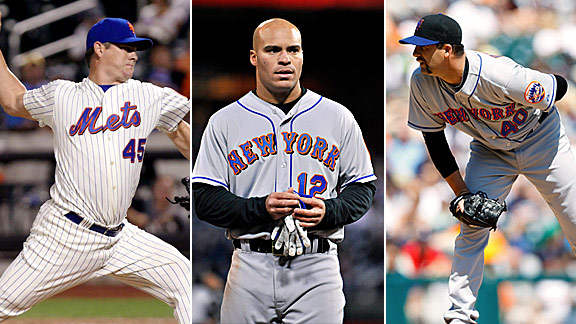 US Presswire
A source tells ESPNNewYork.com that (l to r) Jason Isringhausen, Scott Hairston and Tim Byrdak can no longer be traded this month.
Outfielder Scott Hairston and relievers Jason Isringhausen and Tim Byrdak, all free agents this winter, should remain Mets for the remainder of the season, a source familiar with the waiver process told ESPNNewYork.com.
All three players were claimed off waivers and subsequently pulled back by the Mets, making them ineligible to be traded this month, the source said.
ESPNNewYork.com previously reported that Jason Bay, Chris Capuano, D.J. Carrasco, Willie Harris and Angel Pagan had cleared waivers and will be eligible to be traded to any other major league team.
Once a Mets player is claimed in August, GM Sandy Alderson can only work out a trade with that particular team during a brief window. If the sides cannot work out a deal, Alderson could dump the contract on the claiming team or pull the player back. Once the player is pulled back -- as was the case with Hairston, Izzy and Byrdak -- he is no longer eligible to be traded this month.
That does not necessarily mean the Mets intended to trade Hairston, Isringhausen or Byrdak.
Had they cleared waivers, it merely meant Alderson was free to speak with any team for the remainder of the month about acquiring their services.
Similarly, Capuano and Pagan – for instance – clearing waivers does not mean the Mets intend to trade them. Many players go through waivers, if only to make it harder to determine which players a team really does want to trade.