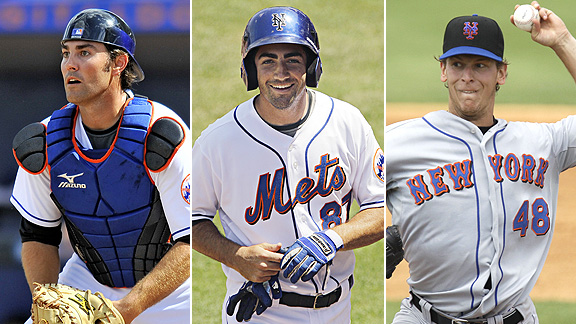 Icon SMI, AP Photo
Sources project (l to r) Mike Nickeas, Josh Satin and Pat Misch as September call-ups.
Although it's subject to modifications, team insiders project this year's September call-ups to be right-handers Miguel Batista, Chris Schwinden, John Lujan and Josh Stinson, left-handers Pat Misch and Robert Carson, catcher Mike Nickeas and infielder Josh Satin.
Batista, 40, is 2-0 with a 3.92 ERA in nine appearances (seven starts) for Buffalo. He was released by the St. Louis Cardinals earlier this season.
Schwinden, 24, was the Bisons' lone representative in the Triple-A All-Star Game. He is 7-6 with a 3.76 ERA in 22 starts.
Lujan, 27, has tossed 10 1/3 straight scoreless innings over nine appearances with Buffalo. He was a December 2009 Rule 5 pick from the Chicago White Sox in the minor league phase.
The offensive-minded Satin can play three infield positions, although his strength is his bat. After hitting .325 with 11 homers, 60 RBIs and a .423 on-base percentage in 94 games with Binghamton, Satin has continued the production with Buffalo. He is hitting .347 through 25 Triple-A games.
Stinson and Carson are currently working out of the Double-A Binghamton bullpen. Misch and Nickeas are familiar from previous stints in the majors.
Fernando Martinez's third trip to the Triple-A Buffalo disabled list this season, this time for a left wrist strain, may have scuttled his chances of joining the Amazin's. Corner infielder Zach Lutz, a highly regarded hitter at Buffalo who is on the 40-man roster, may also miss out because of his limited at-bats this season (172) -- the result of two concussions as well as a hamstring injury and broken left ring finger suffered when he was struck with a foul ball in the dugout. The list also omits Buffalo relievers Mike O'Connor and Dale Thayer.