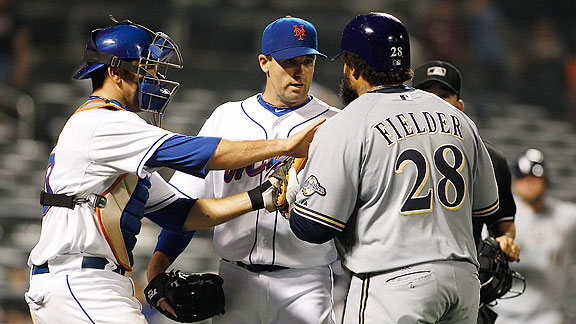 Mike Stobe/Getty Images
Prince Fielder confronts Tim Byrdak after the top of the eighth inning.
The eighth-inning confrontation in foul territory between Prince Fielder and Tim Byrdak after the southpaw retired Fielder on a groundout to end the top of the eighth resulted from a misunderstanding, Byrdak suggested.
#40 RP
New York Mets
2011 STATS
"Just a miscommunication," Byrdak said of the incident, which caused both benches to clear, though no punches were thrown and no players were ejected. "He had said something coming out of the box that I thought was directed toward me. I said something back. When he hit first base, he came back and asked me who I was talking to. And I asked him who he was talking to. He said he was talking to himself. I said, 'OK.' And I started walking toward the dugout and I see everybody hopping the fence to go back out. It's way blown out of proportion.
"It was something, like I said, it was said in passing. I thought it was going to stay that way. But I turned around and everyone was out there and everything, so I was kind of shocked."
Said Fielder: "It's all handled now. He said something I didn't like, so I just asked him, and I think we got it solved. ... I guess it came from both of us. I just wanted to make sure we were on the same page. I had a question I had to get off my chest. It's settled now. It's cool."
Both sides said the Fielder-Byrdak issue had nothing to do with an inside pitch during the at-bat.