Dillon Gee did not mince words after getting charged with a career-high eight runs in a season-low 3 2/3 innings as the Mets lost to the Phillies, 10-0, Monday at Citizens Bank Park.
"Tonight was just terrible," Gee said. "It was probably the worst outing I've ever had, to be honest with you."
Gee, who is supposed to be known for his control, walked six batters, including four in the fourth inning -- the final base on balls coming on four pitches to force in a run. Gee suggested he got gun-shy as he was getting hit and started trying to pick strikes on the corners, which worsened his predicament.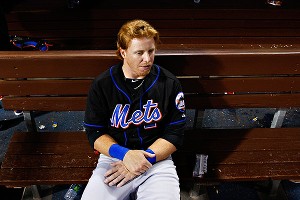 Howard Smith/US Presswire
Justin Turner laments the Mets' latest loss in the dugout postgame.
"I think the main thing was I was giving up a lot of hits early on. And then I kind of started nibbling after that, and it just snowballs," Gee said. "It was weird. Tonight I actually felt pretty good physically. I wasn't locating any of my pitches -- any of them -- tonight. It's tough to put a finger on things because I really didn't feel like I threw that much different than I did the last outing (one run in 6 2/3 innings at San Diego).
"It's just this one whenever I threw a pitch over the plate they got a hit. It got out of hand pretty quick. ... One guy will be patient and you walk him, and the next guy is hacking when you do throw a strike. It's one of those nights when absolutely nothing went my way, and I couldn't figure it out."
MEETING OF MINDS: David Wright had a closed-door meeting with Terry Collins postgame.
"We're in a rut, and we're playing pretty bad baseball right now, so we've got to find a way to figure some things out and try to play better," Wright said. "It's not just about the winning and the losing. ... We just can't allow ourselves to just play out the season. It's obviously a bad situation to begin with. And the last thing you want to do is just go out there and play the games for the sake of playing the games.
"Hopefully people realize that there's a lot on the line going into next year, and we clean some things up and get some things going. It's us as a team. Everybody's guilty of it to some degree. We just need to clean it up a little bit and go out there and try to play better baseball."
ELEVATED PLAY: Collins said Ruben Tejada ought to have a more integral role in the offense than batting No. 8 given his recent production. That presumably means placing Tejada in one of the top two slots in the lineup. Tejada, whose days at shortstop this season should be numbered with Jose Reyes likely to return after a weekend rehab assignment with Binghamton, had two of the Mets' five hits Monday.
Tejada is hitting .378 (17-for-45) in 14 games since returning Aug. 8 from Triple-A Buffalo.
"He's a good little baseball player. There's no doubt about it," Collins said. "We're sitting on the bench trying to figure out -- right now he's swinging the bat better than everybody -- where to put him in the lineup to use him a little bit better."
SICK TO STOMACH: Angel Pagan said he was quickly overcome with a sick feeling during the game and headed for the bathroom, then realized as he was wrapping up that task that he was due up with Nick Evans' at-bat nearly complete. After a delay, Pagan did bat and grounded out on the first pitch. He then was removed by Collins.
"When the inning was over, coming in, I just felt like a really, really bad stomach," Pagan said. "I told the trainer, 'Hey, I've got to go to the bathroom. I've got to go to the bathroom real bad.' When I finished, I looked at the TV, I see Nick Evans 3-2. I was just running in to hit. It's something that happened right in the moment.
"I'm OK. I could have stayed playing. I think Terry didn't want me to get sicker during the game."
Said Collins about Pagan's disappearing act while due up: "He didn't even have time to tell me he was sick."