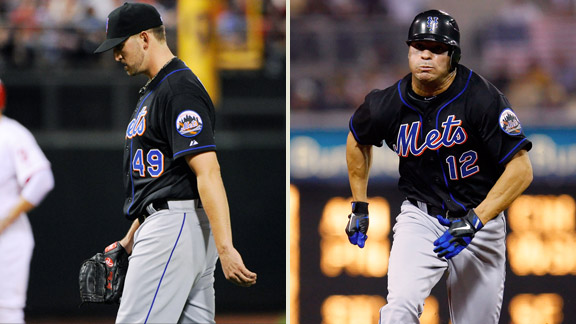 US Presswire
Jon Niese and Scott Hairston are headed to the disabled list with the Mets with side muscle injuries.
Jon Niese and Scott Hairston will be placed on the DL with rib cage injuries, Terry Collins said after Tuesday's loss in Philadelphia.
Niese reinjured a muscle on his right side, under his rib cage, delivering a pitch to Philadelphia's Hunter Pence in the third inning. The southpaw originally injured the area in his previous start in San Diego, and was pushed back a day before facing the Phillies to give extra time to rest.
Hairston injured his right intercostal muscle swinging at a slider away later in Tuesday's game.
"It was one of those pitches where it's a sudden movement," Hairston said. "Although we do as hitters take swings like that occasionally, it's not a normal body function. It's just one of those things where I rotated in the wrong position and I guess strained the muscle. ... Right now, put it this way: I wouldn't feel comfortable taking a swing the way it feels now."
Hairston recalled missing a month in 2007 with a pulled oblique, but described this injury as less severe. He expected to receive an MRI after the Mets return home following Wednesday's matinee in Philly.
In addition to two immediate call-ups, the Mets also will have to fill two starting assignments early next week against the Marlins -- Niese's turn as well as a doubleheader game Monday. Collins expected the two starters would be selected from Chris Schwinden, Miguel Batista and Pat Misch at Triple-A Buffalo.
Niese regretted not speaking up after the issue got intense delivering the pitch to Pence. The next batter, John Mayberry Jr., belted a three-run homer as Philadelphia took a 4-0 lead en route to a 9-4 win. Niese said the pain intensifies as he finishes a pitch.
"It was the 1-2 pitch to Hunter Pence that he fouled straight back that I felt it," Niese said. "After his at-bat, I probably should have said something. I just tried to tough it out. Unfortunately, the pain was just lingering there. It felt really good to start off the game. During the bullpen I didn't feel anything. The first couple of innings I didn't feel anything. And I think when I got in that jam there where I was facing Pence, I kind of let it go. And that's when I felt it."
Niese did not quibble with the decision to proceed with the start after the issue arose in his last game, against the Padres.
"Like I said, I felt good," Niese said. "I don't know what I would have said to myself if I didn't start. If I didn't start, I probably would have said I should have started. In retrospect, now, I probably should have waited a little bit. I don't know if I damaged it more. I doubt it. It's one of those things where I can't pitch with it. I just have to get it better and go from there."
As for Collins indicating Niese would land on the disabled list, the southpaw agreed.
"I was going to put myself on the DL after the way it feels," he said. "It's hurting. That's why I feel terrible. I should have said something after that (Pence) at-bat. I let the game get away, and I just feel awful for it. I did the best I could with what I had. ... When you're in the heat of the battle, I just was a little hard-headed I guess. I wanted to tough it out. Obviously it was something where every pitch I felt something and it got out of hand."