Reese Havens has learned baseball skills as a professional, including the transition to second base from shortstop, the position he played at the University of South Carolina. The 24-year-old Havens also has learned of the need for patience, after injuries have slowed his path to the majors.
Havens was the 22nd overall selection in 2008, four slots after the Mets used their other first-round pick on Ike Davis out of Arizona State that year.
Fourteen of the top 17 college picks from that draft class now have appeared in the majors. The exceptions: Josh Fields (Mariners/University of Georgia), Havens and Allan Dykstra (Padres/Wake Forest). Dykstra is now Havens' teammate with Double-A Binghamton, after being acquired during spring training for reliever Eddie Kunz.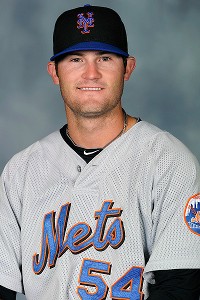 Courtesy of New York Mets
Reese Havens
"It's tough to stay patient," Havens said. "It's definitely tough, because you always want to be on the fast track. You have former teammates and friends up there. It's awesome playing in the big leagues, and that's the goal from when you're 5 years old.
"I've had the opportunities. That's for sure. It's been wide open for me to make an impact and get my foot in the door and get up there. It hasn't happened that way. The only thing I can do is keep working and try to make the best out of getting up there as soon as possible."
Havens is hitting .292 with six homers and 25 RBIs in 192 at-bats and has a .373 on-base percentage with Binghamton.
The injuries may finally be behind him.
Havens was limited to 32 games last season because of what was suspected to be oblique trouble. It turned out that a second opinion from outside the organization during the offseason revealed a different root cause -- one rib grating on another. Havens underwent surgery to remove an inch of a rib. The procedure was performed at Dr. James Andrews' clinic in Birmingham, Ala., by colleague Dr. William Clancy. The issue is labeled "rib tip syndrome."
Havens has had setbacks this year. Irritation from suspected scar tissue forced a late start to the season. And he landed on the DL with back trouble this year, although Havens believes that may be related to the original issue, since his offseason was spent idle and then rehabbing without any baseball activity.
Now, though, he has been back with Binghamton for more than a month and issue-free.
"Dr. Andrews and Dr. Clancy did the surgery on me. I was real confident in their opinion and what they thought the problem was," Havens said. "I was also confident that it fixed it because I could tell pretty immediate results once I got all the inflammation out of there and started working out again. Everybody knows that scar tissue is part of surgery. That's what got me in spring training. I didn't work out this past (offseason). All I did was rehab to get back to where I didn't feel the side, and started doing some baseball stuff once I got down to Florida. So I definitely think it's what it was. But I don't feel it at all now. It's gone."
After the regular season's completion, Havens will make up for lost time as part of the Mets' Arizona Fall League contingent. It's actually Havens' second trip to the AFL. He was teammates with Davis two years ago in that showcase for top prospects. Havens lived with Davis in the first baseman's Scottsdale home that time, and they commuted the 45 minutes to Surprise, Ariz.
Actually, Havens was selected in '09 for the taxi squad, which allowed for two AFL games per week while practicing with the team. Before arriving in the AFL two years ago, Havens exclusively had been a shortstop.
Mets instructor Kevin Morgan worked with him during that period on the transition to second base. His AFL teammate, Daniel Descalso, who is now with the St. Louis Cardinals, also gave Havens some tips.
"I don't even know if I took a groundball over there (at second base) before I went to the Fall League," Havens said. "I had about a week to just work a little bit before they threw me in there. I kind of learned as I went along. I kind of got thrown in the mix and learned along the way, but it was fun that way, too."
Havens said it now feels like a natural position.
"I love it over there," Havens said. "I'm comfortable over there. I'm constantly working on footwork around second base."
Organization leaders
Average: Juan Lagares, Binghamton, .356; Danny Muno, Brooklyn, .337; Josh Satin, Buffalo, .322; Cam Maron; Kingsport, .318; Greg Pron, Kingsport, .318; Travis Taijeron, Brooklyn, .311; Julio Concepcion, Kingsport, .299; Jordany Valdespin, Buffalo, .296; Pedro Zapata, St. Lucie, .294; Luis Figueroa, Buffalo, .292.
Homers: Brahiam Maldonado, Binghamton, 27; Valentino Pascucci, Buffalo, 21.
RBI: Valentino Pascucci, Buffalo, 91; Aderlin Rodriguez, Savannah, 77; Wilmer Flores, St. Lucie, 76; Josh Satin, Buffalo, 76; Brahiam Maldonado, Binghamton, 72.
Steals: Jordany Valdespin, Buffalo, 36; Pedro Zapata, St. Lucie, 33; Darrell Ceciliani, Savannah, 25; Matt den Dekker, Binghamton, 22; Rafael Fernandez, Savannah, 21.
ERA: Darin Gorski, St. Lucie, 2.08; Taylor Whitenton, Savannah, 2.51; Jeurys Familia, Binghamton, 2.92; Marcos Camarena, Brooklyn, 3.13; Matt Harvey, Binghamton, 3.19; Gabriel Ynoa, Kingsport, 3.21; Carlos Vazquez, Brooklyn, 3.31; Jeff Walters, Brooklyn, 3.45; Greg Peavey, St. Lucie, 3.51; Ryan Fraser, Savannah, 3.62.
Wins: Matt Harvey, Binghamton, 13; Greg Peavey, St. Lucie, 11; Darin Gorski, St. Lucie, 11; Angel Cuan, Savannah, 10; Brandon Moore, Binghamton, 10.
Saves: Josh Edgin, St. Lucie, 26; Dale Thayer, Buffalo, 21; Hamilton Bennett, Savannah, 13; Jeff Kaplan, St. Lucie, 12.
Strikeouts: Matt Harvey, Binghamton, 154; Darin Gorski, St. Lucie, 140; Chris Schwinden, Buffalo, 134; Collin McHugh, Binghamton, 128; Jeurys Familia, Binghamton, 124.
Short hops
• The Mets will send left-hander Robert Carson, right-handers Collin McHugh, Brandon Moore and Taylor Whitenton, catcher Juan Centeno, second baseman Reese Havens, third baseman Jefry Marte and outfielder Juan Lagares to the Arizona Fall League. St. Lucie skipper Pedro Lopez will serve as the manager for the Peoria Javelinas, which will include prospects from the Brewers, Cardinals, Mariners and Padres in addition to the Mets. The Mets also will be able to add a catcher and another pitcher. Lagares is on the taxi squad, making him eligible to play on Wednesdays and Saturdays and otherwise practice with the team.
• With one regular-season start remaining, Savannah's Whitenton (2.51) narrowly trails Augusta's Shawn Sanford (2.47) for the ERA title in the South Atlantic League.
• St. Lucie left-hander Darin Gorski, who tossed five scoreless innings Tuesday against Fort Myers in a no-decision, has been named Florida State League pitcher of the year. The 23-year-old Gorski is a seventh-round pick in 2009 out of Kutztown University in Pennsylvania. Gorski's 2.08 ERA is a half-run better than FSL runner-up Nestor Molina's 2.58 ERA with Dunedin. Gorski ranks third in the league in strikeouts with 140, trailing Clearwater pitchers Trevor May (203) and Julio Rodriguez (160).
• Hicksville, L.I., native Cam Maron was named to the Appalachian League postseason All-Star team. The 20-year-old catcher, who went 4-for-4 Tuesday, ranks second in the league with a .434 on-base percentage.
• Outfielder Jesus Feliciano has amassed 369 hits in three seasons with Buffalo. That trails only Bill Selby (378) and Greg Tubbs (370) on the Buffalo modern-era hit list. The Bisons have seven games remaining this season, giving Feliciano a legitimate shot at that record. Feliciano made his major league debut last season at age 31 with the Mets. After four straight seasons hitting .308 in Triple-A with the Mets, through stops in New Orleans and Buffalo, Feliciano's average has slipped to a still-respectable .272 this season.
• 2010 first-round pick Matt Harvey has won five straight starts. He has a 2.67 ERA and .210 opponent batting average during that span.
• In five starts since joining the organization in a trade that sent Carlos Beltran to San Francisco, right-hander Zack Wheeler is 2-2 with a 2.16 ERA with Class A St. Lucie. Wheeler has allowed 23 hits while walking five, hitting two batters and striking out 26 in 25 innings.
• Buffalo infielder Josh Satin was named to the Eastern League postseason All-Star team for his body of work with Double-A Binghamton before a promotion. Satin actually was held hitless in consecutive games Sunday and Monday for the first time since joining the Bisons. He has a hit in 30 of his 38 Triple-A games. Satin has made six straight starts at third base. The overall breakdown with Buffalo: 10 games at first base, seven games at second base and 20 games at third base.
• Lagares has a 19-game hitting streak with Binghamton. After leading the Florida State League at the time of his promotion, Lagares is now hitting .397 with two homers and 21 RBIs in 136 at-bats in the Eastern League.
• Fifth-round pick Jack Leathersich may have lost the no-hit bid in the eighth inning at Lowell that was started by Carlos Vazquez, but the Brooklyn southpaw nonetheless had a triumphant return to the city where he played college ball for UMass-Lowell. Leathersich struck out four in two scoreless innings. He has struck out 26 in 12 2/3 professional innings in the New York-Penn League, and has a 0.71 ERA.
• Buffalo corner infielder Zach Lutz is in a 4-for-23 rut that has dropped his average below .300 for the first time since the season's opening week. Lutz nonetheless has six homers and 16 RBIs in his past 20 games while regularly playing since returning from the disabled list for a second concussion Aug. 6.
• Middle infielder Jordany Valdespin has a seven-game hitting streak with the Bisons. Since beginning his Triple-A career 8-for-38 in his first 10 games, Valdespin is hitting .382 (16-for-42) in his last 10.
• Bisons closer Dale Thayer converted saves on three straight days to up his total to 21. That is the most by a Bisons pitcher since Jake Robbins had 23 in 2005, when the team was affiliated with the Cleveland Indians. Thayer is one of five players in modern Buffalo history with 20-plus saves. Thayer's career high is 27 saves, which he achieved in consecutive years with Double-A Mobile as a Padres farmhand, in 2005 and '06.
• Center fielder Brandon Nimmo (first round) and shortstop Phillip Evans (15th) moved to Kingsport for the end of that season after the Gulf Coast League completed play Saturday. Nimmo is 1-for-9 with three walks through three games. Evans is 4-for-11 with two doubles, three RBIs and a walk.
Adam Rubin's farm report appears Wednesdays during the regular season