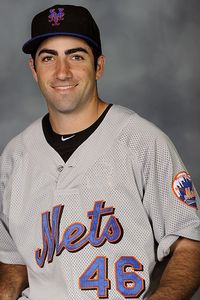 Courtesy of New York Mets
Josh Satin
As rosters expand Thursday, the Mets will welcome a pair of farmhands -- infielder Josh Satin and right-handed reliever Josh Stinson.
Satin, 26, went 2-for-4 Wednesday night with Triple-A Buffalo to lift his average to .317 with one homer and 16 RBIs in 38 International League games. That came on the heels of Satin hitting .325 with 11 homers and 60 RBIs in 338 at-bats with Double-A Binghamton to earn a promotion to the Bisons. Although known for his bat, Satin is capable of playing first base, second base and third base. He is a sixth-round pick in 2008 out of Cal-Berkeley.
"It's incredible," Satin told the Bisons radio broadcast. "I mean, all the years I played baseball, the goal was always to get to the big leagues. It's been 20 years since I started playing baseball. You always dream, but you never know if it's going to happen. And now it happens. I honestly don't even know what to think. I'm happy, proud and just ready to go."
Stinson, 23, had a rough opening to the season at Buffalo while being used as a starting pitcher, but found success in his more-familiar relief role with Binghamton after a demotion. He was 4-3 with a 3.99 ERA and six saves in eight chances over 27 appearances (two starts) in the Double-A Eastern League this season. Stinson is a 37th-round pick in 2006 out of high school in Shreveport, La. He was added to the 40-man roster last offseason.
Limited further promotions should ensue once the Buffalo season ends Monday, including the return of outfielder Mike Baxter. The other logical candidates would be first baseman Valentino Pascucci, left-hander Pat Misch and right-hander Chris Schwinden. In Schwinden's case, a promotion -- if it materialized, which is no guarantee -- would merely be a reward, since he has already logged as many innings as the Mets intended for this season (144 1/3). Corner infielder Zach Lutz is another candidate, but he suffered two concussions this season and appears to have another flare-up of symptoms as a result of those head injuries, seemingly undermining his candidacy.
Click here to read a profile of Stinson from 10 days ago, when Terry Collins floated his name as a call-up. Read the May farm report featuring Satin here.