Chris Capuano tossed a three-hit shutout Friday against the Atlanta Braves. And, after allowing two runs in five innings and receiving a no-decision Wednesday night against the Florida Marlins, Capuano's ERA now stands at 4.41 in 159 1/3 innings.
So does Capuano feel like he has reestablished himself following a second Tommy John surgery and demonstrated enough to secure a multiyear deal as a starting pitcher somewhere in the majors this offseason?
"I'm not sure," said the 33-year-old Capuano, who missed the 2008 and '09 seasons. "I have five starts left, so my goal is to get out there and throw as many innings up as I can in those five starts and see what happens. If there's something like that out there, that would be great. If it's a one-year deal or something, at this point in my career I'm excited to have the opportunity to go out there as a starting pitcher. I'm not as concerned with the contracts and everything else. As long as I have an option next year to start, I'll be happy."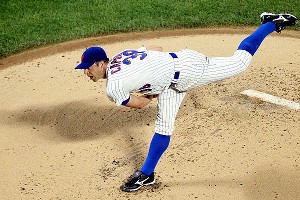 Jim McIsaac/Getty Images
Coming off a 122-pitch shutout, Chris Capuano allowed two runs in five innings and was pulled at 99 pitches against Florida.
Capuano's two most recent starts notwithstanding, he generally has more success the first time through the batting order than the second time through, and more success the second time through than the third. That may suggest he is best suited for a spot starter/relief role, the type of role Hisanori Takahashi performed in so well for the Mets in 2010.
Capuano actually entered the night with the sixth-fewest innings logged in the National League among pitchers who have made at least 25 starts.
But Capuano feels he is a starting pitcher. He suggests recent tinkering with his between-starts routine has increased his stamina later in outings.
"Certainly my last start and tonight, I felt just as strong -- or stronger -- at the end of the game than I did early on," Capuano said. "I think I may have touched on something in my conditioning program that's helped me figure out how to get that late-inning stamina.
"For me, that was a simple adjustment in one area of my in-between routine. It's pretty simple: It's just pushing myself a little more in my cardio work, whether that's running, an arm bike, the elliptical stuff, spin bike. I've backed off of throwing a little bit, but I've bumped up that stuff to see if I can get in a little better shape that way. It's seemed to help me feel better."