Here's a great piece of trivia, courtesy of the Elias Sports Bureau.
The last pitcher to notch his 100th win in his 40s prior to Miguel Batista on Thursday night?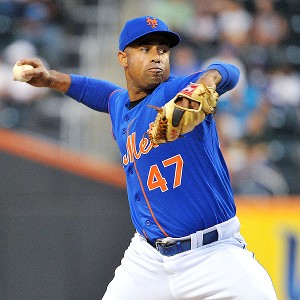 AP Photo/Kathy Kmonicek
Miguel Batista notched his 100th career win in his Mets debut.
Roy Face in 1968 with Pittsburgh.
"It means a lot," said the 40-year-old Batista, who became the 37th active pitcher to reach the century mark after he pitched six innings of two-run ball, which lifted the Mets to a 7-5 win over the Marlins at Citi Field.
"I'm very proud of my career, for what you guys call a 'swingman.' And I'm happy -- very happy -- I got it out of the way," added Batista (4-2), who owns a career record of 100-112 over 17 seasons with 10 different teams.
Unfortunately for Batista, however, reaching the 100-win club doesn't guarantee another start.
Terry Collins intimated the Mets very possibly would select a pitcher for the start in five days from the minors. Chris Schwinden, even though he is on an innings limit at Triple-A Buffalo, fits that profile. Left-hander Pat Misch would be the minor league alternative.
"I just want to help this team win," Batista said of what he wants to accomplish in September.
He did just that on Thursday night.
After allowing runs in his first two innings, Batista settled down. At one point he retired eight Marlins in a row.
"I think I was a little eager to get this game out of the way," said Batista, who allowed six hits, walked three and struck out three. "I don't believe I was nervous -- I'm a little too old for that -- just a little anxious to start the game and get it going. But I had crazy movement on my fastball today, and it took me a while to get it down and get it to sink over the plate."
Batista saved the ball from his 100th win, and said he was going to give the ball to his mother.
"Probably my mom will find a place for it," Batista said. "She has my World Series ring (from 2001 with Arizona), and whatever else. She's the one that keeps everything."
Batista became the fourth pitcher to get his first win with the Mets in his 40s, joining Roberto Hernandez, Orel Hershiser and Warren Spahn, according to Elias.
Thursday's win was Batista's first victory as a starter since July 27, 2010, when he threw five shutout innings in an emergency outing for the Nationals after phenom rookie Stephen Strasburg began experiencing shoulder soreness.
And it's a victory that he'll remember forever.