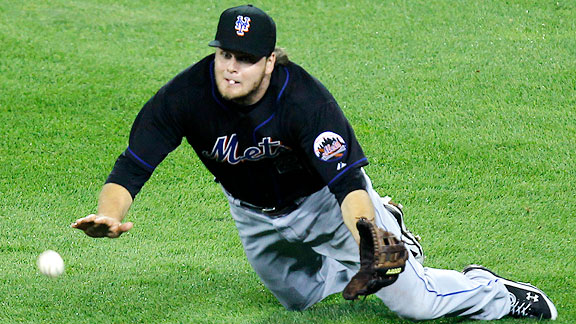 AP Photo/Luis M. Alvarez
Lucas Duda attempts an ill-fated catch with the bases loaded in the ninth. The ball got behind him, allowing the tying and winning runs to score.
After converting his first four save opportunities since succeeding Jason Isringhausen as closer, Bobby Parnell suffered a blown save Saturday night. Parnell loaded the bases, then surrendered a broken-bat, two-run single to right field by Ryan Zimmerman as the Nationals produced an 8-7 walk-off win.
Afterward, Terry Collins said he would continue to use Parnell as the closer and groom him for the potential 2012 role.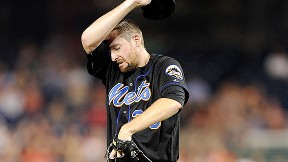 Greg Fiume/Getty Images
Bobby Parnell suffered the blown save Saturday at Nationals Park.
No reverting to Isringhausen. No using Manny Acosta, who tossed two scoreless innings with five strikeouts to hand a one-run lead to Parnell for the ninth.
"I'm going to stay with Bobby," Collins said. "Manny's done a great job. He really has. He's throwing great. But we can't keep changing our mind. Every time someone has a bad day, we can't keep saying, 'Well, we need to find another closer. We need to find another first baseman. We need to find another right fielder.' Once in a while you've got to show these guys that you trust them, and you believe in the long run it's in the interest of the club."
Parnell allowed a leadoff single to ex-Mets farmhand Jesus Flores, then walked pinch-hitter Jonny Gomes, who became the eventual winning run. The walk displeased Collins.
After Ian Desmond bunted both teammates ahead, Parnell faced two runners in scoring position with one out. Collins opted to intentionally walk Roger Bernadina to load the bases for more-feared Ryan Zimmerman, trying to set up a double play.
"I didn't want to, but we've got to try to get a double play," Collins said. "… We're going to end up facing Zimmerman anyway."
On the game-ending play, Duda made a diving attempt to catch Zimmerman's bloop in front of him. That allowed the ball to scoot behind Duda, and two runs to score instead of just the tying run.
Collins called the ninth inning a learning experience for Duda in right field as well as Parnell as closer -- roles they may have in 2012.
"It's pretty hard to ask a guy that's out there for the first time, but you can't leave your feet on that," Collins said of Duda's play. "You have to at least keep that go-ahead run from coming in."
Collins also lamented positioning Duda a little too deep.
As for his manager's alibi labeling the aggressive play a learning experience in right field, Duda said: "I guess you could say that. But there comes a time where those excuses get kind of old. I know better than that to not dive right there. I just thought I could make a play and I didn't. It cost us the game right there."