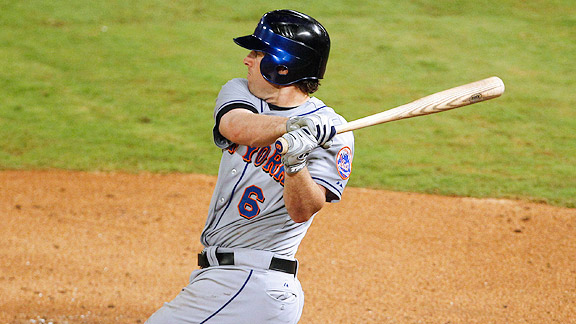 AP Photo/Lynne Sladky
Nick Evans delivers a go-ahead RBI in the eighth inning -- one of a franchise-record-tying three tiebreaking RBIs he produced in the game.
After Bobby Parnell blew a save in Washington last weekend, Terry Collins indicated the right-hander would remain the regular closer. After all, Collins reasoned, it would be counterproductive for development and for demonstrating faith to have a kneejerk reaction of pulling Parnell from that role.
Now, after Parnell blew his second save in his past three tries in Tuesday's eventual 7-4 win, 12-inning win against the Florida Marlins, Collins was less committal.
Asked if it might be beneficial for Parnell to get some non-save opportunities in order to right himself with the game not on the line, Collins intimated that was the case.
"Well, we're going to talk to Bobby tomorrow," Collins said. "I mean, there's a couple things (pitching coach) Dan (Warthen) had talked about with him, a couple of little pitch-location stuff that he's just got to be able to make. He's got to make some pitches.
"He's got a great arm and he's got really great stuff. But the bases on balls hurt him. Getting behind in the count hurts him. You saw the first hitter, he went right at him with good fastballs, got ahead of him in the count, and throws him a slider and it's a mismatch. But you've got to be able to get ahead."
Collins said he didn't know immediately after Tuesday's game whether he would use Josh Stinson, Manny Acosta, Pedro Beato or Jason Isringhausen in save situations if he did spread around the opportunities.
Parnell's blown save allowed Stinson the opportunity to earn his first major league save with a flawless 12th inning Tuesday, in the rookie's third career appearance. Stinson had 18 career minor league saves, including six this season with Double-A Binghamton.
"I'm glad to get that one out of the way," Stinson said. "In three games I've got two of the big ones out of the way -- first strikeout and first save. It was exciting that I kept them to no hits, no runs, and finished the game out."
Stinson insisted the lack of atmosphere -- there were only a few hundred people left at Sun Life Stadium when the game ended at 12:53 a.m. -- did not make it easier to keep his emotions in check.
"The adrenaline was still flowing," Stinson said. "I was still excited and ready to go. I was definitely warm. We had that long inning."
NICK'S HITTING KNACK: Nick Evans -- who had the tiebreaking RBI in the 12th -- became the third player in team history to produce the go-ahead RBI three times in a game, joining Mike Piazza (2001) and Jason Phillips (2003).
Evans three times this season had cleared waivers and been dispatched to the minors.
"It's what we always talk about, and that is this guy, to be honest, he's got something to prove," Collins said. "You can't get designated as many times as he's been designated the last couple of years and not have something to prove. He's taking this opportunity to show us he can hit."
The recent surge seemingly enhances Evans' chances of making the 2012 Mets as a right-handed bat for the bench who can play first base, third base and the corner outfield positions.
In 13 starts at first base since Aug. 20, Evans is hitting .385 (20-for-52) with four doubles, a triple, three homers and 12 RBIs.
Still, he's not exactly penciling himself into an Opening Day roster spot just yet.
"I mean, there's still 25 games left in the season," Evans said. "I've been playing for 12 (of the last 13). I've still got a long way to go this year before I can exhale coming into spring training."