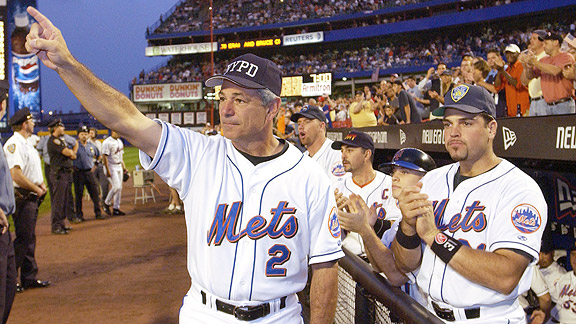 Ezra Shaw/Allsport/Getty Images
Mike Piazza and Bobby Valentine wear first responder hats during the Sept. 21, 2001 game at Shea Stadium.
Player rep Josh Thole said Mets players discussed violating the MLB edict against wearing first-responder hats during Sunday night's game. However, Thole said, the Mets will adhere to the policy.
Thole and deputy player rep Tim Byrdak polled players and did not have unanimous opinion about what the Mets ought to do. They were implored by the organization not to violate the MLB policy anyway.
"Evidently it's going to come down on the club," Thole said. "I guess they cracked down on it pretty hard. So it's just something we can't do. As a group, we think it's right, and it's the least we can do. We're going to wear them for a ceremony we're having, and then we're going to have to switch hats for the game."
At one point, Thole wondered what MLB could do if the Mets violated the policy. He reasoned that any fine could just be donated to charity anyway. Thole even pointed to a clubhouse TV when he spotted Giants coach Tom Coughlin wearing a first-responder hat.
Unsaid, but perhaps a factor in the decision, is the Mets' literal indebtedness to MLB over a rocky financial state.