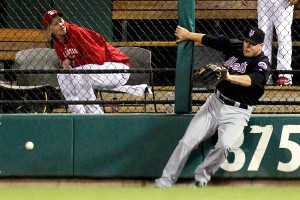 AP Photo/Jeff Roberson
Lucas Duda stumbles after slamming his shoulder and head on an attempted first-inning catch. He left the game two innings later with dizziness.
Lucas Duda said he was examined by a Cardinals doctor after leaving Wednesday's game with dizziness and indicated he does not believe he suffered a concussion. Still, Duda will be reevaluated Thursday, GM Sandy Alderson said.
Duda originally suffered the injury when his shoulder and head struck a support on the right-field wall at Busch Stadium pursuing David Freese's two-run triple in the first inning. Duda said he felt fine when he was grazed in the jersey by a pitch while batting the following half-inning, but dizziness ensued and he was removed from the game in the third inning. The doctor did an "eye test," according to Duda, while attempting to discern if Duda had a concussion.
Duda said he had no issues by the conclusion of the Mets' 6-4 loss. He hoped to play as soon as Thursday's matinee -- although given Jason Bay's initial enthusiasm to return to the lineup after hitting the outfield wall at Dodger Stadium, it might be prudent to wait just in case concussion symptoms similarly surface.
"I thought I could play through it, but I couldn't," Duda said. "I told (trainer) Ray (Ramirez) and he took me out of the game. I got examined by the doctor, and I feel great right now. So hopefully I'll play tomorrow or the next day. I don't think it's a concussion. ... He said it looks all right."
Duda said he has not previously had a concussion.
"I was going back and I didn't really know where I was," Duda recalled about the play. "And then I hit the support. That was it. It was my shoulder and then my head. Obviously I came out of the game. It's got to be pretty big for me to come out of the game. Like I said, hopefully I'll play tomorrow or the next day."