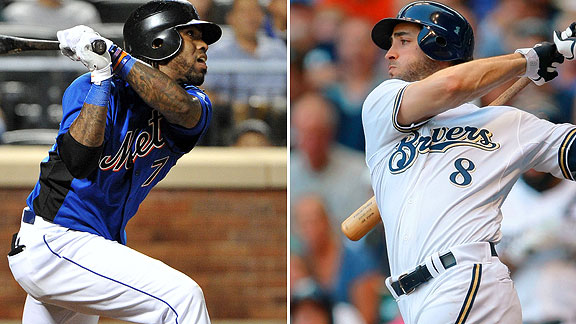 Getty Images
Jose Reyes edged Ryan Braun for the NL batting title.
After a bunt single in his lone at-bat in the afternoon to lift his average to .337, Jose Reyes did not have to sweat during an evening party on Long Island. Ryan Braun went 0-for-4 on Wednesday night for Milwaukee to finish at .332.
Reyes becomes the first batting champ in Mets history.
In a statement released by the team, Reyes said: "I just want to say I'm humbled and honored to win the batting title. It means so much to my family and my country, the Dominican Republic. I have been through a lot over the past few years so this really means a lot to me. It's also very special to be the first Mets player to win a batting title. There have been so many great players throughout our history. I want to thank Terry Collins, my coaches and all my teammates and of course all the Mets fans who have always supported me and been behind me 100 percent."