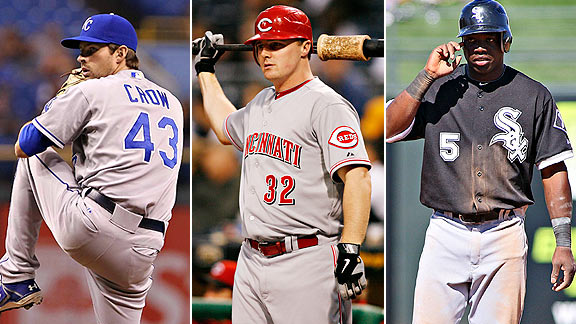 US Presswire
Former 12th overall picks include Aaron Crow in 2009 by Kansas City, Jay Bruce in 2005 by Cincinnati and Lastings Milledge in 2003 by the Mets.
No. 12s
A look at the past decade and a half of 12th overall picks in Major League Baseball.
The Mets will pick 12th in the 2012 draft.
As a result, if the Mets were to sign a Type A free agent, they would not have to forfeit their first-round pick. The 15 teams who finished in the bottom half of the overall standings have their first-round pick protected no matter whom they sign as a free agent.
On the flip side, the Mets will get two draft picks if they lose Jose Reyes as a free agent. But they only would acquire the signing team's first-round pick if Reyes lands with one of the 15 teams that finished in the upper half of the overall standings -- Philadelphia, the Yankees, Texas, Milwaukee, Detroit, Arizona, Tampa Bay, St. Louis, Boston, Atlanta, the Angels, San Francisco, the Dodgers, Toronto or Washington.
If Reyes were to sign with another team, say Kansas City for academic purposes, the Mets would get a supplemental pick between the first and second rounds as well as the Royals' second-round pick.
Here's the 2012 draft order:
1. Houston 56-106
2. Minnesota 63-99
3. Seattle 67-95
4. Baltimore 69-93
5. Kansas City 71-91
6. Chicago (NL) 71-91
7. San Diego 71-91
8. Pittsburgh 72-90
9. Florida 72-90
10. Colorado 73-89
11. Oakland 74-88
12. Mets 77-85
13. Chicago (AL) 79-83
14. Cincinnati 79-83
15. Cleveland 80-82
16. Washington 80-81
17. Toronto 81-81
18. Los Angeles (NL) 82-79
19. Los Angeles (AL) 86-76
20. San Francisco 86-76
21. Atlanta 89-73
22. Toronto (for not signing 2011 first-round pick)
23. St. Louis 90-72
24. Boston 90-72
25. Tampa Bay 91-71
26. Arizona 94-68
27. Detroit 95-67
28. Milwaukee 96-66
29. Texas 96-66
30. New York (AL) 97-65
31. Philadelphia 102-60
(Note: If teams finish with the same record, the team with the poorer record the previous season selects first.)
The only unsigned pick from this June's draft was prep right-hander Tyler Beede, the 21st overall pick by the Blue Jays. Toronto gets the 22nd overall pick this year as compensation.
The Mets took high school outfielder Brandon Nimmo 13th overall this past June. They last had the 12th overall pick in 2003 and selected Lastings Milledge.