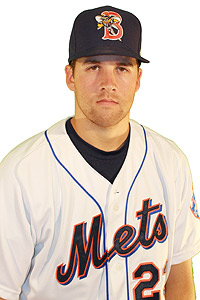 Courtesy of Binghamton Mets
Collin McHugh
Four Mets pitchers saw action on Day 1 of the Arizona Fall League on Tuesday.
Right-hander Collin McHugh, who had a breakout regular season with Double-A Binghamton, started for Peoria and was charged with three runs on five hits and a walk in two innings.
"Not the best start to my AFL season, but definitely not the worst. I'm healthy, getting groundballs, and throwing strikes. Up from here!" McHugh (@Collin_McHugh) tweeted after the outing.
In relief, right-hander Erik Turgeon allowed a run in one inning, while left-hander Robert Carson allowed a run in 1 1/3 innings. Right-hander Taylor Whitenton, who pitched for low-A Savannah, tossed 1 1/3 scoreless innings. He allowed a hit and walked two while striking out two.
Mets farmhand Wilfredo Tovar went 0-for-4 while batting ninth and manning second base.
Review the boxscore here.
Peoria, which is managed by St. Lucie skipper Pedro Lopez, also includes prospects from the Brewers, Cardinals, Mariners and Padres. Salt River won the opener, 12-9.