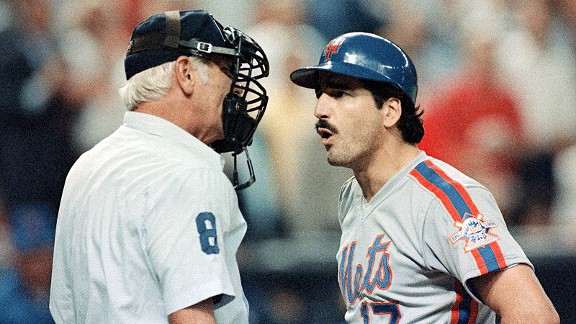 Mark Duncan/A.P. Photo
Keith Hernandez was not a happy man having to face Mike Scott in Game 1 of the 1986 NLCS.Over the next three weeks, Mark Simon will reminisce about the 1986 postseason, which ended in a Mets championship. Here's a capsule look at Game 1 of the 1986 National League Championship Series, played on this date 25 years ago.
The Mets entered the NLCS against the Astros as a confident team after a dominant 108-win regular season.
It took them nine innings to be completely humbled.
The pitcher's duel between Mets ace Dwight Gooden and eventual Cy Young winner Mike Scott was tremendous. The only blemish on Gooden's record was a second-inning home run by Astros cleanup hitter Glenn Davis.
Scott was magnificent, though it has often been speculated that he was aided by an illegal substance -- sandpaper -- which made Scott's split-fingered fastball, taught to him the past offseason by former 1962 Met Roger Craig, the most unhittable pitch in baseball. Scott has never acknowledged cheating in any interview.
Scott finished with 14 strikeouts, which tied a postseason single-game record (since broken multiple times), and a five-hit shutout.
Mike Scott
Career
Turning Point
With Darryl Strawberry on second base and one out in the ninth inning, Davis made a diving stop of Mookie Wilson's bid for a game-tying hit and threw from his knees to Scott covering at first base for the out. Scott struck out Ray Knight on a 2-2 pitch to end the game.
It was the second straight inning in which the Mets missed a chance to tie the game. They left two on in the eighth inning, with Scott striking out Wally Backman and Keith Hernandez in succession.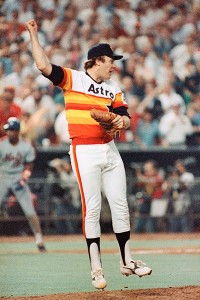 Bill Kostroun/AP Photo
Mike Scott had reason to celebrate after a 14-strikeout shutout.
In one of two great defensive plays in the game, Astros left fielder Jose Cruz made a running catch to rob Backman of a hit in the sixth inning.
What They Wrote
"How a baseball speeding from east to west can make such an abrupt turn to the south is, after all, a question for a young Galileo, not the Mets, who last evening responded to the puzzle with a collective swoosh."
--Tom Cushman, San Diego Evening Tribune
Quote of the Day
"Right now, I don't think Ted Williams could get a hit off Scotty."
-- Astros reliever Charlie Kerfeld to the Houston Chronicle
Further Reading
In May, ESPN The Magazine did a piece on sports cheating, with quotes from a major league pitcher on how to scuff a baseball.
"Use a hole punch to cut a small circle of sandpaper then glue the piece to a finger on your nonpitching hand," a pitcher said. "For obvious reasons, use a sandpaper that is close to your skin color. When you rub the ball between pitches, no one will see that you're also scraping it. The beauty of this method is that if someone is onto you, you can flick the sandpaper off quickly, and it will be near impossible to find in the dirt."
3 Stats to Remember
• This is one of two postseason shutouts thrown against the Mets in their history. Orel Hershiser would throw one in Game 7 of the 1988 NLCS.
• In 84 games -- including 60 starts -- for the Mets, Scott's high for strikeouts in a game was six. He made 19 more starts against the Mets (including one later in the series) and never struck out more than eight in any of them.
• This is the only time in their careers with the Mets that Hernandez and Gary Carter each struck out three times in the same game.